Andrew Bieniawski Joins NTI as Vice President For Material Security and Minimization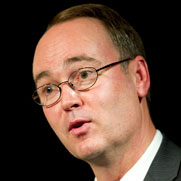 FOR IMMEDIATE RELEASE
Contact: Cathy Gwin, 202-454-7706
WASHINGTON, D.C. – Andrew Bieniawski, who served in senior-level positions at the U.S. Department of Energy and the National Nuclear Security Administration for the last 24 years, has joined the Nuclear Threat Initiative (NTI) as Vice President for Material Security and Minimization.
At NTI, Bieniawski will lead a number of key projects relating to nuclear materials security and minimization, including the Global Dialogue on Nuclear Security Priorities, the IAEA/NTI Nuclear Fuel Bank and NTI's Verification Pilot Project. In addition, Bieniawski will explore how NTI can address radiological security threats.
Bieniawski replaces Corey Hinderstein, who will spend two years at the U.S. Department of Defense in the office of Nuclear, Chemical & Biological Threat Reduction, led by Assistant Secretary Andrew Weber.
"All of us at NTI are grateful for Corey's tremendous work here over the last eight years. She has provided superb knowledge, insights and expertise across a broad range of nuclear, non-proliferation and security issues," said NTI President Joan Rohlfing. "We are delighted that Andrew is joining NTI after a productive and rewarding government career. His first-hand experience will be extremely valuable as we continue our work to reduce nuclear dangers."
From July 2012 until February 2014, Bieniawski served as the Acting Principal Assistant Deputy Administrator for NNSA's Office of Defense Nuclear Nonproliferation. In that position, he was responsible for overseeing a staff of more than 240 employees and an annual budget in excess of $2 billion.
From 2004 to 2012, Bieniawski led the U.S. government's Global Threat Reduction Initiative (GTRI). The mission of GTRI is to secure and/or remove high-risk nuclear and radiological materials around the world that could be used by terrorists to make weapons of mass destruction. Under his leadership, GTRI significantly accelerated efforts and removed more than 2,300 kilograms of dangerous highly enriched uranium and plutonium from vulnerable locations around the world – enough material for terrorists to make more than 80 nuclear weapons.
Bieniawski has traveled to more than 15 countries in the past several years, including Vietnam, Uzbekistan, Kazakhstan, Russia, the Democratic Republic of Congo, Ukraine, Mexico, and Hungary to provide direct oversight and ensure the safe and successful completion of 21 highly complex operations to remove vulnerable nuclear material.
From 2001 to 2004, Mr. Bieniawski served simultaneously as the Executive Director of the U.S. Department of Energy's Office in Moscow and as the senior U.S. Department of Energy official in Russia. During this period, he worked internally within the U.S. Embassy and externally with senior Russian officials to expand the mission and role of the DOE Moscow Office in Russia.
Upon his retirement from government service in June 2014, he received the DOE Distinguished Career Service Award and NNSA Gold Medal. Bieniawski has a Bachelor of Science in Nuclear Engineering from Pennsylvania State University and a Master of Arts in International Relations from the Paul H. Nitze School of Advanced International Studies (SAIS) at Johns Hopkins University.
The Nuclear Threat Initiative is a non-profit, non-partisan organization working to reduce threats from nuclear, biological and chemical weapons. NTI is governed by a prestigious, international board of directors and is co-chaired by founders Sam Nunn and Ted Turner. NTI's activities are directed by Nunn and Rohlfing. For more information, please visit www.nti.org.
###
Stay Informed
Sign up for our newsletter to get the latest on nuclear and biological threats.