Shultz and Nunn: Let's Not Reignite the Cold War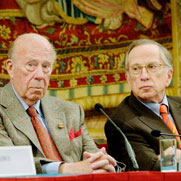 How do we deal with Russia in light of the Ukraine situation without reigniting the Cold War?
Former Secretary of State George Shultz and NTI Co-Chairman Sam Nunn tackle that question in a new op-ed for The Washington Post: "Although current circumstances make it difficult, we should not lose sight of areas of common interest where cooperation remains crucial to the security of Russia, Europe and the United States," they write. "This includes securing nuclear materials … and preventing catastrophic terrorism, as well as destroying Syrian chemical stockpiles and preventing nuclear proliferation by Iran and others."
Stay Informed
Sign up for our newsletter to get the latest on nuclear and biological threats.