Atomic Pulse
NTI Remembers Senator Richard Lugar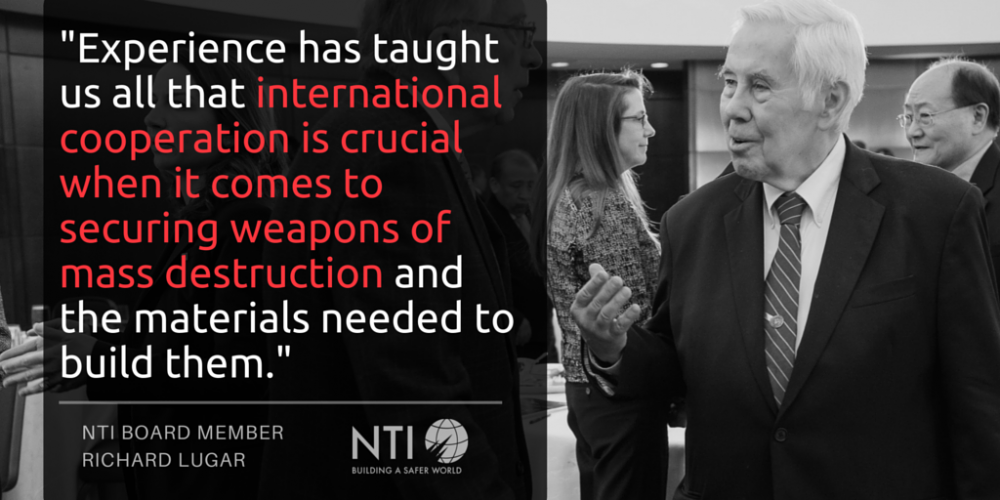 An extraordinary public servant. A visionary leader. A
statesman. A friend.
Nuclear Threat Initiative Co-Chairs Ernest J. Moniz,
Sam Nunn,
and Ted Turner
are remembering former Senator Richard
Lugar, a founding member of NTI's Board of Directors, as a committed advocate
for global security and a model for effective leadership.
"Dick Lugar was an exceptional public servant who will be
remembered for his leadership, his integrity, and his critical work to
strengthen U.S. and global security," CEO Moniz
said in a statement Sunday after learning of Lugar's passing.
Nunn, whose Senate partnership with Lugar resulted in
groundbreaking legislation to secure and dismantle thousands of weapons of mass
destruction left vulnerable after the dissolution of the Soviet Union, called
Lugar "a wonderful friend and trusted partner."
Ted Turner praised
Lugar for a dedication to bipartisanship that "came from a spirit of
civility and decency."
Lugar was dedicated to NTI's mission and deeply involved in NTI's
work since its founding. Most recently, he worked with Nunn and others at NTI
on developing a path forward for denuclearization in North Korea. Last year, Lugar
and Nunn penned an
op-ed for The Washington Post titled,
"What to do if the talks with North Korea succeed."
In
2015, Lugar co-chaired NTI's high-level Military
Materials Security Study Group, which included military
and national security officials from China, France, Pakistan, Russia, the
United Kingdom, and the United States and made recommendations for governments
to tighten controls around nuclear materials classified as "military." 
Following
Lugar's last campaign for the U.S. Senate in 2012, Nunn
hailed him as "one of the world's most effective and tireless
champions for reducing the threats from nuclear, biological, and chemical
weapons. There is no doubt the world is a safer place thanks to Dick Lugar."
Stay Informed
Sign up for our newsletter to get the latest on nuclear and biological threats.