Our Commitment to Diversity, Equity, and Inclusion
Living Our Values
The Nuclear Threat Initiative works to reduce nuclear and biological threats imperiling humanity, to protect this and future generations from the horrors of nuclear war, pandemics, and other preventable catastrophes.
NTI understands that to transcend traditional thinking and simulate new ways to address urgent global threats, the values of uncompromising integrity, intellectual independence, creative collaboration, diverse perspectives, and enduring optimism must be reflected across every aspect of our organization. This includes our Board of Directors and advisory groups, our leadership and staff, our projects and analysis, and our public-facing events and communications.
As we work to transform global security and create lasting, systemic change, we recognize that the threats we address often disproportionately impact the most vulnerable in society, as a result of racism and socioeconomic inequity. Bearing in mind the historical injustices associated with the development of nuclear weapons and inequalities in access to health care and disease prevention, we commit to helping prevent similar injustices in the future.
We also acknowledge that the composition of those working in the fields of nuclear and biological security has not adequately reflected the diversity of global communities impacted by the policies and actions we address. For far too long, women, people of color, and those with unique identities and differences have not been heard or included in this work, and we commit to continue our efforts to address these inequities. We pledge to expand access to information, resources, and opportunities and to respect and lift a range of voices and ideas, especially those that have been traditionally underrepresented.
To build a more just, peaceful, and secure world, NTI will work to foster and maintain an inclusive, equitable culture at our own organization and across the broader global security community.
Code of Conduct
The Nuclear Threat Initiative (NTI) is committed to a work environment in which all individuals are valued and treated with respect and dignity. Everyone has the right to work safely in a professional atmosphere that prohibits discriminatory practices and harassment. NTI expects that the conduct of all who work at NTI and of those who attend NTI-sponsored events will be wholly respectful, professional, and free of bias, prejudice, and harassment.
Read our complete code of conduct at nti.org/conduct.
NTI Board of Directors Statement on Board Diversity, Equity, and Inclusion
The Nuclear Threat Initiative (NTI) Board of Directors prioritizes and supports diversity, equity, and inclusion at the Board level and throughout the organization.
We are committed to an inclusive culture within the Board and the organization, where all members of the NTI community feel respected and valued regardless of gender, age, race, ethnicity, national origin, sexual orientation, gender identity or gender expression, disability, education, or other aspects of their identity.
Diverse perspectives arising from different backgrounds and life experiences are critical to the Board because they allow for nuanced understanding of opportunities, issues, and risks; foster the inclusion of new ideas and relationships; and improve decision making.
The NTI Board of Directors is committed to strengthening the diversity of the Board and to building a Board of talented, diverse, and dedicated directors with the full breadth of skills, experience, independence, perspectives and knowledge which the Board requires to be effective. When assessing Board composition or identifying suitable candidates for appointment or re-election to the Board, NTI will consider candidates using objective criteria regarding the benefits of diversity and the needs of the Board.
Our focus on equity includes a deepening awareness of systemic inequities, which allows the Board to make informed decisions that will enhance our impact.
To build a more just, peaceful, and secure world, the NTI Board supports inclusion, diversity, and equity at NTI and across the broader global security community
October 27, 2021
Our Community
NTI is a member of Organizations in Solidarity, a project of Women of Color Advancing Peace, Security, and Conflict Transformation. The partnership includes more than 250 organizations and individuals from across the peace and security, national security, and foreign policy fields, committed to combatting racism and discrimination in an effort to promote equity and inclusion.
NTI also has partnered with Women in International Security and Out in National Security.  In addition, NTI has a partnership with Hampton University, a historically Black university, for our well-regarded internship program.
Out of the 10 arms control and nuclear security think tanks, only one has achieved [gender parity] among its ranks: the Nuclear Threat Initiative.
---
Gender Champions for Nuclear Policy
NTI hosts Gender Champions in Nuclear Policy (GCNP), a leadership network in nuclear policy committed to breaking down gender barriers and making gender equality a working reality. Created in 2018 by NTI's Laura Holgate and Ploughshares Fund's Michelle Dover, GCNP asks leaders of organizations to become "Gender Champions" by signing the Panel Parity Pledge to avoid whenever possible appearing on single-sex panels, as well as making other measurable commitments. Both NTI Co-chair and CEO Ernest J. Moniz and President and COO Joan Rohlfing are Gender Champions.
Gender Champions in Nuclear Policy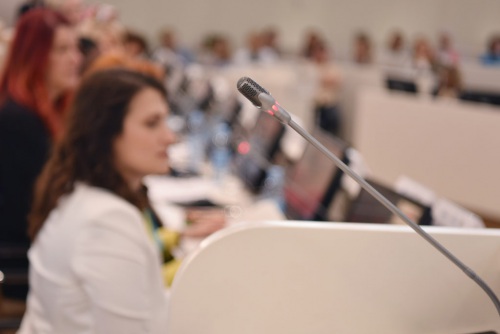 Gender Champions in Nuclear Policy
Breaking down gender barriers and making gender equity a working reality