Atomic Pulse
Sculpting a Safer World: Paper Artist Jeff Nishinaka on His Art and Connection to #CranesForOurFuture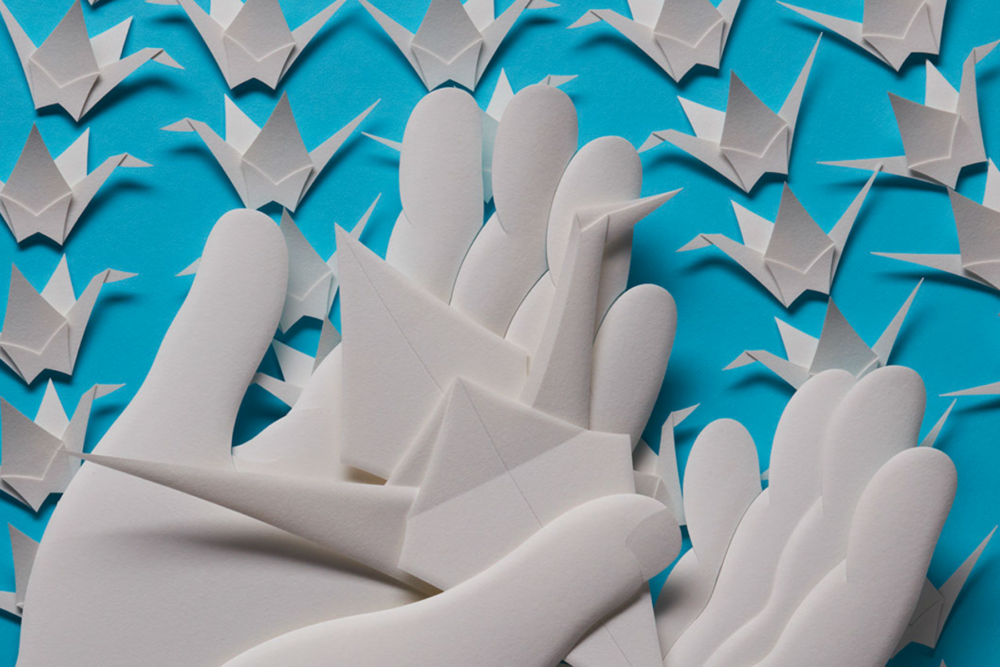 Jeff Nishinaka is a Los Angeles-based artist who specializes in paper sculpture. He enthusiastically agreed to participate in the 2022 #CranesForOurFuture campaign by contributing a sculpture of a child's hands holding an origami crane. Because of his family's history in Japan, the campaign has special meaning for him.
Thank you for your work on the campaign, Jeff, and for taking the time to talk with us. How long have you been making paper sculptures?  
I've been specializing in paper sculpture for over 40 years now, so I've been doing this most of my life!
We heard that you have a personal connection to the Hiroshima bombing. Could you tell us about this?
Yes, my father was based in Yokohama, Japan during the Allied Forces' occupation from 1946 to 1947. He got there just a few months after the bomb. His grandmother, my great grandmother, lived in the hills above Hiroshima, so she was far enough away from the blast to survive it. They had outhouses back then, and she was actually in the outhouse during the explosion. It was normally pitch dark inside, but when the bomb exploded, the bright light from the blast came through between the wood slats of the outhouse and lit it up like the sun was inside. In the days after the explosion, she would see people walking by her house seeking shelter among the trees of the forest. They were bloody and their clothes were in tatters. They were basically going into the forest to die.
What a harrowing story, thank you so much for sharing that. What can you tell us about the sculpture you are working on for the #CranesForOurFuture campaign? 
The sculpture is a pair of children's hands holding an origami crane, with strands of cranes hanging behind. At this point, I'm probably about 70% finished! I'm waiting for a friend of mine to mail me just the right color of turquoise blue paper for the background, to make the sculpture more striking. But it's a very simple image, which I think makes it more powerful.
Has your connection to Hiroshima been a source of inspiration for this project? 
Well, the hanging strands of cranes are actually something that I saw in Hiroshima!
I went to Hiroshima for the first time with some friends in 1988. When we visited the Peace Memorial Park and museum there, seeing first-hand the toll of the explosion on things like railroad ties that were bent out of shape and coins that were melted into a clump had a huge emotional impact on me.
But what really stuck out were the strands of thousands and thousands of paper cranes strung all around the exterior. Out of something so terrifying and devastating, there was so much beauty because of the vivid colors of the cranes. It was really something to walk around and experience it. I think everybody should visit it at least once, and after you see it, you can't help but think … it's too devastating. It's too many innocent lives. We can't let this happen again.
We're excited to see the finished product. What's involved in your process of going from a concept to a finished piece? 
It all starts with an idea, which could be pretty loose or pretty defined. For example, I didn't know exactly what I was going to create for this campaign. I thought about doing something with hands, having a sun behind it, or maybe something that looked more spiritual or inspirational. But I think the children's hands gives it an emotional impact because this campaign is about the future and preventing any nuclear war for the next generations.
Once I have an idea, I do research. I look for images to spark inspiration and in the past, I would try to visit places in person for ideas. It would have been really cool to go to Hiroshima again to refresh my memory. Then I start doing rough sketches. From rough sketches, I gradually add more detail. Then I take that finished sketch and do a final drawing to size. In the case of this piece, about 17 inches by 17 inches square. I use this as a blueprint and transfer it to the back of the paper I'm using for the sculpture and start cutting all the pieces out! Then I shape everything and glue it together in sections. In the end, I mount everything on a background, in this case, the turquoise blue paper, so it's ready to be photographed!
What role do you think that art and artists can play in cultural and political movements, like the #CranesForOurFuture campaign?
I think art is the universal language. It crosses borders, boundaries, politics, economics. There are no words needed, no sound, no written explanation of what it is. Yet at the same time, everybody takes something different from it. And you can have an instant reaction to a piece, then think about it for a while and develop a totally different feeling from your initial thoughts. That's what art is all about, constant evolution. It stays with you and it impacts your life. That's the goal anyway.
We wanted to end by asking you the question that we're asking everyone in the campaign to answer: What does a world free of nuclear weapons mean to you?
In a nuclear-free world, there's more of a guarantee that life will go on and flourish. We'll all be better off.
Thank you so much for taking the time to do this, Jeff. We really appreciate it.
It's been a pleasure. Thank you for letting me be involved in this, I think this project is very important. Because of the connections I have to it, it's been very meaningful for me to work on.
Stay Informed
Sign up for our newsletter to get the latest on nuclear and biological threats.
More on Atomic Pulse
Art as Medium for Advocacy: Manga Artist Gigi Murakami on Her Mural for #CranesForOurFuture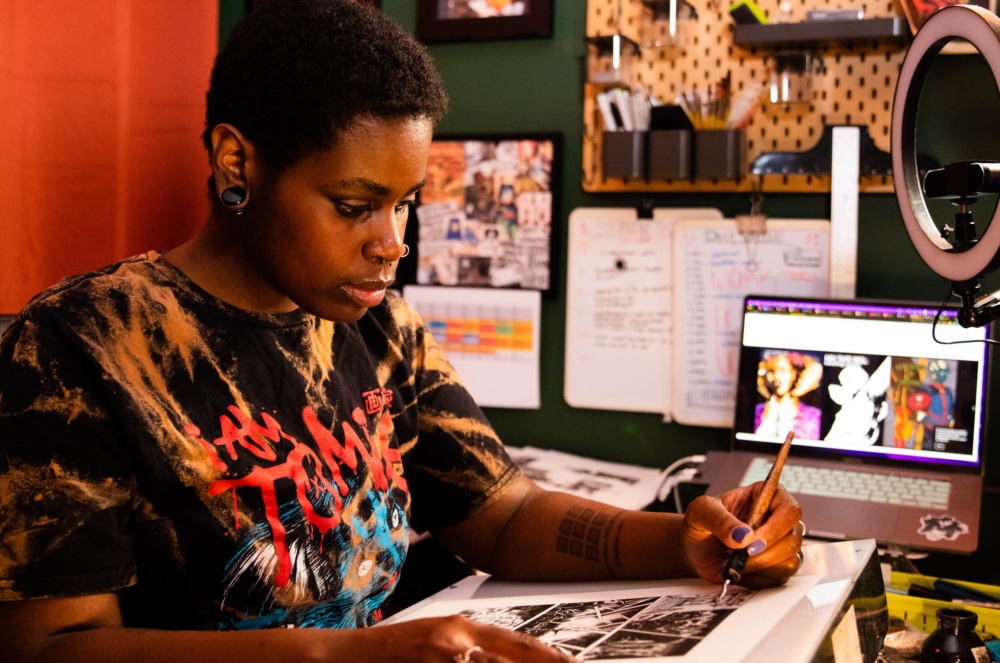 Art as Medium for Advocacy: Manga Artist Gigi Murakami on Her Mural for #CranesForOurFuture
---
#CranesForOurFuture: Ukrainian Artist Eugenia Zoloto on Finding Hope during War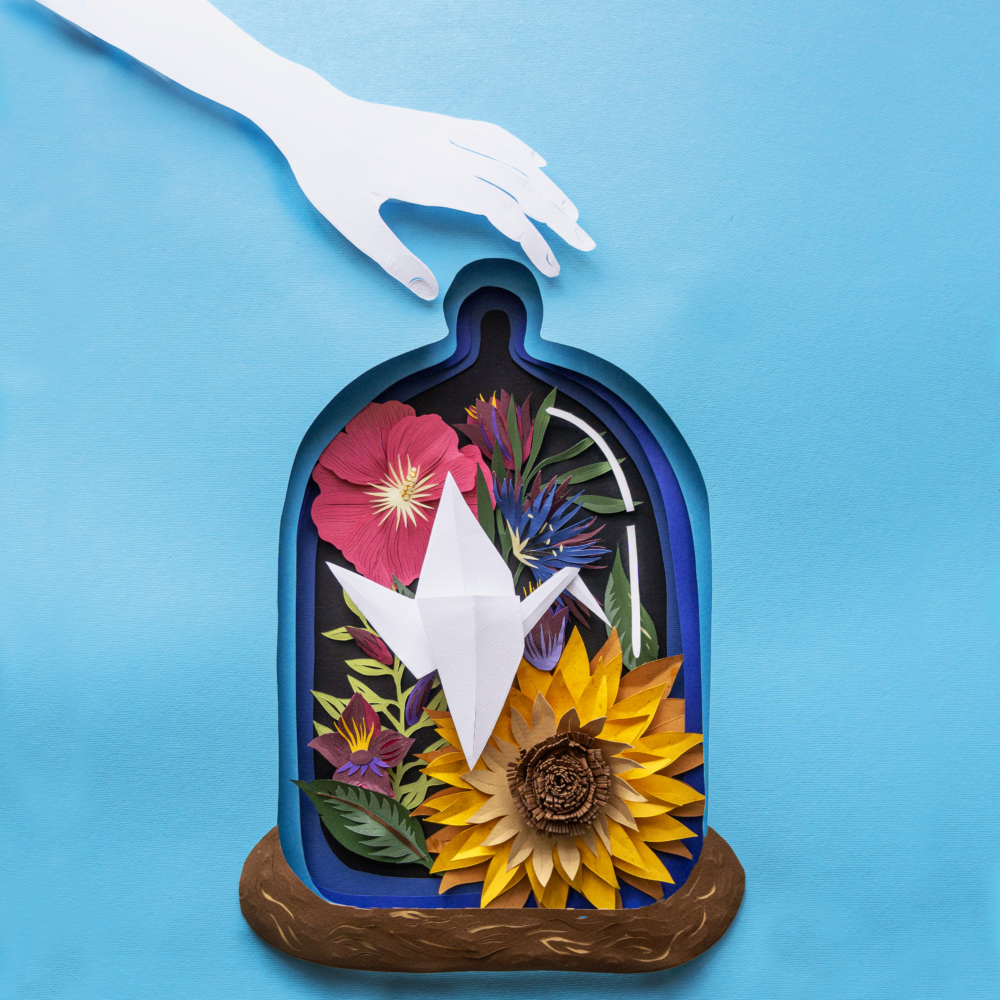 #CranesForOurFuture: Ukrainian Artist Eugenia Zoloto on Finding Hope during War
---
Oppenheimer and Advocacy: You've Seen the Film, Now What?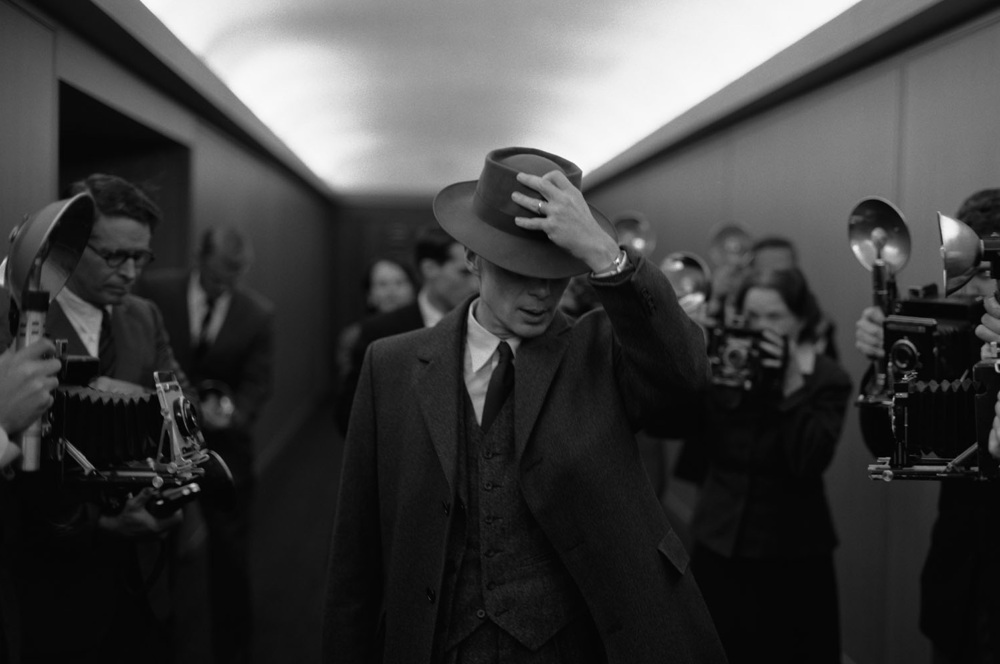 Oppenheimer and Advocacy: You've Seen the Film, Now What?
---