#CranesForOurFuture Delivers Message of Hope for a World Without Nuclear Weapons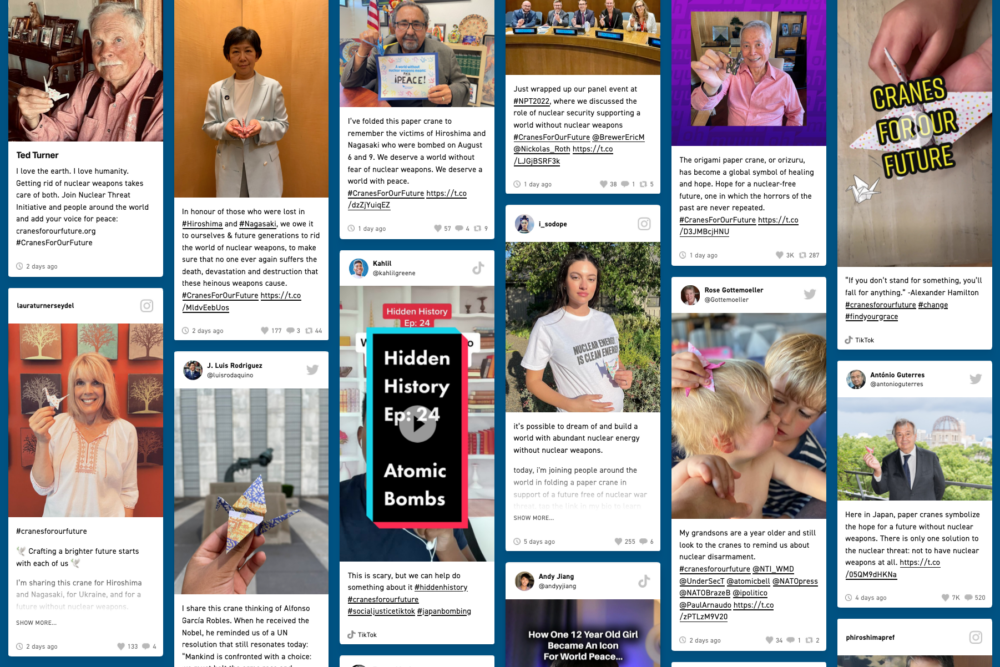 Thousands of people around the world, from celebrities and artists to citizens and global security leaders, joined the second annual #CranesForOurFuture campaign from Aug. 5-9 to share a message of hope about a future without nuclear weapons. The campaign commemorated the 1945 atomic bombings of Hiroshima and Nagasaki and delivered a message to leaders meeting in New York City this month to review progress on the Treaty on the Non-Proliferation of Nuclear Weapons (NPT).
Among those who posted origami cranes and message on Twitter and other social media platforms: cultural influencers like George Takei, Yoko Ono, and half a dozen authors; more than 50 organizations like the The Elders, Union of Concerned Scientists, and WiN Ukraine; dozens of global security experts including United Nations Secretary General Antonio Guterres, NTI Co-Chair and CEO Ernest J. Moniz, and 10th NPT Review Conference President Gustavo Zlauvinen; several members of the U.S. Congress, including Rep. Jim McGovern.
"There is only one solution to the nuclear threat: not to have nuclear weapons at all," wrote Guterres. The Indigo Girls asked their followers to join them in the campaign because "we believe in a future where we're not held hostage by catastrophic threats." And social justice activist and poet Dwayne Betts posted, saying he was "joining people around the world in sharing a paper crane in support of a future free of nuclear weapons."
The campaign also gave artists and online storytellers an opportunity to educate their audiences about nuclear threats. Paper artist Jeff Nishinaka, who has a connection to Hiroshima, created a paper sculpture inspired by the campaign and shared his family's story in an interview for NTI's Atomic Pulse. Corrie Locke-Hardy, a former teacher and co-founder of the Instagram account "The Tiny Activist," hosted an Instagram Live with picture book read-alongs by authors and a crane-folding tutorial. TikTokers posted videos reaching large new audiences on why a future without nuclear weapons was important to them, including Andy Jiang who shared how the story of the Japanese girl Sadako Sasaki remains relevant today, and Lily Joy, who talked about the personal impact uranium mining has had on her family and the Navajo Nation.
Over five days, hundreds of thousands across the globe were exposed to the campaign message and the powerful symbolism of the crane. The backdrop of the war in Ukraine and the NPT Review Conference added extra significance and urgency to this year's campaign. We are grateful for the enthusiasm and participation in the campaign and look forward to engaging even more people in the years to come. Together, we can create a world free of nuclear weapons. For a curated feed of some of our favorite posts, click here.
Stay Informed
Sign up for our newsletter to get the latest on nuclear and biological threats.