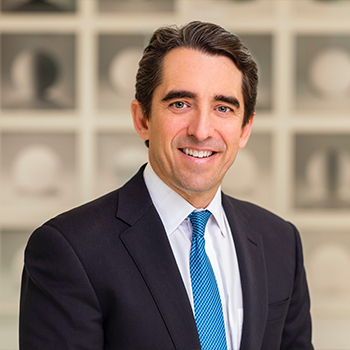 Michael
A. Peterson
Chairman and Chief Executive Officer of the Peter G. Peterson Foundation
Bio
Michael A. Peterson is the Chairman and Chief Executive Officer of the Peter G. Peterson Foundation, a nonpartisan organization dedicated to addressing America's fiscal challenges and building a stronger economic future. The Foundation engages in grant-making, partnerships and research to educate citizens and foster solutions to put America on a sustainable fiscal path. Michael sets the Foundation's policy direction and strategy, shaping its major programs and initiatives.
Michael combines his dedication to public service with extensive private sector experience as an entrepreneur, operator and investor. In 2007, he co-founded Evolve IP, an award-winning telecommunications company named as one of America's 50 best places to work (Inc. Magazine), best entrepreneurial companies (Entrepreneur Magazine) and fastest growing technology companies (Deloitte Fast 500). Michael also co-founded GPX Enterprises, L.P., which makes direct investments in operating businesses and real estate. Previously, he held a number of corporate finance positions, leading and executing transactions totaling several billion dollars. Michael also currently serves as the CEO of Peterson Management, LLC, which manages the Peterson family investments.
Michael is Chair of the Board of Directors of the Peterson Institute for International Economics, and serves on the boards of the Nuclear Threat Initiative and the Partnership for New York City. He is a member of the Council on Foreign Relations, the Economic Club of New York, and Business Executives for National Security. He has received the Corporate Community Achievement Award from the Northside Center for Child Development, the Business Heroes of the Year Award from the Queens Chamber of Commerce, and the Visionary Award from the Committee for Economic Education. Additionally, he has established his own foundation, which focuses on a variety of philanthropic areas.
Michael graduated Magna Cum Laude and with Honors from Brown University, where he was awarded the Taubman Prize for his thesis. He received his Master's degree from the London School of Economics. Michael lives in New York with his wife, Tara Peters, and their two children.