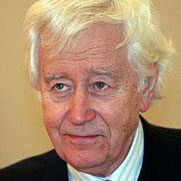 Rolf
Ekéus
Chairman Emeritus of the Board, Stockholm International Peace Research Institute
Bio
Ambassador Rolf Ekéus is chairman emeritus of the board of the Stockholm International Peace Research Institute. From 2001 to 2007, he served as high commissioner on national minorities for the Organization for Security and Cooperation in Europe. He has held a number of diplomatic posts, including Swedish ambassador to the United States from 1997 to 2000 and head of the United Nations Special Commission on Iraq (UNSCOM).
Ekéus has spent the last two decades working on international nonproliferation issues. From 1991 to 1997, he served as executive chairman of the United Nations Special Commission on Iraq. In that post, he was responsible for work to eliminate the Iraqi infrastructure for nuclear and other weapons of mass destruction.
He served as ambassador and head of the Swedish delegation to the Conference on Security and Cooperation in Europe and as permanent representative of Sweden to the Conference on Disarmament (1983 to 1989) and as chairman of the international negotiations on the Chemical Weapons Convention. He is a member of the board of the International Commission on Missing Persons. He also serves as chairman of the Swedish Pugwash Network. He was a member of the Advisory Board on Disarmament of the Secretary-General of the United Nations, the Canberra Commission on Nuclear Weapons and the Tokyo Forum on Disarmament.
His work in this field was recognized with the Wateler Peace Prize from the Carnegie Foundation in 1997.