Atomic Pulse
NTI at 20: Caressa Williams on the Early Days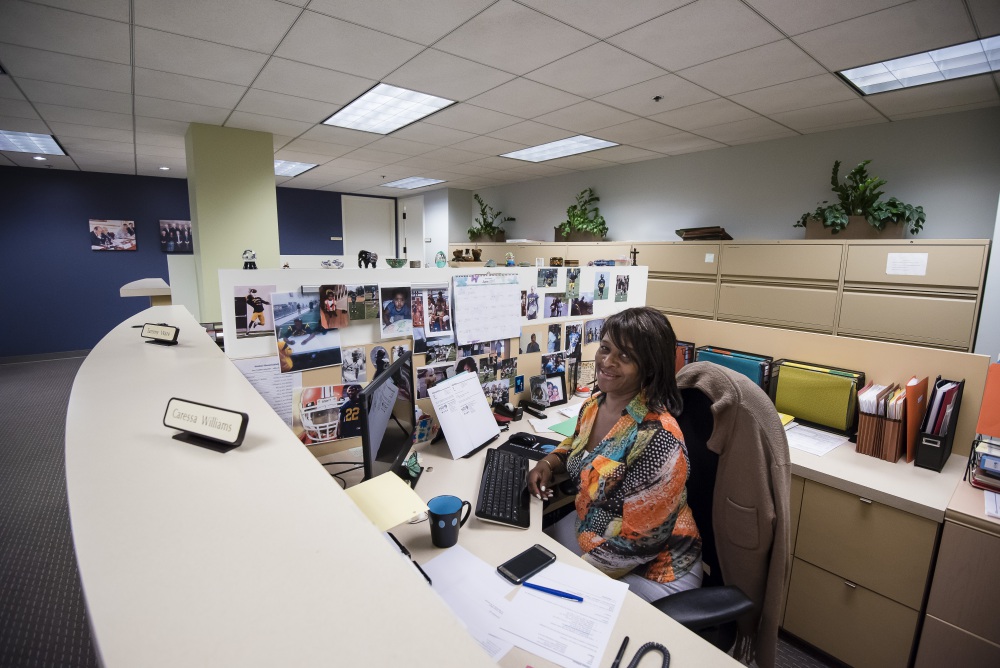 Twenty years ago, Caressa Williams went to a placement agency for help finding a new job. When the agency suggested she interview for an executive assistant position with an unknown start-up called the Nuclear Threat Initiative, she was curious but skeptical.
Over the course of this year, as NTI marks its 20th anniversary, staff members will share some reflections on two decades of working to build a safer world. Today, we hear from Williams, an NTI founding staff member and integral member of the Communications team from the start.
What were you doing before NTI and how did you hear about this new start-up 20 years ago?
I worked for the National Association of Realtors for 11 years, and then I went to a company called WorldSpace for a year. Then I decided I wanted to move on, so I called a placement agency and they told me about NTI. At first, I was reluctant. I was like Nuclear Threat what?? Ummmm….no thank you. I don't think so! But the woman at the agency explained their mission and talked me into taking the interview. So I went and interviewed with Brooke Anderson, who was the vice president for communications at the time, and I was interviewing to be her executive assistant. And then I met with Joan. After I talked to them, I was like, ok this sounds interesting and different from any other organizations I've worked for! So, they offered me the position, I accepted, and on April 16, 2001 I started my first day with NTI.
What was it like in the early days?
Warm, family oriented. It was fun! Very small organization. I believe it was only about 18 or maybe 20 of us. We had large conference room that held maybe 25 people comfortably and a small conference room that held 8-to-10 people. We had the entire 7th floor on 1747 Pennsylvania Avenue near the White House, but we had approximately 10 empty offices. Eventually in later years, they were occupied, but not in the beginning. All of our staff meetings on Monday mornings were in the large conference room, and everyone could sit around the table—and we even had some seats to spare!
Our first president was Charlie Curtis, and initially all of our vice presidents were women. We used to say they were "Charlie's Angels." LOL! You always knew who was in the office because we were small then, and everyone always got to say good morning to each other. We were a business but also like family. We were small enough to celebrate birthdays individually! It's been a really nice place to work because of the mission and because of the staff.
How has NTI changed over the years?
Larger!! The staff has more than doubled! It's amazing for me to witness the growth since I started. We almost have a staff of 60 now, I think, and that is very different from when I started. Programs have more staff, and we have more programs. Back in the day, each program had about three-to-five team members, and now most have a minimum of five. NTI is more visible and definitely well-known now. Our website is 100% improved. When NTI first started, our logo was a drawing that Charlie drew on a piece of paper!
Did you always work with the Communications team?
Yes, from day one I have always worked for Comms. I briefly worked with Beth Cameron in Bio when she first came to NTI, but that was in addition to working in Communications. Cathy Gwin and I are the only two original Comms members. We've had a lot of fun over the years talking about our love of sports, especially football, and watching our families grow up.
Stay Informed
Sign up for our newsletter to get the latest on nuclear and biological threats.