Atomic Pulse
The Time is Still 100 Seconds to Midnight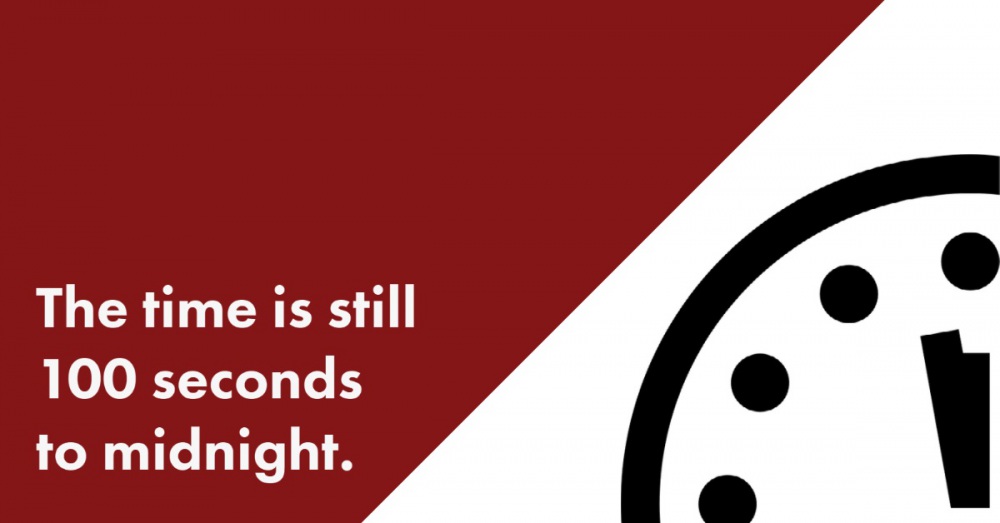 The time on the Doomsday Clock is still 100 seconds to midnight, the Bulletin of the Atomic Scientists announced today.
"The pandemic serves as a historic wake-up call" that proves governments aren't prepared to manage catastrophic threats like nuclear weapons or climate change, said Bulletin President and CEO Rachel Bronson during a virtual press conference.
The Doomsday Clock, created by the Bulletin in 1947 and updated annually, measures humanity's proximity to catastrophe. Originally established to focus on nuclear threats, the Bulletin expanded its definition to include climate change in 2007. Both threats, the organization maintains, have the "potential to destroy civilization and render Earth largely uninhabitable by human beings."
It wasn't long after the Bulletin of the Atomic Scientists set the clock to an unprecedented 100 seconds to midnight in January 2020 that the world plunged into a devastating pandemic. In the year since, the nuclear security realm has continued to face mounting challenges related to tensions between nuclear-armed states, a broken arms-control framework, persistent terrorist networks, cyber threats, Iran's moves to violate the 2015 nuclear deal, and more.
The Bulletin's statement today points blame on nuclear nations which have "ignored or undermined practical and available diplomatic and security tools for managing nuclear risks."
Former California Governor Jerry Brown, executive chair of Bulletin of the Atomic Scientists and an NTI Board member, said: "The U.S., Russia and the world's nuclear powers must stop shouting at each other. It's time to eliminate nuclear weapons, not build more of them. Likewise, with climate change: the US, China and other big countries must get serious about cutting lethal carbon emissions – now. It's 100 seconds to midnight. Wake up!"
On nuclear threats, the turning over of a new year offered some hope for the arms control community. The Treaty on the Prohibition of Nuclear Weapons (aka the nuclear weapons ban) entered into force just days before freshly inaugurated President Biden expressed his desire to extend the New START treaty by five years. On Tuesday, Biden and President Putin confirmed extending the 2011 treaty, a move NTI CEO and Co-Chair Ernest J. Moniz and Co-Chair Sam Nunn write, "provides a critical foundation for rebuilding the global arms control architecture."
Although the Doomsday Clock does not calculate biosecurity risks, the speakers agreed that the devastating impact of COVID-19 proved the lack of preparedness and—more dangerously—unwillingness of many countries to respond to global emergencies.
"We have experienced the consequences of inaction," the Bulletin's Science and Security Board argues, "It is time to respond."
Stay Informed
Sign up for our newsletter to get the latest on nuclear and biological threats.