2015 NPT Review Conference Side Event: The International Partnership for Nuclear Disarmament Verification
A May 1st side event at the 2015 NPT Review Conference will feature the new International Partnership for Disarmament Verification.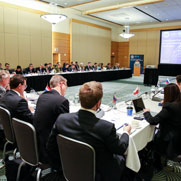 Trusteeship, UN Headquarters
Sponsored by: The U.S. Delegation to the Treaty on the Non-Proliferation of Nuclear Weapons Review Conference
Friday, May 1, 2015
1:15 – 2:30 pm
Trusteeship, UN Headquarters, New York
The newly launched International Partnership for Nuclear Disarmament Verification will be introduced and discussed by Assistant Secretary of State Frank Rose (Arms Control, Verification and Compliance). He will be joined by officials from several participating countries and NTI's Andrew Bieniawski, who will discuss the goals of the Partnership and how it can further key disarmament objectives. The panel discussion will be followed by a short question and answer session.
The International Partnership is intended to build capacity among states with and without nuclear weapons, and to develop technical solutions for future monitoring and verification challenges across the nuclear weapons lifecycle. The Partnership is working to strengthen trust and cooperation in areas of mutual interest and help create a common understanding of the challenges and constraints imposed on monitoring and verification activities in sensitive environments.
Speakers