Air Force Nuclear Branch Prepares for Budget Hit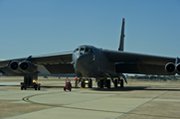 WASHINGTON – A senior U.S. Air Force officer warned this week that imminent defense budget cuts would impact the service's capability to carry out its nuclear mission.
"As we look downstream at the continuing impacts of the continuing resolution and sequestration, it's pretty clear that there's going to be some degradation there," Global Strike Command chief Lt. Gen. James Kowalski said here on Wednesday.
Kowalski's command was established in 2009 to manage the Air Force's ICBM and strategic bomber wings following a series of embarrassments including the unintended shipment of rocket fuses to Taiwan.
Like all Pentagon branches, it is now faced with a double punch of funding woes – Congress' inability to pass a defense appropriations bill for the current fiscal year, leaving spending levels frozen from the previous budget, and the potential March 1 sequester that would cut more than $40 billion in defense spending through Sept. 30.
Congress and the Obama administration have shown little sign that they can in coming weeks reach a compromise to avoid the deep across-the-board spending curbs mandated by the 2011 Budget Control Act. Republican lawmakers this week resoundingly rejected President Obama's call for a plan of budget cuts and new tax revenues as a temporary reprieve from the deadline.
The Air Force said in new documents it is looking at monetary losses of $12.4 billion due to the sequester and another $1.8 billion linked to the appropriations shortfall.
Global Strike Command had by deadline on Friday not stated how much of that might come from its budget.
The service branch, headquartered at Barksdale Air Force Base in Louisiana, manages ICBM wings in Montana, North Dakota and Wyoming, as well as B-2 and B-52 bomber wings in Louisiana, Missouri and North Dakota.
"We are looking at up to a 20-percent reduction in flying hours," an Air Force release quoted Kowalski as saying. That would include cutting back B-52 flight hours by 10 percent, the officer added.
The command would seek to offset that drop by maintaining high numbers of sortie drills, which involve activating weapons, aircraft fueling and other activities involved in preparing bomber wings for battle.
"All of that is exercised because that's what we pick up and deploy to a forward operating base," according to Kowalski. "What we want to do is maintain the sortie count to maintain readiness across all those areas."
The Air Force has proposed a number of actions aimed at offsetting the looming budget hits, according to the documents obtained by Global Security Newswire. These include pushing back procurement of two Space Based Infrared System missile launch alert satellites and dropping daily operations at some missile warning radar installations from 24 to eight hours.
Nuclear deterrence would be among the operations that would remain prioritized after, the document states.
Service-wide flying hours would shrink by 18 percent, producing "suboptimal readiness levels" that would require about six months to re-establish, the Air Force said.
The Pentagon on Friday did not respond to requests for further details regarding the anticipated impact to its nuclear arms activities of sequestration and the current budget impasse.
Air Force Secretary Michael Donley warned last month that sequestration could trouble plans to develop a new strategic bomber.
The third leg of the U.S. nuclear triad, Ohio-class ballistic missile submarines, is operated by the Navy. It has already delayed the start of construction of a line of successor vessels from 2019 to 2021.
The Defense Threat Reduction Agency, meanwhile, manages the Cooperative Threat Reduction program and other WMD defense initiatives.
Exiting Defense Secretary Leon Panetta warned earlier this week that slashing funding would hurt the Pentagon's capacity to respond to dangers posed by nations such as Iran and North Korea. The Defense Department has already taken some preparatory steps, including cutting the number of aircraft carriers in the Persian Gulf from two to one.
The Obama administration is reported to be preparing to roll out a new policy document that would support cutting the number of deployed strategic nuclear weapons to between 1,000 and 1,100. That could produce billions of dollars in savings.
About
WASHINGTON – A senior U.S. Air Force officer warned this week that imminent defense budget cuts would impact the service's capability to carry out its nuclear mission.
Countries