Amid Ukraine Discord, U.S. Resumes Nuclear-Security Work in Russia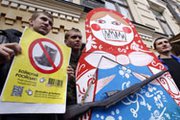 The United States is resuming nuclear-security work in Russia despite ongoing disagreements over Moscow's annexation of the Crimea region of Ukraine, a Washington official says.
Anne Harrington, deputy administrator for defense nuclear nonproliferation at the National Nuclear Security Administration, told Global Security Newswire on Tuesday that previously stalled negotiations over how to implement an agreement that Washington signed with Moscow last year have now concluded and work has resumed.
"They're done -- we're working," Harrington told GSN. She said the implementing language for last year's agreement had been hammered out in recent weeks.
The 2013 pact was meant to replace the now-expired Cooperative Threat Reduction umbrella agreement that had been in place between the two nations since the end of the Cold War.
Harrington had earlier told GSN last month that work had stalled with the implementation language not yet finalized -- prompting her agency to request less funding for fiscal 2015 nonproliferation activities. At the time, she said the Ukraine crisis could create further delays.
On Tuesday, Harrington did not say exactly what type of work the United States had resumed in Russia. Previously, she said upgrades to the physical security of buildings where sensitive nuclear materials are stored had been suspended. At the time, she said "anywhere between 40 and 70 percent of the upgrades at all of the buildings were completed."
Harrington this week also did not specify whether her agency would now look to revise its fiscal 2015 budget request, given that work in Russia had now resumed. NNSA officials did not respond to a request for more information by press time.
Harvard University's Matthew Bunn, a former aide to President Clinton, warned last month that an end to the U.S. work in Russia -- which is aimed at preventing terrorists from obtaining weapons-usable nuclear material -- could introduce higher risks.
"There's a huge problem of sustainability, there are problems of security culture, there's still weakness in insider protection and we still need to be working together," Bunn said.
Some House Republicans are suggesting the United States should not provide any aid to Russia, however, particularly amid the Ukraine crisis and concerns that Moscow may be running afoul of the Intermediate-Range Nuclear Forces Treaty, or "INF" agreement.
"Your agency is still requesting $100 million for nonproliferation programs in Russia and, from my perspective, giving Moscow nonproliferation money, by doing that, we inadvertently subsidize Russia's nuclear force modernization," Representative Jim Bridenstine (R-Okla.), told Acting NNSA Administrator Bruce Held during a hearing Tuesday. "Doesn't this $100 million that you're still requesting directly contradict and undermine the Obama administration's stated policy of suspending military-to-military engagement with Russia?"
Held will soon be replaced by retired Lt. Gen. Frank Klotz, who the Senate on Tuesday confirmed as the nuclear agency's new leader.
The acting administrator said both during and after the hearing that the United States spends money on nuclear-security projects in Russia not because they are good for Moscow, but because they are important for U.S. national security.
His agency is "very careful in reviewing all of these programs to ensure that any money we are spending over there is driven by U.S. national security interests, not Russian," Held told lawmakers.
In addition, Harrington -- who attended but did not testify during the hearing of the House Armed Services Subcommittee on Strategic Forces -- noted that the National Nuclear Security Administration, a semiautonomous division of the Energy Department, does not deal with the Russian military. Rather, the U.S. agency coordinates with Russian customs and border security officials and Rosatom, the Russian nuclear energy agency.
Representative Michael Turner (R-Ohio) was expected to introduce a bill on Wednesday that would prohibit "the contact, cooperation or transfer of technology" between the U.S. nuclear agency and Russia, "until the secretary of Energy certifies that the Russian military is no longer illegally occupying Crimea, no longer violating the INF treaty and in compliance with the [Conventional Armed Forces in Europe] treaty," according to a Tuesday press release.
On March 24, Turner and Bridenstine argued in a letter to the nuclear agency that it would specifically be a "mistake" to continue providing Russia with what they described as "military-grade" laser technology. The technology was to have been used by Russian forces to practice responses to possible attacks against nuclear-material transports or sites housing these sensitive items.
Held on Tuesday reiterated that the administration agreed with the GOP lawmakers on this specific laser issue. But he added that, so far, his agency did not plan on curtailing any of its other programs in Russia.
"We're not there yet," Held said. "We're studying the situation."
While administration officials say the Ukraine crisis is having limited impact on nuclear-security efforts, they are now citing the annexation in an effort to deflect persistent Republican concerns that the Obama team might pursue further reductions to the U.S. nuclear arsenal.
"The Russians have shown no interest in further reductions and, I think, given where we are with Ukraine, we don't have … contact on these kinds of issues now," M. Elaine Bunn, the deputy assistant secretary of Defense for nuclear and missile defense policy, said in response to Republican inquiries at the same Tuesday hearing. She said she did not expect "negotiations on that anytime soon."
About
U.S. and Russian officials recently completed protracted negotiations over a new cooperation deal, a Washington official says.
Countries