Arab States Renew Call for WMD Talks, But May Drop Boycott Threat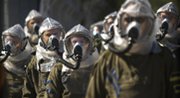 WASHINGTON -- Foreign ministers from Arab League nations have renewed their demand for a multinational conference on a proposed ban on weapons of mass destruction from the Middle East, but are hinting at a change in diplomatic tactics, Global Security Newswire has learned.
Arab countries "call for the holding of the international conference" on the creation of a WMD-free zone "as soon as possible," the organization representing 22 member states said in a March 26 statement following a meeting in Doha, Qatar.
The ministers also said they would "take appropriate decision on participation" in a two-week preparatory meeting for the 2015 Nuclear Nonproliferation Treaty review conference. This follows earlier threats to boycott the event that begins next week in Geneva, Switzerland, and possibly subsequent gatherings, to protest a lack of progress in holding the WMD talks.
"I don't think there will be any boycotting" of the next NPT meeting, said Mahmoud Karem, a former Cairo diplomat who now sits on the board of the Egyptian Council for Foreign Affairs. He spoke last week at a symposium on nuclear policy sponsored by the Carnegie Endowment for International Peace.
The conference to explore prospects for a WMD-free zone in the Middle East was originally envisioned as taking place in 2012, but late last year it was postponed indefinitely. If the event ever occurs, it is to take place in Helsinki, Finland, and would address a long-term goal of eliminating nuclear, biological and chemical weapons from the region.
A U.N.-sponsored "facilitator" for the talks, Finnish diplomat Jaakko Laajava, by late last year was unable to win a commitment by Israel -- not a signatory of the nonproliferation pact -- to attend the WMD-ban conference.
Arab nations largely blame Israel for the failure thus far for the conference to be held and have said in response that they might sit out meetings to discuss international progress in implementing the 43-year-old nonproliferation accord. A five-year review conference on the treaty in 2010 was the forum in which the commitment was made to meet in WMD talks by 2012.
Though Israel does not publicly acknowledge its nuclear stockpile, it is the region's only known atomic-armed power with an estimated arsenal of 80 or more weapons.
Israeli officials have not ruled out conference participation, but have said they want to meet directly with Egypt and other Arab nations beforehand to hash out what the talks agenda and objectives might involve.
Laajava has proposed holding just such a consultative meeting in Geneva. However, he has had to repeatedly postpone the session from February to March and, most recently, to late April as Arab states have refused to accept the idea. The facilitator reportedly hopes that this dialogue might yet occur in Geneva on the sidelines of the upcoming NPT event.
Israel's Mideast neighbors insist that these preliminary face-to-face discussions could not occur without first setting a specific date for the major conference to be held and gathering commitments by all regional participants to attend.
The U.N.-supported consultations should be limited to "the participation of countries that officially [announce their] presence for the conference," the Arab foreign ministers stated last month.
One senior Israeli official protested, though, that the type of pre-meeting that Laajava is trying to coordinate is fairly standard in diplomatic circles prior to any major international conference to which nations send high-level representation.
"I don't know how you … move forward a process" without "actually talking directly with the parties involved," the official said in a telephone interview early this month. "We tried and we made an effort [but] there was no real willingness [by other Mideast states] to work on it at this point."
The source requested anonymity for this article to more fully address the sensitive topic.
One issue expert who has championed the effort to convene talks on a WMD ban differed with the notion that settling on a plan for the discussions is at the heart of the dispute.
William Potter, who directs the James Martin Center for Nonproliferation Studies, said Laajava has repeatedly discussed in quiet shuttle diplomacy with Israel and the other key nations proposed agendas and objectives for the conference.
"I don't think there are surprises," he said in an interview last week. "I think everybody knows the shape of the agenda. I don't think that is the real reason for a reluctance to attend."
U.S. officials have said since May 2010 that Israel would not attend if it appeared likely to be the only nation singled out for criticism.
Israel proponents note that calls for the conference come as Iran is widely suspected of developing an illicit nuclear-arms capacity, though Tehran denies the allegations. There are worries that Iran's actions might ignite a regional nuclear arms race, with Egypt and Saudi Arabia said to be eyeing their own options for acquiring atomic weapons.
Concern is also on the rise about possible chemical weapons use by the embattled Syrian regime against opposition fighters or civilians, or a loss of control over its dangerous arsenal. Syria also is believed to have sought a nuclear weapons capacity.
The senior official in Jerusalem noted that Israel was not directly part of the 2010 negotiations that led to the international commitment to hold the 2012 conference. Israelis have said repeatedly that they might agree to take part in a gathering to discuss prospects for a WMD-free zone, but only in the context of talks about Arab-Israeli reconciliation and regional security issues.
Dore Gold, a former foreign policy adviser to Israeli Prime Minister Benjamin Netanyahu, said the proliferation of increasingly sophisticated conventional arms to Palestinian militants does not augur well for the region's ability to control the possible flow of weapons of mass destruction, particularly as Syria implodes.
Speaking at the Carnegie event, Gold added the Israeli government would lose credibility with its own public if it jumped into negotiations with neighboring nations that have refused to acknowledge his country's basic right to exist. Some nations in the region, meanwhile, are experiencing their own significant upheaval in an extended Arab Spring, and thus could make for unreliable negotiating partners.
"We have to go to a completely different format, from my perspective," he said. "And that format should be something which allows the parties in the region to identify what are the emerging threats that they both face, and to find ways of working together to deal with them.
"But to speak about robust systems of monitoring and verification when we're facing the WMDs spreading in Syria, when we're facing nonstate actors who are not subject to international law and therefore can't be bound to any of these agreements … I think requires us a little bit going back to the drawing board and coming up with something that addresses reality," said Gold, now president of the Jerusalem Center for Public Affairs.
Potter said one reason the Arab League might be considering the idea of dropping its boycott threat of NPT Preparatory Committee meetings is that one or more member nations might still want to attend next week's event.
Skipping the NPT meetings would mean forgoing an opportunity to use a high-profile gathering to spell out disappointment at the failure thus far to implement the Mideast zone objectives arising out of the 2010 review conference, many nonproliferation experts agree.
A less-than-unanimous Arab boycott could also weaken the effect of any such walkout, Potter noted. States shunning the NPT events might attract criticism for undermining what is widely seen as the world's most important nonproliferation regime, he said.
Still, a change of tactics would not suggest the Arab states are letting up on their efforts to hold the WMD conference.
The Arab foreign ministers last month said they intend to revive a draft resolution criticizing "Israel's nuclear capabilities" at the International Atomic Energy Agency's next General Conference in September.
Arab League nations are also preparing a paper on the WMD talks issue that could be released during the NPT Preparatory Committee meetings that begin on April 22, according to sources.
Karem said he expects to hear at the upcoming Geneva event "statements on the part of some of the Arab delegations" and "a very strong statement by the representative of the Arab states."
The senior Israeli official asserted, however, that dramatic declarations fall flat in the absence of Arab interest in simply meeting in person to sort out differences.
"Pressing to go to Helsinki without a serious prior discussion in Geneva basically means that the Arab states still insist on not directly engaging Israel and not taking into account Israel's views regarding any potential regional security dialogue," the official said. "For Israel it is essential that any next steps be decided upon by consensus."
Despite Laajava's support for this type of approach, the Arab League "does not see eye-to-eye with the facilitator" following his acceptance of delay late last year in setting a specific conference date, Karem said.
Still, he said, it is not too late.
"I personally feel that the differences between both [sides] are not huge, and once again the interlocutor can play a very important role in bridging the gap … and put things back on track," Karem said.
"The problem is that everybody's out of sync," Potter said. "When the Israelis are prepared to participate in a forum, the Iranians won't come. The Iranians are interested in participating when they know the Israelis won't come.
"When both the Iranians and Israelis agree -- such as [to attend] this meeting in Geneva, the multilateral consultations -- then Egypt and the Arab League [say] they can't attend," Potter continued. "It's as if nobody really wants this to happen."
About
WASHINGTON -- Foreign ministers from Arab League nations have renewed their demand for a multinational conference on a proposed ban on weapons of mass destruction from the Middle East, but are hinting at a change in diplomatic tactics, Global Security Newswire has learned.