Arab League Threatens Nonproliferation Event Boycott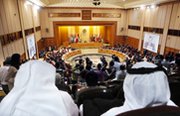 WASHINGTON -- Arab League nations have threatened an unprecedented boycott of upcoming global nonproliferation events -- starting with a key Switzerland meeting in April -- if progress is not made toward convening an international summit on banning weapons of mass destruction from the Middle East.
Egypt -- which for decades has pursued the establishment of a regional WMD-free zone -- is said to be leading the charge for possibly shunning the Nuclear Nonproliferation Treaty Preparatory Committee event slated for April in Geneva.
The 189 member nations of the 1970 nonproliferation accord agreed by consensus in May 2010 to hold talks before the end of last year regarding the establishment of a Mideast free of all nuclear, biological and chemical weapons.
However, regional nations could not agree by late November on the terms for such a conference, so the 2012 deadline for holding the U.N.-supported event was missed. No date for a conference this year or beyond has yet been set.
"We are in a rather bizarre situation where the real issue is becoming: Do the Arabs -- starting with Egypt -- prefer a good compromise to hold the conference?" Camille Grand, who directs the Paris-based Fondation pour la Recherche Stratégique, said at a conference in Tel Aviv last week. Or, he said, do they instead "go for a tougher position at the expense of a successful process?"
Though Cairo diplomats are criticizing repeated delays in convening the conference, it remains uncertain whether Egyptian President Mohamed Morsi will make the nonproliferation issue a priority while faced with huge domestic and regional challenges.
A spokesman for Egypt's Permanent Mission to the United Nations did not respond to requests for comment by press time.
Cairo could be talking tough now in a bid to simply spur action on convening the WMD-free zone talks, said William Potter, who directs the James Martin Center for Nonproliferation Studies in Monterey, Calif.
Still, "one has to take seriously threats of a boycott by Egypt and a number of other Arab League states," he said in a telephone interview. "Were Egypt to actually carry out their threat, it would be very damaging to the Nonproliferation Treaty review process."
The Geneva meeting is a Preparatory Committee gathering in the run-up to a conference of member states, to be held in May 2015 in New York. The preparatory meetings are held in each of the three years preceding the five-year New York forum and lay the groundwork for that major Review Conference, where nations discuss progress on treaty implementation and set future objectives.
An Arab League boycott also "would be very divisive to those states that attach particular importance to other NPT issues, such as nuclear disarmament," said Potter, referring to global pressure on the United States, Russia and other recognized atomic-armed powers to reduce their stockpiles.
Despite the efforts of Finnish "facilitator" Jaakko Laajava, regional states have been unable to agree on an agenda and objectives for a WMD-ban conference. Convening nations Russia, the United Kingdom and the United States issued statements late last year saying that despite the missed deadline, they would work to hold the conference as soon as possible.
Egypt and the Arab League's other member countries signaled last month they were losing patience.
"If a date is not set for the special conference on a zone free of nuclear weapons and other weapons of mass destruction in the Middle East at the earliest possible opportunity, the Arab states shall consider which steps can be taken in all disarmament forums and related venues," according to an unofficial translation of the 22-nation ministerial statement, issued Jan. 13 in Arabic.
The Arab-nation envoys specifically cited the upcoming NPT preparatory meetings and review gathering as potentially being affected.
Another Arab League meeting of senior officials is to determine whether to proceed with an NPT event boycott, according to Chen Kane, a senior research associate at the James Martin Center's Washington office. That follow-up League session is to be held in Cairo in early March.
Laajava has said he intends to hold a meeting in Geneva in mid-March of all the nations participating in consultations about the WMD-free zone conference, according to issue experts.
The Arab League is calling on Laajava to include at his confab next month only those states "that have officially announced their participation in the [WMD-free zone] conference," according to the Mideast group's statement.
If implemented, this stipulation would likely rule out Israel, which intends to participate in Laajava's consultative meeting next month but has not yet committed to attending formal multinational discussions on the special zone.
Israel is believed to be the region's only nuclear-armed power, with an estimated stockpile of 80 or more weapons.
As essentially the "main driver" of any Mideast WMD-free area conference, Egypt "will have to make a strategic decision," Kane said. "What is more important to them: To start a regional security dialogue or isolate Israel?"
Meanwhile, much of the Middle East remains in political and security turmoil, with Iran suspected of developing a nuclear weapons capacity; Egypt and other neighboring states mulling their own atomic options; and popular uprisings continuing to ripple across the region.
Grand said "internal challenges, aftermath of the Arab Spring, [and civil war in] Syria" could seriously hamper the potential for discussion anytime soon of a prohibition on nuclear, chemical and biological weapons.
To Shmuel Bar, who directs the Israel-based Studies Institute for Policy and Strategy, it makes little sense at this juncture for Middle East nations to meet on what seems to be an unrealistic objective.
"In a world which is moving towards hyper-proliferation and breakdown of the NPT" -- marked by "complete turbulence in the Middle East" and "the disintegration" of several regional states -- "let's hope that they disintegrate before they get nuclear weapons and not after that," Bar told a conference on nuclear deterrence held this week in Arlington, Va.
"In such a context, talk about a nuclear-free Middle East … seems to me to be a pipe dream," he said. "It seems absolutely irrelevant to anything that is happening."
Kane insisted, though, that continued unrest in the region is precisely why a fundamental security dialogue is needed in the near term, even if the creation of a special zone remains elusive.
"Many countries don't feel comfortable sitting in the same room and having a direct dialogue with Israel," she said. "I understand why they want to get to the end [objective] of a WMD-free zone, but they need to be willing to take the steps to join a regional security dialogue [first]."
Were Morsi's domestic challenges manageable enough to allow his participation in regional talks, it is still unclear whether the Egyptian leader would opt to sit on the same podium as Israeli Prime Minister Benjamin Netanyahu, Kane said in an interview.
As for the Israeli leader, "I think he would not dare to turn it down," she said, referring to any future offer by Morsi for such discussions.
"The '2012' conference is still scheduled to take place at some point, but no date [is being] given by anyone," Grand said in an e-mailed response to questions. "I would not bet on it taking place before the NPT PrepCom [meeting in April], which could create some momentum."
About
WASHINGTON -- Arab League nations have threatened an unprecedented boycott of upcoming global nonproliferation events -- starting with a key Switzerland meeting in April -- if progress is not made toward convening an international summit on banning weapons of mass destruction from the Middle East.