B-2 Bomber Tailpipe Cracks Compel New Spare Parts Production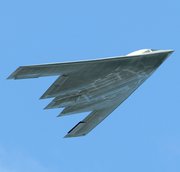 WASHINGTON -- The U.S. Air Force has ordered dozens of spare tailpipe components for its stealthy B-2 bomber fleet following the discovery of corroded engine exhaust systems, according to service officials (see GSN, March 9, 2004).
"The B-2 is approaching 25 years of service life and the tailpipes are beginning to show signs of wear," said Michele Tasista, a spokeswoman for the Air Force Global Strike Command, based at Barksdale Air Force Base in Louisiana.
"The B-2 tailpipe assembly is failing at a faster-than-expected rate and … that may be the most challenging aspect of keeping [the aircraft] in the inventory," said a former bomber program official who asked not to be named in discussing the sensitive subject. "[We've been] afraid that the tailpipe assembly would force you to retire the B-2 earlier -- or you'd get a bill to be paid that would be potentially unacceptable."
Air Force officials say they have found an affordable fix: A combination of new spare parts, preventive techniques and repair procedures.
The service has ordered 56 tailpipe spares from Northrop Grumman in a $76.6 million fixed-price contract awarded last year, using fiscal 2011 funds, according to Sue Murphy -- a spokeswoman for Air Force Materiel Command in Dayton, Ohio -- and other program officials.
The new parts will be available to replace "aged metallic components that are showing typical 'wear and tear' as a result of operating in a hot environment," as the pipes convey engine exhaust to the outside air, according to Gary Roehrig, who directs B-2 product support for defense contractor Northrop Grumman. Each bomber has four tailpipes, one for each engine.
These particular components are not repairable and are being replaced to keep the low-observable aircraft functioning, Roehrig said in a written response to questions.
He said his company will provide first delivery of the new spares in two years.
"We are currently reconstituting the production line -- ordering material, acquiring tooling, etc. -- in preparation for initial deliveries in June 2014," Roehrig said. "We had originally estimated a 2013 date, but after re-evaluating our offer and finalizing the contract award, the delivery dates were adjusted to 2014."
The procurement is to be completed by 2019, the Northrop Grumman official said.
For now, the service is drawing off of "more than 100 full [tailpipe spare] assemblies we already have on hand," Tasista told GSN, also in an e-mailed response to a query.
The service is also undertaking "preventative maintenance measures, new repair methods and processes, additional tailpipe repair capabilities" and "structural enhancements to the substructure of the tailpipes," Tasista said. Tailpipe repair operations have been expanded at the 509 Bomb Wing at Whiteman Air Force base in Missouri, she said.
Together with the spare tailpipe component procurement, these measures should allow the service's 20 B-2 batwing bombers to remain flyable until their slated retirement in 2058, she said. The B-2 was first fielded in 1994 and can carry both nuclear and conventional munitions.
Given the workarounds, Global Strike Command "does not anticipate lack of serviceable tailpipes to be a limiting factor of the B-2's expected service life," Tasista said.
Northrop Grumman and a subcontractor are retooling in anticipation of resuming production of liners for the mid and aft sections of the tailpipe, according to Roehrig, who would not specify when the parts manufacturing would resume. Some production will be done by Northrop's El Segundo, Calif., facility, while subcontractor Barnes Aerospace will perform work on the project at its Lansing, Mich., and Ogden, Utah, plants.
Northrop Grumman most recently delivered a "limited procurement" of five spare aft tailpipe liners in 2010, but "the last significant manufacturing activity ceased in the early 1990s," said Roehrig, the Northrop Grumman official.
Service and company officials distinguished the internal B-2 tailpipe cracks caused by "wear and tear" over time from design-related fissures that have plagued a separate, external component of the aircraft, the "aft deck," for several years.
The bomber "tailpipes are buried deep in the aircraft behind the engines and the aft deck is located behind the tailpipes, two very separate issues," said Robert Valdez, deputy director of the 848 Supply Chain Management Group at Tinker Air Force Base in Oklahoma, where the aircraft is maintained.
Roehrig would not say whether either the worn tailpipes or the aft-deck design problems could affect the B-2's low-observability features. The aircraft design is meant to minimize its risk of detection by adversary military forces, and include a reduction in radar, infrared, visual and sound signatures.
"Before aircraft production was complete, the original aft deck … experienced cracking due to thermal and acoustic loads," the Air Force stated in a September 2011 report to Congress titled, "Bomber Modernization, Sustainment and Recapitalization Efforts." Two B-2 aft decks were fully replaced by backup inventory but "spare aft decks are now severely depleted," according to the report. Each bomber has two aft decks.
Following some initial efforts to remediate the aft deck problem, the Air Force decided to introduce a third-generation aft deck design for spare parts production, the document states. For now, though, the aft deck fissures are not severe enough to cause "a structural or operational impact," according to the report.
Northrop Grumman last year won a $109 million contract to manufacture the redesigned aft deck, the company announced in November.
"The issues around the aft deck and the tailpipe have been known and dealt with for years, and to my knowledge the contracts to repair and replace both are on track -- neither should hasten the retirement of the airframe," said Robert Haffa, who retired in 2010 as director of the Northrop Grumman Analysis Center.
The B-2 bomber, he told GSN, "is the only long range, heavy payload, stealthy aircraft available to deter in the Western Pacific and to counter proliferation in Northeast and Southwest Asia until a new long range bomber is fielded – optimistically, a decade from now" (see GSN, May 10).
About
WASHINGTON -- The U.S. Air Force has ordered dozens of spare tailpipe components for its stealthy B-2 bomber fleet following the discovery of corroded engine exhaust systems, according to service officials.
Countries