In Bid to Break Mideast Impasse, WMD Confab Set at Swiss Venue This Month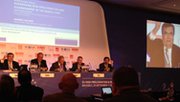 BRUSSELS -- A United Nations-appointed diplomat on Tuesday said he will convene multinational consultations in Switzerland later this month as a potentially key step toward discussing an eventual ban on weapons of mass destruction in the Middle East.
If nations in the region can agree on the terms and objectives of regional discussions, a formal conference on creating a Mideast WMD-free zone could occur in Helsinki, Finland, as early as mid-December, according to international diplomats and expert observers.
Jaakko Laajava, a Finnish envoy who serves as facilitator for the prospective talks, played down continued differences between Israel and its Arab neighbors over the necessity of this month's multilateral planning session, which is to take place in Glion, a lakeside retreat roughly 60 miles northeast of Geneva.
Speaking at a European Union-sponsored event here in the Belgian capital, he said the Oct. 21-22 meeting near Montreaux would at minimum be a discussion between himself as facilitator and the national conveners of the possible conference -- Russia, the United Kingdom and United States.
This would be "to continue discussions on the agenda and modalities of the Helsinki conference," Laajava said. "We'd like to say that we would [also] welcome the participation of all regional states, all regional parties, in order to facilitate consensus" among the prospective Mideast partners in establishing a WMD ban.
Some Egyptian and Arab League envoys have criticized the idea of a pre-conference planning session among the regional states, though, saying it appeared to be an Israeli bid to stall or even perhaps even replace the formal Helsinki conference with endless consultations. The mandate for the WMD-free zone conference grew out of the 2010 Nuclear Nonproliferation Treaty Review Conference, which as a non-member nation Israel did not attend.
Egyptian Ambassador Hisham Badr has called on Israel to commit to participating in the Helsinki conference before meeting in a multilateral planning forum to discuss details. He recently told Global Security Newswire that some Arab nations suspect "that a few parties want to renegotiate the mandate attained with difficulty in 2010 and this we should avoid."
However, Israeli Prime Minister Benjamin Netanyahu's government thus far has not said whether it would take part in the major forum, insisting first on receiving assurances that it would not be singled out at the event as the region's sole nuclear arms power when it sees more pressing chemical, biological and potentially nuclear threats affecting the Middle East.
European diplomats on Tuesday characterized the Finnish envoy's low-pressure bid to gather regional representatives in Switzerland in three weeks as a means of allowing direct contact to take place in a politically neutral environment, without requiring public concessions by any of the parties.
Still, that formula may have little chance of succeeded in bringing about talks, given that all key parties seem to remain firmly dug in on their positions, said Camille Grand, chair of the EU Non-Proliferation Consortium, which sponsored this week's Brussels conference.
"Basically I think [Laajava's] tactic is the right tactic," he told GSN in a brief interview. "But does it change something with the key players? Are they ready to join in a common meeting that would precede a conference, or not?"
Grand said that recent diplomatic overtures from Syria and Iran -- on chemical and nuclear arms issues, respectively -- could help lay the groundwork for possible engagement on a WMD-free zone. The challenge now, though, is to "seize the moment" in a bid to soften continued intransigence on the Helsinki conference by Egypt, Iran and Israel.
Egyptian Foreign Minister Nabil Fahmy late last week laid out at the U.N. General Assembly a proposed structure for implementing a WMD ban in the region -- one that would have Mideast nations that remain outliers to key treaties move simultaneously to join the Nuclear Nonproliferation Treaty, the Chemical Weapons Convention and the Biological Weapons Convention.
Fahmy said the major Helsinki conference should be held by the end of the year but certainly by next spring "at the latest." Laajava is said to be privately discussing a date of Dec.
Speaking at the symposium here, Mahmoud Karem -- a board member of the Egyptian Council for Foreign Affairs -- said Fahmy was signaling Egypt's intent to remain engaged, to demonstrate preparedness itself to sign anti-chemical and –biological arms treaties and to offer "breathing space" for diplomacy, if needed, until the next major preparatory meeting on the Nonproliferation Treaty in New York.
Speaking from the audience, Nobuyasu Abe of the Japan Institute of International Affairs recommended that Middle East nations also be asked to adopt an additional safeguards protocol on their nuclear facilities and the Comprehensive Nuclear Test Ban Treaty.
Some envoys in Brussels this week additionally proposed that all five of the nuclear-armed permanent members of the U.N. Security Council be brought into the process as enforcers of the special Mideast WMD-free zone, building on their role in jointly condemning Syria's recent chemical attack. This role might even feature positive security assurances to defend non-nuclear states against any nuclear attack, according to this line of thinking.
Israel neither acknowledges nor denies its estimated arsenal of 80 or more nuclear arms.
For its part, Iran is a member nation of the Nonproliferation Treaty but is widely believed interested in developing a nuclear-arms capability. However, its new president, Hassan Rouhani, has begun first steps toward talks with P-5 nations and Germany about capping its atomic capacity in exchange for normalized relations and removal of economic sanctions.
Syria recently joined the Chemical Weapons Convention following allegations that its military used chemical weapons in an Aug. 21 poison-gas attack just outside of Damascus that Washington alleges killed more than 1,400 civilians.
Several other nations in the region are also known or believed to have produced chemical weapons: Egypt, Iran, Iraq, Israel and Libya.
Israeli President Shimon Peres this week renewed signals that his nation is prepared to use ratification of the Chemical Weapons Convention as a bargaining chip in the regional peace process, following Syria's accession to the 188-nation agreement. Egypt has not yet signed the pact, which calls for the elimination of all weapons that carry chemical materials such as mustard blister agent or sarin nerve gas.
Egypt and Syria have signed but not ratified the Biological Weapons Convention, which prohibits making or stockpiling disease-based arms. Israel is one of 23 countries that have not agreed to the biological arms ban.
Speaking on a panel discussion alongside Karem on Tuesday, retired Israeli Brig. Gen. Shlomo Brom rejected Fahmy's call for a treaty-based process for instituting a WMD ban in their region, saying his own nation's views must be taken into account if a gathering of all Middle East countries is to succeed.
He called the Middle East a region "that excels in noncompliance with signed agreements."
"Why should we think that signing on another agreement -- [one] on a WMD-free zone -- will lead to better compliance with this agreement?" said Brom, now senior research fellow and director of the Institute for National Security Studies' Israel-Palestinian Relations program. "And therefore, Israel does not think that the establishment of a WMD-free zone can simply be achieved by all states signing on the NPT and other things."
The Nonproliferation Treaty "has proven too weak" to prevent proliferation in the Middle East and elsewhere, he said.
Arab nations last month lost a vote condemning Israeli nuclear capabilities at the U.N. nuclear watchdog agency's General Conference.
Envoys from sponsoring nations said the measure was meant to reflect impatience with what they see as a global double-standard whereby Iran's suspected nuclear arms development effort has been condemned, while Israel's decades-old atomic arsenal is routinely ignored. Others, however, criticized the rejected IAEA resolution on Israel as a misplaced effort to politicize the prospective Helsinki conference at a delicate time when diplomacy might have a chance to succeed.