Bipartisan Bill Filed to Heighten Oversight of U.S. Nuclear Trade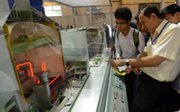 House lawmakers on Friday offered a bill aimed at addressing concerns that White House nuclear trade policy risks the further spread of illicit weapons.
Representatives Ileana Ros-Lehtinen (R-Fla.) and Brad Sherman (D-Calif.) introduced H.R. 3766, a bill they say would "protect against the threat of nuclear proliferation."
According to a Friday news release, the pair -- both of whom hold panel leadership positions on the House Foreign Affairs Committee -- intend to use the measure to reform the 1954 Atomic Energy Act in a way that would increase congressional oversight of U.S. nuclear cooperation agreements with foreign nations. The United States has many such bilateral accords -- which give foreign capitals access to U.S. nuclear energy technology, materials and know-how -- and Washington is eyeing additional agreements with countries including Saudi Arabia, Jordan and Malaysia.
Under current law, these nuclear trade pacts can be implemented if Congress fails to stop them after 90 days of continuous legislative session.
The newly introduced measure -- based on 2011 legislation introduced by Ros-Lehtinen that never made it to a House floor vote -- would allow only those accords that include the strictest nonproliferation measures to qualify for this fast-track treatment. Alternatively, those that leave open the possibility that a partner nation might domestically produce nuclear fuel -- running a potential risk the material could be diverted for an illicit bomb-making effort -- would require approval by both chambers of Congress.
Senator Edward Markey (D-Mass.) also announced this week that he would introduce similar legislation in the upper chamber.
"With the current administration agreeing to an Iranian nuclear deal that is fraught with problems that undermine years of painstaking efforts to prevent Tehran from acquiring nuclear capacity, it's more important than ever for Congress to have more oversight over nuclear cooperation agreements with other countries," Ros-Lehtinen, who chairs the House Foreign Affairs Subcommittee on the Middle East and North Africa, said in a written statement.
Said Sherman, ranking minority member on the Subcommittee on Terrorism, Nonproliferation and Trade: "This legislation will encourage the adoption of strong nonproliferation provisions in our nuclear cooperation agreements and encourage governments to forgo the most dangerous technologies. At the same time, this bill will also encourage the adoption of the liability protections necessary for U.S. companies to compete."
Markey is working with Ros-Lehtinen on a Senate version of the same bill that "would ensure that any new or amended nuclear cooperation agreement that does not contain a promise to forswear the development of technologies that could provide the ingredients for a nuclear bomb would have to be affirmatively voted on by Congress before it can go into effect," an aide in the upper chamber told Global Security Newswire on Thursday. The staffer was not authorized to speak publicly on the matter and requested anonymity.
Markey's bill will be introduced in the Senate "soon," potentially with both Democratic and Republic co-sponsors, according to the aide. The Senate is expected to be in session into next week before recessing for the holidays.
The senator this week suggested that Washington should deny access to sensitive U.S. nuclear technologies and services to those nations interested in keeping open the option to enrich uranium or reprocess plutonium.
"We should not proceed down a dangerous nuclear path with any country that refuses to make a legally binding commitment not to develop the technologies used to make nuclear weapons materials," Markey said in a statement provided to GSN.
The U.S. nuclear industry, which strongly opposed Ros-Lehtinen's 2011 legislation, jumped to denounce the new House bill as soon as the Florida and California congressmen offered it this week.
"H.R. 3766 is misguided legislation that should be shelved," said Richard Myers, vice president for policy development, planning and supplier programs at the Nuclear Energy Institute, the industry's lobbying arm. "If this legislation were enacted, it would further isolate the United States from the growing international marketplace -- where our pre-eminence in civilian nuclear technologies has long since faded -- by unilaterally establishing new terms for U.S. nuclear energy cooperation and trade that many prospective partner countries have already rejected."
In a written statement issued on Friday, Myers added: "We understand and share concerns about recent developments in Iran, but this proposal will have no impact on Iran's nuclear program, nor will it establish any disincentives for rogue nations that choose to pursue clandestine nuclear weapons programs. The United States already has a broad set of policy instruments that limit the spread of enrichment and reprocessing technologies that could be used to develop weapons."
The Obama administration on Thursday unveiled the results of a years-long internal policy review on how best to curb proliferation as it engages in nuclear trade worldwide. As first reported by GSN, the State and Energy departments will continue a "flexible" negotiating policy that may or may not demand a trade interlocutor's pledge to avoid enrichment and reprocessing -- reprising an earlier approach that the Obama team dubbed "case by case."
Secretary of State John Kerry is expected to sign a new nuclear trade deal with Vietnam next week in which the Southeast Asian country offers a less-than-binding indication that it would use foreign fuel to power its foreign-built reactors, rather than enrich or reprocess on its own.
About
House lawmakers on Friday offered a bill aimed at addressing concerns that White House nuclear trade policy risks the further spread of illicit weapons.