Bushehr Plant Computer Worm has Language Implicating Israel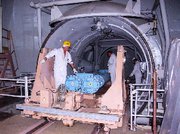 A possible Old Testament reference in the "Stuxnet" computer worm suggests Israel might have released the code now infecting systems at Iran's soon-to-open Bushehr nuclear power plant, the New York Times reported yesterday (see GSN, Sept. 29).
A component of the code titled "Myrtus" might refer to the Book of Esther, in which Jews subvert a Persian scheme against them, experts said. Iran has expressed hostility toward Jerusalem, which along with Washington and other governments suspects the Middle Eastern nation's nuclear program is geared toward weapons development. Tehran has defended its atomic ambitions as strictly peaceful.
Other analysts, though, suggested the word's use could be an attempt to lead observers away from the worm's true creator.
"Israel had nothing to do with Stuxnet," asserted Shai Blitzblau, head of the computer warfare laboratory at Israel-based Maglan Information Defense Technologies Ltd.
"We did a complete simulation of it and we sliced the code to its deepest level," Blitzblau said. "We have studied its protocols and functionality. Our two main suspects for this are high-level industrial espionage against Siemens and a kind of academic experiment."
The worm does not send out details on infections that would be useful to an intelligence service, the expert added.
It was uncertain whether the worm had infected equipment at Iran's Natanz uranium enrichment facility, the Times reported. The facility has faced significant operational troubles since summer 2009, suggesting some type of outside interference, faulty components or a lack of adequate personnel. The number of operating centrifuges had dropped to 3,772 in August from 4,920 in May 2009, the Times reported.
The Stuxnet software targets a specific type of industrial control system produced by Siemens AG and used commonly in Iran, but the manufacturer indicated it did not know how its products were distributed in the Persian Gulf state.
"It could be that there is equipment," Siemens spokesman Alexander Machowetz told the Times by telephone. "But we never delivered it to Natanz."
Russian workers could easily have introduced the worm into systems at the Natanz plant, said Ralph Langner, a Germany computer security expert who argued the worm was created to sabotage the enrichment site. The enrichment process can produce civilian nuclear fuel as well as material for weapons.
"It would be an absolute no-brainer to leave an infected USB stick near one of these guys," Langner said, "and there would be more than a 50 percent chance of having him pick it up and infect his computer."
"The Iranians are already paranoid about the fact that some of their scientists have defected and several of their secret nuclear sites have been revealed," added one former intelligence official still involved in Iran-related matters. "Whatever the origin and purpose of Stuxnet, it ramps up the psychological pressure."
The worm has also turned up in nations such as China, India and Indonesia (Markoff/Sanger, New York Times, Sept. 29).
Meanwhile, Russia yesterday pressed Iran to assist an International Atomic Energy Agency probe into the Middle Eastern nation's atomic activities.
"Clarification of outstanding questions regarding the Iranian nuclear program would meet not only the goals of strengthening the nonproliferation regime but quite obviously the interests of Iran as well," Russian Ambassador to the United Nations Vitaly Churkin said, according to a U.N. press release (U.N. release, Sept. 29).
"Russia does not see any alternative to a diplomatic settlement of the Iranian nuclear problem through constructive dialogue between Tehran and the" five permanent U.N. Security Council member nations and Germany, RIA Novosti quoted him as saying.
"As for sanctions, they are not a goal in and of themselves. The sanction regime imposed by the U.N. Security Council is to send Iran a signal about the necessity of full-fledged cooperation with the International Atomic Energy Agency and give a boost to the negotiation process," Churkin said. The Security Council has adopted four sanctions resolutions against Iran to date (RIA Novosti, Sept. 29).
The Russian official lashed out at governments that have enacted economic penalties against Iran beyond those mandated by the Security Council measures.
"We strongly reject a situation when, parallel to the collective efforts in the U.N. Security Council, unilateral decisions on sanctions are made, including exterritorial ones, which undermine the very foundation of further joint efforts. We must put an end to this practice that runs counter to international law and is negatively politically charged," he said (U.N. release).
An order inked by Russian President Dmitry Medvedev prohibits Iranian entities from owning stakes in Russian atomic enterprises, the Xinhua News Agency reported today.
"Any investment by Iran, its citizens and legal entities registered in Iran or located in its jurisdiction, or individuals or legal entities acting on their behalf or on their orders, or organizations owned or controlled by them, in any commercial activity related to uranium production, or production or use of nuclear material, equipment, special non-nuclear materials and relevant technologies subject to export control, will be prohibited in Russia," Interfax quoted the order as saying.
Medvedev signed the order to help enforce U.N. penalties adopted in June against Iran adopted (Xinhua News Agency, Sept. 30).
Elsewhere, Japan and the petroleum firm Inpex Corp. are expected to divest from an Iranian oil field development effort, Kyodo News reported. The move was a response to unilateral U.S. penalties against entities supporting Iran's energy sector, the Yomiuri Shimbun and Nikkei business daily quoted officials as saying (Kyodo News/Breitbart.com, Sept. 30).