China's New Defense Paper Causes Stir Over No-First-Use Nuke Policy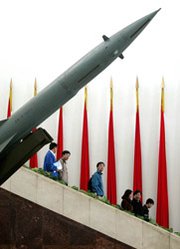 WASHINGTON -- The omission of an explicit reference to China's "no-first-use" policy for nuclear weapons in a new defense white paper is causing something of a stir in the arms control community.
Beijing for decades has publicly maintained an "unequivocal commitment" that it would never be the first one to use nuclear weapons in a war. This pledge has been explicitly set out in every biannual white paper until now and China routinely calls on every nuclear-weapon state to adopt similar declaratory statements.
The newest Chinese Defense Ministry white paper at multiple points touches on the functions of the People's Liberation Army's Second Artillery Corps, which oversees the nation's strategic nuclear force. All mentions of nuclear weapon operations and uses are in line with a no-first-use policy and there is no mention of circumstances under which Chinese strategic arms could be used in a first strike.
Still, James Acton, a senior associate for nuclear policy with the Carnegie Endowment for International Peace, said it is notable that the document made public last week does not once include an unambiguous recommitment to the nuclear doctrine.
In a Friday New York Times column, Acton asked whether the omission was a deliberate attempt to signal to Washington that Beijing could rethink its commitment to the policy if the United States proceeds with plans to develop next-generation conventional weapons that can carry out rapid strikes anywhere in the world.
"China may intend the new language in its white paper to send a signal: that in a future crisis, if it concluded that the United States was about to attack its nuclear arsenal with conventional weapons that were backed up by missile defenses, China might use its nuclear weapons first," Acton stated, continuing, "The United States should recognize this concern."
Other experts indicated they do not see an immediate cause for worry.
Maj. Gen. Yao Yunzhu, who directs China-America Defense Relations at the PLA Academy of Military Science, in a Monday response to Acton's column, explained the omission as resulting from a change in the structure of the document.
The white paper alludes to but does not explicitly reaffirm a no-first-use policy: "The PLA Second Artillery Force (PLASAF) is a core force for China's strategic deterrence. … Primarily responsible for deterring other countries from using nuclear weapons against China, and carrying out nuclear counterattacks and precision strikes with conventional missiles."
In the section that lays out China's policy for defending national sovereignty, the paper reads: "If China comes under a nuclear threat, the nuclear missile force will act upon the orders of the [Central Military Commission], go into a higher level of readiness, and get ready for a nuclear counterattack to deter the enemy from using nuclear weapons against China. If China comes under a nuclear attack, the nuclear missile force of the PLASAF will use nuclear missiles to launch a resolute counterattack either independently or together with the nuclear forces of other services."
"I don't know that there is any significance in the fact that it is not mentioned in the white paper," Gregory Kulacki, senior analyst at the Union of Concerned Scientists, said in a Monday interview.
Kulacki, who reads Chinese, emphasized the importance when analyzing government documents of grasping the subtleties of the language, which if not properly interpreted can lead to incorrect takeaways.
Taylor Fravel, an international relations professor specializing on China at the Massachusetts Institute of Technology, in a Monday piece for The Diplomat wrote that he did not interpret the lack of an explicit no-first-use reference as indicating Beijing has changed its policy. He agreed with Acton, though, that "a certain and perhaps growing ambiguity surrounds the policy."
"The ambiguity and uncertainty about the no first-use policy should be discussed" by the United States and China, Fravel said.
Yao in her commentary gave credence to the theory that China's policy might not be as firm as it used to be. "Speculations on a possible change to the NFU policy have not been conjured up without reason. Calls for a policy change on the official NFU pledge are repeatedly heard in the Chinese media," she wrote.
The two-star general attributed these calls to two possible threats to China's nuclear deterrent: U.S. prompt global strike capabilities and Washington's work with partner nations to develop and deploy new ballistic missile defenses.
"For nearly half a century, China's NFU pledge has served as the cornerstone of its nuclear policy, and any change has required careful review and thorough debate" Yao wrote. "It is better for China and the rest of the world for China to uphold its NFU policy, rather than discredit such a commitment. To alleviate China's concerns, a constructive approach would be to assure the policy through nuclear policy dialogues."
Yao's calls for U.S.-China nuclear dialogue are shared by Acton, Kulacki, and Fravel.
The Obama administration has sought such dialogue but has had difficulty persuading Beijing to participate. This is largely due to China's concerns that disclosure of too much of its nuclear doctrine would undermine the weapons' ability to deter aggression.
Yao explained this hesitancy earlier this month at the Carnegie International Nuclear Policy Conference in Washington. As Beijing possesses a small nuclear arsenal relative to the United States, "China depends more on uncertainty… not on transparency to deter," she said. "A certain amount of opaqueness is an integral part of China's no-first-use policy."
Noted U.S. nuclear weapons experts Hans Kristensen and Robert Norris estimate that Beijing possesses 240 warheads.
The United States maintains a vastly larger and more varied nuclear arsenal than China but it has thus far refused to take the possibility of a first strike off of the table.
Acton in a Tuesday interview said he hopes his speculation that Beijing is backing away from no-first-use is wrong but that he still largely stands by his Friday Times column.
The Carnegie analyst said he did not find the explanation given by Yao and others that the nuclear policy omission was due to a change in the framework of the white paper to be "terribly persuasive"
"At the end of the day, this was a white paper dealing with the mission assigned to China's armed forces," Acton said. "That sounds to me like an imminently appropriate place to mention no-first-use."
"There is the possibility it was a change [of policy]. There is also the possibility it was a [bureaucratic] snafu," he said.
Acton said he also finds it strange that China's new president, Xi Jinping, did not mention the doctrine in a policy speech made to the Second Artillery Corps in December.
Beijing's delegate to the Preparatory Committee for the 2015 Nuclear Nonproliferation Treaty review conference, Pang Sen, on Monday unambiguously affirmed China's continued commitment to no-first-use, according to Kulacki.
There had earlier been some concerns stemming from the English translation of the delegate's remarks that Beijing's commitment might now be ambiguous.
"With the restatement yesterday at the PrepCom, I am open to the argument that nothing has changed," Acton said.
About
WASHINGTON -- The omission of an explicit reference to China's "no-first-use" policy for nuclear weapons in a new defense white paper is causing something of a stir in the arms control community.
Countries