Democrats, Labor Unions Raise Concerns over Chemical-Security Bill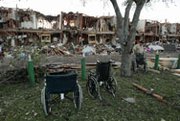 Some House Democrats and labor union officials are raising concerns that a new bill meant to extend the life of the Homeland Security Department's chemical-security program will not fix a number of perceived problems with the initiative.
"Frankly, I see nothing in the scant 11 pages of H.R. 4007 to deliver the massive reforms that will be required to make" DHS chemical-facility antiterrorism standards and "other chemical security programs more efficient and productive programs," Representative Bennie Thompson (D-Miss.) said during a Thursday hearing of the House Homeland Security Subcommittee on Cybersecurity, Infrastructure Protection, and Security Technologies.
The homeland security standards effort, which is meant to protect commercial chemical plants from catastrophic terrorist attacks, has so far been renewed annually by Congress through the appropriations process. Some lawmakers have cited management problems with the program and delays in approving facility security plans as reasons for their reluctance to permanently authorize the program, although the Government Accountability Office, which provided testimony at Thursday's hearing, has said the program is improving.
Officials at the Homeland Security Department say lack of certainty about its renewal from year to year has created instability for the program. Assistant Homeland Security Secretary Caitlin Durkovich on Thursday went so far as to say that some chemical companies might be opting not to comply with its requirements due to an expectation that Congress might allow the program to expire.
For this reason, Durkovich and other DHS officials support the new authorization bill, which would take the question of the program's existence out of the annual appropriations process.
The authorization bill, introduced earlier this month and backed by House Homeland Security Committee Chairman Michael McCaul (R-Texas), might not go far enough in that vein, however, Durkovich said. The bill would authorize the program for two years, but DHS officials said they would prefer an authorization of five years or longer.
Numerous efforts by the House Homeland Security Committee to pass such authorization legislation in recent years have failed, however, largely due to disagreements with the House Energy and Commerce Committee, which shares jurisdiction over the issue. Thompson, the top ranking Democrat on the House Homeland Security Committee, warned on Thursday that the new bill likely will not resolve jurisdictional conflicts, and could even add to them.
Representative Yvette Clarke (D-N.Y.), the top ranking Democrat on the Homeland Security subcommittee that oversees chemical security, raised similar concerns. Clarke, who raised concerns that the bill could delegate site inspections to private contractors, also suggested that "enactment into law for H.R. 4007 may be a while off."
The chemical industry supports the bill. The legislation would continue to prohibit the Homeland Security Department from requiring that companies install any specific security measures at their plants. As part of this, the department would not be permitted to mandate that industry switch to so-called "inherently safer technologies" in cases where chemical processes safer than the ones companies are currently using exist.
The chemical industry opposes any such mandates.
At the same time, industry representatives are raising concerns that mandates of this kind could ultimately be embraced in the recommendations of key federal agencies, as government officials study ways to improve the U.S. approach to chemical security. Agencies are assessing prospective improvements in chemical security to comply with an executive order President Obama issued last year.
The president issued the order following an April 2013 catastrophic explosion at a Texas fertilizer plant -- a facility that Homeland Security Department officials did not realize existed.
During a public hearing regarding options being considered under the executive order in Newark, N.J., on Thursday, Elvin Montero, director of the Chemical Council of New Jersey, raised concerns that the U.S. Environmental Protection Agency is considering nationalizing a state program that requires assessments of inherently safer technology.
Such a move would "lead to unnecessary and duplicative regulatory obligations that do not enhance safety or security," according to a copy of Montero's prepared remarks provided by the American Chemistry Council.
Thompson, however, suggested at the Capitol Hill hearing on Thursday that the development of legislation to improve chemical security in advance of recommendations made under the executive order might be premature. The recommendations are expected to come in a report to the president in May.
Anna Fendley, of the United Steelworkers, raised several concerns about the current bill in testimony to the Homeland Security Committee on Thursday. The labor official voiced concern about the continued prohibition against DHS officials requiring any specific security measures. Fendley also complained that the bill does not expand the CFATS program to cover "chemicals shipped or stored outside of a facility's fence line in nearby rail yards or elsewhere that may have little or no security measures. …
"DHS claims that 'more than 3,000 facilities removed, reduced or modified holdings of chemicals of interest' but maintains no information as to how these reductions in holdings were achieved," Fendley argued in written testimony.
She suggested that companies might be engaging in "risk shifting," and that she had "seen pictures and gotten accounts from our members of rail cars full of hazardous chemicals parked for days outside the fence line within yards of a busy road near homes and other businesses."
About
The legislation is backed by the chemical industry, along with Homeland Security Department officials.
Countries