Draft House Measure Demands Nuclear Capability in New Bomber from Get-Go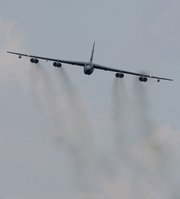 WASHINGTON -- A key panel of the House Armed Services Committee has drafted legislation that would require the Defense Department to ensure its future bomber has a nuclear-weapons capability immediately upon fielding (see GSN, March 27).
If passed into law, the provision would toss out existing Air Force plans to phase in a nuclear capability only after a conventional-only Long Range Strike bomber is initially fielded in the 2020s. The measure is included in the Seapower and Projection Forces Subcommittee's draft text for the fiscal 2013 defense authorization bill, which the panel was marking up at press time on Thursday.
"The secretary of the Air Force shall ensure that the next-generation long-range strike bomber is certified to use both conventional weapons and strategic nuclear weapons as of the date on which such aircraft achieves initial operating capability," reads the subcommittee markup, released on Wednesday.
The full House Armed Services Committee is scheduled to consider its version of the same spending-authorization bill on May 9, after the chamber takes a one-week recess, according to a panel spokesman. The committee has the authority to alter provisions drafted by its subcommittees, but typically very few changes are made before a lengthy defense authorization bill is sent to the House floor.
Gen. Norton Schwartz, the Air Force chief of staff, explained last year that a dual-capable design would enable the aircraft to carry nuclear weapons from the start. However, to save costs and facilitate testing, the service would certify the bomber for nuclear missions some unspecified number of years after first fielding a conventional-only aircraft.
"We are going to phase this in a way that will initially introduce conventional capability, which is easier to test, less costly to test," Schwartz said in Nov. 2 testimony before the House Armed Services Committee. "And then as we get closer to the time when the B-52 and the B-2 [bombers] begin to age out, we will well in advance of that certify the [new] airplane for nuclear operation."
At the time, some lawmakers were already expressing dismay at the service approach.
"I'm concerned about a de-emphasis on the nuclear role," Representative John Fleming (R-La.) said at the House hearing. Combined with an array of other deep cuts to the defense budget, the delay in equipping the new bomber with nuclear arms "obviously makes this world a more dangerous place," he said.
Schwartz, the top Air Force officer, has since said his service must keep the cost of the new bomber capped at $550 million per aircraft or risk seeing the project canceled (see GSN, March 1).
Defense officials anticipate that the new stealthy bomber will be piloted either remotely or by humans in the cockpit. The aircraft is to feature futuristic capabilities for defeating enemy radar systems and destroying incoming missiles with lasers.
The House panel said, though, that it was "discouraged that the Air Force is unable to clearly articulate when the new long-range strike bomber will become certified for nuclear operations after attaining initial operating capability status."
Headed by Representative Todd Akin (R-Mo.), the subcommittee did endorse service plans to maintain today's dual-capable bomber fleets at existing levels. Sixteen B-2s and 44 B-52s are available today for nuclear missions, according to atomic weapons analysts Hans Kristensen and Robert Norris.
The House lawmakers, however, rejected the Air Force perspective when it came to qualifying the new flying platform for its nuclear combat responsibilities.
"The committee does not believe that test and evaluation master plan affordability should be the limiting factor for certification," according to the draft House Armed Services markup.
The top Democrat on the House Armed Services Committee, Representative Adam Smith (Wash.), has said he would consider the possibility of calling for the future bomber to be capable solely of conventional missions, particularly given mounting pressures to cut federal spending (see GSN, March 1).
More than 40 House lawmakers have joined Representative Edward Markey (D-Mass.) in sponsoring legislation that would prohibit development of a nuclear-capable bomber over the next decade as part of a proposed $100 billion reduction in nuclear spending over that time period.
In related news, the same House subcommittee also moved to block a Navy blueprint for phasing its future nuclear-armed submarine into the fleet as today's Ohio-class vessels begin to retire. The Navy must "maintain a minimum of 12 ballistic missile submarines in the fleet," the panel's defense authorization legislation states.
This mandate conflicts with a recent Navy shipbuilding plan that has the service operating for 14 years, mostly during the 2030s, with less than its planned complement of a dozen nuclear-armed submerged craft (see GSN, March 30).
An anticipated two-year delay in developing and fielding the Ohio class replacement submarine is expected to force a dip to just 10 Trident D-5 missile-carrying vessels, and the Navy will not reach 12 such boats again until 2042, according to service plans.
Of a total 12 submarines, 10 vessels could be at sea at any one time, according to recent Navy testimony.
Today there are 14 nuclear-armed Ohio-class submarines, of which four are typically kept at sea and on alert at any given time. The Pentagon's 2010 Nuclear Posture Review said the White House would "consider reducing from 14 to 12 Ohio-class submarines" by 2020, without affecting the number of deployed warheads aboard the vessels.
In an opening statement as the mark-up process began on Thursday, Akin called the two-year delay in the new submarine effort "the most worrisome part of the budget request."
The Navy has determined there is only "moderate risk" associated with the dozen-plus years in which it will field just 10 ballistic missile submarines, the subcommittee head noted. Akin said that judgment is flawed.
"We cannot afford to take any unwarranted risk in this most important capability for national security, and so are mandating that the Navy retain no fewer than 12 of these submarines to provide adequate undersea nuclear capability," he said in released remarks.
The Seapower and Projection Forces Subcommittee stated in its draft bill that as of fiscal 2013, which begins on Oct. 1, "the secretary of the Navy may not retire or decommission a nuclear-powered ballistic missile submarine if such retirement or decommissioning would result in the active or commissioned fleet of such submarines consisting of less than 12 submarines."
At a House Armed Services Committee hearing earlier this year, another key lawmaker expressed qualms about the Navy fielding plan for the new vessel, sometimes dubbed SSBN(X).
"When you lose two years" in the developmental schedule, Strategic Forces Subcommittee Chairman Michael Turner (R-Ohio) said on Feb. 16, "certainly everyone has concerns as to what's going to be your overall operational effect."
Correction: The original version of this article gave an incorrect figure for the plane's maximum cost. It is $550 million per aircraft.
About
WASHINGTON -- A key panel of the House Armed Services Committee has drafted legislation that would require the Defense Department to ensure its future bomber has a nuclear-weapons capability immediately upon fielding.
Countries