Egypt Plays Key Nonproliferation Role, But Keeps Nuclear Options Open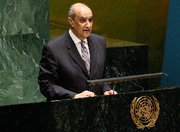 WASHINGTON -- Egypt took a central role in a key international conference last month aimed at stemming global proliferation, but its U.N. envoy still would not rule out the idea that Cairo might someday build its own nuclear arsenal (see GSN, June 1).
"We in Egypt are against even the presence of nuclear weapons in our region," Ambassador Maged Abdel Aziz said in an interview on the last day of a five-year Nuclear Nonproliferation Treaty review conference. "But if others will acquire nuclear weapons -- and if others are going to use these nuclear weapons to acquire status in the region of the Middle East -- let me tell you, we are not going to accept to be second-class citizens in the region of the Middle East."
The warning had clear implications for Iran, which is suspected of working to develop nuclear arms. Tehran insists its efforts are limited to generating peaceful atomic energy, but it has not fully complied with U.N. safeguards aimed at ensuring there are no military aspects to its uranium enrichment program. The U.N. Security Council on Wednesday passed a new sanctions resolution against the Persian Gulf power (see GSN, June 9).
"Are we going to be the underdog in this Middle East region, or are we going to be partners in the region that is free of nuclear weapons?" the Egyptian diplomat said in the May 28 interview in New York. "This is something that has to be taken very seriously."
Israel, which is not a member of the 1970 nonproliferation pact and did not participate in last month's conference, is widely believed to have developed nuclear arms roughly 40 years ago and to hold an arsenal estimated at around 100 weapons. To date, Jerusalem's stockpile alone does not appear to have pushed Egypt into the nuclear fraternity, but a new capability in Tehran might do just that.
Abdel Aziz stopped short of saying that an Iranian bomb would prompt Egypt to pull out of the nonproliferation accord and acquire its own nuclear deterrent, but it appears that is the impression Cairo seeks to give. Egypt will serve as a leader in stanching proliferation in the Middle East but, if that fails, it will not be left out in the cold, the diplomat indicated.
Egypt is "years away from the ability to produce nuclear weapons," according to an April analysis by the Nuclear Threat Initiative. The North African nation operates two small research reactors and has developed other "fuel-cycle relevant technology and expertise," but "none of its past efforts to acquire power reactors was successful," according to the organization.
Cairo has taken some actions since 2006 to lay the groundwork for an expanded nuclear energy program, according to the NTI analysis. "Egypt eventually could possess a hedge capability," but whether such a hedge would evolve into a nuclear weapons effort could depend on the development of indigenous enrichment or reprocessing abilities, the group stated.
"If the Iranian program proves to be a military program and [if] Israeli nuclear capabilities [are maintained], both are going to be a threat to ... Egypt and to all the countries in the Arab world," Abdel Aziz, who headed his nation's NPT conference delegation, told Global Security Newswire. "That will make a lot of the countries of the Arab world change their mind."
As chairman of both the Nonaligned Movement of developing nations and the New Agenda Coalition of midsize powers, Egypt came to the monthlong Nonproliferation Treaty review conference with a clear idea of what it wanted.
Its objectives included winning stronger commitments by the five nuclear-weapon states recognized by the agreement -- China, France, Russia, the United Kingdom and United States -- to make progress toward disarmament.
Though conferees ultimately jettisoned some draft text that called for setting clear time lines for eliminating global nuclear stockpiles, the final document does urge an end to atomic explosive testing, encourages commitments by the nuclear powers not to target non-nuclear nations, and seeks a reduced emphasis on the role these arms play in national security strategies.
Topping Egypt's to-do list was making substantial progress toward achieving a zone in the Middle East in which nuclear arms and other dangerous weapons are prohibited. The idea of such a sector was raised in the 1995 NPT review conference final statement, but never seriously pursued. At the 2010 conference, Cairo -- with some modest compromises -- got its wish.
A central facet of the final consensus document issued at the end of this year's meeting is a plan to convene a regional summit in 2012 to discuss the prospects for implementing a Mideast zone free of weapons of mass destruction.
"Egypt has played its hand brilliantly through this conference and deserves to feel very proud of how its leadership -- headed by Ambassador Maged Abdel Aziz -- has contributed to this outcome," Rebecca Johnson, founding director of the Acronym Institute for Disarmament Diplomacy, said in a blog post late last month.
The 2012 Mideast summit is to include Israel, Iran and all the Arab nations in the region.
However, after the NPT conference concluded last month, Washington and Jerusalem decried a passage in the final statement that encouraged Israel by name to join the treaty as a non-nuclear nation. They warned that this language might ultimately hinder Jerusalem's participation in the gathering two years from now.
"Because of [the] gratuitous way that Israel has been singled out, the prospect for a conference in 2012 that involves all key states in the region is now in doubt and will remain so until all are assured that it can operate in a unbiased and constructive way," White House national security adviser James Jones said in a written statement.
The Israeli government said the NPT member states' plan for a summit "ignores the realities of the Middle East and the real threats facing the region and the entire world." Jerusalem also criticized the decision to name Israel in the text while "the terrorist regime in Iran, which is racing to develop nuclear weapons and which openly threatens to wipe Israel off the map, is not even mentioned in the resolution."
In fact, there was never any guarantee that Israel would be present at the 2012 meeting, despite the final statement's desire for a conference "to be attended by all states of the Middle East." U.S. diplomats reportedly conferred privately with the Israeli permanent mission to the United Nations throughout last month's NPT gathering, but the content of these discussions has not been made public.
"There is no assurance up to now that Israel is going to attend the 2012 conference. But we are working on all circumstances to make possible preparations prior to 2012 on this front," Abdel Aziz said. "We don't need a conference for the Arab states to sit together. ... We want Israel to come voluntarily to the conference because it feels and it is assured that this is for their benefit and this is for their security."
During the final days of the NPT conference, the United States said it could not endorse a statement that named Israel (see GSN, May 28).
"The U.S. was the only country that objected to the inclusion of Israel, in the presence of the president of the conference," Abdel Aziz said. "It was a unanimous decision of the Arab group that we will insist on mentioning Israel," even if it meant the conference would end without full consensus, he said.
In such an instance, it would have been "the United States [that would] make the conference a failure," he said.
However, at the 11th hour, the U.S. team -- headed by Ambassador Susan Burk -- agreed not to block consensus on the entire document over this one point.
With just a few hours left before the conference concluded, U.S. acceptance of the draft language on the Mideast zone left Iran -- also an NPT member state -- as the last holdout in the effort to attain unanimous support for the 28-page statement.
"They had to recalculate fast," Abdel Aziz said. "They were at a point of, 'Everyone agrees. Should we agree, too?'"
Iran had earlier raised a number of objections to the draft final document, perhaps chief among them a demand that the text include "at least a mention of the total elimination of nuclear weapons by 2025," according to Cairo's representative.
The Iranian permanent mission to the United Nations did not respond to requests for an interview.
Abdel Aziz said he met on May 28 with his Iranian counterpart, Ambassador Mohammad Khazaee, shortly before the conference took a final vote on its official document. At the meeting, the Egyptian envoy agreed to include some of Iran's concerns in a wrap-up statement that Abdel Aziz would present on behalf of the 118-nation Nonaligned Movement later that day during the last NPT conference gathering in the General Assembly chamber.
That included the objective of achieving a global nuclear weapons ban by 2025, a point that Abdel Aziz listed first in describing the priorities that nonaligned states would "vigorously pursue" in the "run-up to the new review conference in 2015."
Other Iranian demands that Abdel Aziz also underscored in his comments on behalf of the Nonaligned Movement included discouraging any threats to use nuclear weapons and making the Nuclear Nonproliferation Treaty universal, to include nations such as Israel, Pakistan, India and North Korea.
"They asked that we include some certain elements of the objections in the NAM statement and we included them, because these are NAM positions," Abdel Aziz told GSN a few hours later. These were "agreed upon between members of the NAM previously," he said.
Still, the crucial question for Iran's delegation at the NPT conference was whether top leaders in Tehran were prepared to accept the final document as a whole. Though the statement did not single out Iran by name, the conference president's nonbinding "review" of NPT implementation in the final document did note concerns on the part of "numerous" state parties regarding "noncompliance" with the treaty.
"They [also] had instructions to try to work hard to get something better on the legally binding negative security assurances, to get something on the nuclear doctrines, to get something on the nuclear sharing, to get something on this and that," Abdel Aziz said. "So when they did not come up with these ... they wanted to review back with their capital, whether this [was an] acceptable package altogether or not."
Tehran's approval ultimately became apparent when the conference president, Filipino Ambassador Libran Cabactulan, put the final declaration before all 189 member states in the General Assembly hall at 3:30 p.m. local time on May 28 and no objections were voiced. Cabactulan hit his gavel and sustained applause filled the chamber.
The outcome, many conference participants said, had much to do with a month or more of prodding and cajoling by Abdel Aziz and his delegation, and ultimately Egypt's willingness to accept slightly less dramatic achievements than it would have liked.
One clear example of the latter was the team's inability to land specific language that would posit the 2012 Middle East conference as a negotiating forum. Rather, at the insistence of the U.S. delegation and others, the upcoming conference is cast simply as a meeting that will address the establishment of a regional ban on weapons of mass destruction.
Abdel Aziz conceded that the 2012 conference is a somewhat modest step, but insisted it is a necessary starting point in a long process.
"The conference in 2012 is not a one-time event. It's not an event where we're going to meet and then we're going to disperse," he said in the interview. "No, there is a follow-up mechanism" and a yet-to-be-named coordinator who would report on progress at the 2015 NPT review conference and preparatory meetings leading up to that session, he noted.
"The paragraph speaks about 'initial conference,' and that means that this comes in a series of conferences," he said.
Still, with many pundits convinced that Israel would never give up its nuclear arms and that Iran could develop its own arsenal in the coming years, it is unclear exactly what Cairo's underlying objectives are in doggedly pursuing a Mideast nuclear weapon-free zone (see GSN, April 30).
"I worry that the point is to make a big fight out of this and advance unmeetable demands precisely in order to pre-establish the excuse for a nuclear option of one's own," Christopher Ford, a senior fellow at the Hudson Institute, said of Egypt this week.
In an essay late last year, Ford said the heightened calls for a Mideast zone free of unconventional weapons appear to have come in direct response to the uptick in the Iranian threat.
"This great flurry of effort to demand progress on the Middle East resolution has developed in the wake of the revelation in 2002 that Iran has for years been secretly pursuing a clandestine nuclear program that would give it the capability to produce fissile material usable in nuclear weapons," he said, adding that the sudden focus on Israel's decades-old arsenal "makes no sense whatsoever."
Cairo accurately gambled, though, that the Obama administration ultimately would not let the entire 2010 review conference go down in flames over naming Israel. Democrats had earlier derided George W. Bush's team for allowing the 2005 meeting to end without a consensus document.
The Obama team took some hits from the right over the matter -- Ford called it a "strange diplomatic posture" to have backed the entire final document while castigating one passage to which it agreed -- but it could claim to have played an important role in a successful nonproliferation event.
Asked what Egypt intends to do with its newfound diplomatic clout on these issues following the New York conference, Abdel Aziz portrayed Cairo's role in modest terms.
"Egypt has always attached greater importance to the issues of nuclear disarmament and to the issues of the nonproliferation, and we have been an avid supporter of the nonproliferation regime," the ambassador said.
During President George W. Bush's administration, "the United States did not want anything to move in the nuclear disarmament [arena] and did not want anything to move in this [effort] in the Middle East," he said.
"Now that the mood is totally different" under President Barack Obama -- who has said his administration would advance key nonproliferation measures and take "concrete steps" toward disarmament -- "the Egyptian role is also developing with the emergence of new thinking and new direction," Abdel Aziz said.
Egypt will seek to "grab those opportunities" and exploit "the little window ... that's open there, before it closes," the envoy said. Such efforts, he suggested earlier during his remarks in the General Assembly hall, could include pressing the nuclear-weapon nations to formalize their disarmament commitments in a new, legally binding accord.
Speaking for the Nonaligned Movement, Abdel Aziz pressed for the "prompt commencement of negotiations on a Nuclear Weapons Convention, as the route to realizing a world free from nuclear weapons by the year 2025."
For his part, though, Ford remains on the fence about whether Egypt's long-term objectives might include acquiring its own nuclear-arms capability.
"They seem to have gotten enough for the moment out of the call for a [Mideast] conference in 2012," he told GSN this week. "That doesn't feel real satisfying to me in terms of knowing what that was about or where it's going in the future."
[EDITOR'S NOTE: The Nuclear Threat Initiative is the sole sponsor of Global Security Newswire, which is published independently by the National Journal Group.]