Envoy: Russia May Construct Reactor in Iran in Swap for Oil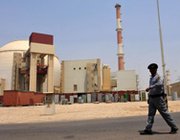 An Iranian diplomat said his country may send petroleum to Russia in a potential trade for a new atomic-energy reactor at its Bushehr site, Reuters reports.
Iran could export up to 500,000 barrels of petroleum to Russia on a daily basis under a possible oil-for-goods deal, undercutting Western measures aimed at isolating the Persian Gulf power's economy, the news service said.
"Iran could use some of the proceeds (to pay for) the construction by Russia companies of a second unit at the nuclear power plant in Bushehr," Iranian Ambassador to Russia Mehdi Sanaei told the Russian newspaper Kommersant in comments published on Monday.
U.S. Under Secretary of State Wendy Sherman earlier this month expressed doubt that Tehran and Moscow would finalize any barter arrangement. Washington has cautioned both parties that such a deal would make a long-term accord on Iran's disputed atomic activities "more difficult, if not impossible" to reach, according to Sherman, the Obama administration's senior negotiator with Iran.
Sanaei brushed off the U.S. warnings, though, and suggested that Tehran and Moscow could ink a deal by the end of July.
"Our Russian friends, who have stood by us at difficult moments, should have advantages on the Iranian market," the Iranian envoy said. "But Russian companies must hurry to get into their niche in our market and not hesitate out of fear of Western sanctions."
On Monday, a senior Obama administration official reaffirmed Washington's doubt that the oil-swap agreement would become a reality.
"I think that we will hear a lot of people hoping to put things together, but ... the major parts of our sanctions are in place and our underlying sanctions architecture is in place both on the oil side, on the financial and banking side, and if people try to evade our sanctions, we will find them," the insider said during a press conference.