Former Officials Seek U.S. Disclosure on Alleged Israeli Nuclear Theft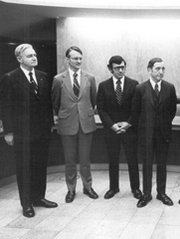 Two former atomic officials say revealing U.S. findings on a decades-old alleged nuclear theft by Israel may bolster Washington's present-day diplomacy.
Declassifying all investigative data on the 1960s-era disappearance of weapon-grade uranium from a Pennsylvania atomic plant could boost U.S. credibility in current nuclear negotiations, former Nuclear Regulatory Commission officials Victor Gilinsky and Roger Mattson argued in e-mail responses to questions from Global Security Newswire.
In an article published last week by the Bulletin of the Atomic Scientists, they said public details have already cast suspicion on Israel, which also is widely believed to possess an unacknowledged atomic arsenal.
By withholding data and publicly downplaying any Israeli link to the highly enriched uranium lost in Apollo, Penn., the United States appears to have acted in support of Israel's atomic policies, the authors said in the comments provided to GSN. They said the stance has undermined Washington's credibility as it presses other countries to curb their sensitive atomic activities.
"We've lost a great deal of respect around the world on the subject of nonproliferation," Gilinsky told GSN. Citing one example, the former NRC commissioner said Washington's reluctance to openly discuss Israel's nuclear activities has hampered the U.S. ability to overtly press its Middle Eastern ally to participate in a planned conference on eliminating weapons of mass destruction from the Middle East.
"The president doesn't even acknowledge that Israel has nuclear weapons, which means no one in the government can, either," he told GSN. "Leveling on [this] affair, painful as it might be in the short run, would be a step toward what you might call a reality-based policy in this area."
For disclosure to be likely, though, President Obama must "see it in his political benefit to do so," Gilinsky wrote. "If he wanted to, he could do it at any time, but I am not holding my breath."
Still, there is no consensus that Israel obtained the uranium that went missing from the facility operated by Nuclear Materials and Equipment Corporation. Company head Zalman Shapiro has consistently denied any transfer, and investigative journalist Seymour Hersh has contended that the plant gradually lost the material in the course of routine operations.
According to Mattson, disclosing all U.S. findings on the disappearance would serve Washington's interest, even if Israel was not the perpetrator.
He argued in an e-mail that in dialogue with nations such as Iran and North Korea, "it is important for all sides to come to the table openly and honestly, as they declare their various interests in the deal they are trying to strike."
"If full declassification of the decades-old documents proves America has already told the truth, so much the better. If it does not, then let's atone for past mistakes and go back to the negotiating table refreshed by the experience," he wrote.
In 1976, the CIA informed NRC officials that hundreds of pounds of U.S. uranium had likely ended up "in Israeli bombs" after going missing years earlier, Gilinsky and Mattson said in their article published on Thursday.
The supporting evidence behind that conclusion remains a secret. The former NRC officials, though, said the redaction of any incriminating information from declassified case documents is "a backhanded admission of the persuasiveness of the CIA's evidence."
The plant's "owners and executives had extremely close ties to Israel, including to high Israeli intelligence and nuclear officials. Israel had strong motives to obtain the highly enriched uranium before it was producing enough plutonium for weapons," they added.
About
Two former atomic officials say revealing U.S. findings on a decades-old alleged nuclear theft by Israel may bolster Washington's present-day diplomacy.
Countries