Republican Lawmakers Urge Obama Not to Slash U.S. Nuclear Force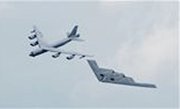 Thirty-four Republican members of Congress have urged the White House not to pursue fresh cuts to the U.S. nuclear arsenal, the Federal Times reported on Friday (see GSN, Feb. 16).
In a Thursday letter to President Obama, the House lawmakers said, "We write to share our deep concern with reports that you specifically instructed the National Security Council to undertake a study that could result in U.S. nuclear weapons reductions of up to 80 percent."
The letter, co-written by House Armed Services Committee Chairman Howard McKeon (R-Calif.) and HASC Strategic Forces Subcommittee Chairman Michael Turner (R-Ohio), calls on the White House to include Capitol Hill in considerations of the future of the arsenal and to provide lawmakers with the reference terms used in drawing up a plan to implement the objectives of the 2010 Nuclear Posture Review.
The review set out a number of strategic objectives, including shrinking the importance of nuclear weapons in the overall U.S. security posture. In accordance with that goal, the Pentagon has drawn up three proposals that would respectively cut the number of nuclear warheads the United States keeps launch ready to ranges between 1,000 and 1,100, 700 and 800, or 300 and 400, the Associated Press recently reported.
Defense Secretary Leon Panetta on Wednesday told a HASC hearing that a "number of options" are on the table in considering the future of the nation's nuclear stockpile, which as of 2010 stood at 5,113 operational and stored weapons. The New START treaty with Russia requires the United States by 2018 to cut deployment of strategic nuclear systems to 1,550 warheads and 700 delivery systems.
The State Department's top official for arms control, Rose Gottemoeller, would not discuss with journalists the details of the Pentagon's three proposals on force cuts as they have not yet been formally presented to Obama.
The Republican letter also took issue with recent comments by high-ranking Obama national security staff that suggest fresh cuts to the U.S. arsenal could be pursued even if Russia refuses to similarly slash its nuclear force.
"Reductions that have been made, at least in this administration, have only been made as part of the [New START] process and not outside of that process," Panetta said. "And I would expect that that would be the same in the future."
Gottemoeller said it would be the president's preference to carry out new nuclear cuts in tandem with Russia.
The Obama administration also has the option of weighing reciprocal reductions, which would involve the United States and Russia jointly resolving to carry out new curbs absent of a new arms control pact, the acting undersecretary of State for arms control said (Kate Brannen, Federal Times, Feb. 17).
Despite the current vociferous GOP objections to new cuts, it has been Republican presidents over the last 20 years who have authorized the highest reductions to the U.S. nuclear stockpile, the Associated Press reported on Sunday.
"Republican presidents seem to have a thing for 50 percent nuclear reductions," said Hans Kristensen, director of the Federation of American Scientists' Nuclear Information Project.
President George H.W. Bush approved cutting the number of fielded and stored nuclear weapons from 22,217 to 13,708. His administration also saw the quantity of fielded long-range nuclear weapons reduced from 12,300 to 7,114, Kristensen stated.
In addition, then-President Bush in 1991 also took the unilateral step of removing all deployed ground-launched U.S. nuclear weapons from South Korea and Europe and withdrawing all nuclear warheads from U.S. battleships.
When President George W. Bush ended his tenure as commander in chief in early 2009, there were only 1,968 fielded U.S. nuclear weapons, according to Kristensen. The full arsenal had dropped from 10,526 to 5,273 warheads.
Turner on Friday said he was greatly worried by the idea of more severe reductions to the nation's nuclear stockpile.
"Never before has a president done something like this. Yes, presidents since Truman have updated the nation's nuclear war plan. But I cannot find a precedent for a president to tell the national security team, that regardless of the nuclear-weapons modernization programs of China, Russia, Pakistan, North Korea and others, the U.S. should plan to reduce to as low as 300 nuclear weapons," Turner said.
Turner's opinion was echoed by other GOP lawmakers.
"A 300 number would (mean) the Chinese would have more than we have," Senator Jon Kyl (R-Ariz.) said. "I mean, this is a number where anybody that wanted to could build up to that number and be a peer with the United States. The whole point of nuclear deterrent is to have so much and so great a capability that nobody ever messes with you."
However, if the United States did reduce its launch-ready to arsenal to 300 warheads, it would still have in reserve hundreds and potentially thousands more nuclear weapons than China, which is thought to possess a total stockpile of 300 deployed and reserve warheads (Robert Burns, Associated Press/Arizona Daily Star, Feb. 19).
About
Thirty-four Republican members of Congress have urged the White House not to pursue fresh cuts to the U.S. nuclear arsenal, the Federal Times reported on Friday.
Countries