House Bill Includes Spate of New Nonproliferation Measures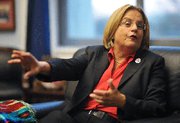 WASHINGTON -- House legislation that would heighten congressional oversight of U.S. nuclear trade agreements also contains a number of other new provisions aimed at strengthening the nation's nonproliferation policies (see GSN, April 15).
Despite some potentially weighty ramifications, the measure to amend the 1954 Atomic Energy Act has thus far drawn little public attention.
One new feature in the bill would for the first time require the State Department to draw up a list of "state sponsors of proliferation," akin to a designation that Washington already uses to identify international backers of terrorism.
Such a list of rogues could step up public awareness and increase pressure on suspect nations to change course by blocking their access to U.S. foreign assistance, according to experts. Potential candidate nations for the proliferator designation might include North Korea, which the Bush administration in 2008 removed from the state sponsors of terrorism list but which is still widely suspected of sharing nuclear and missile technologies with other countries.
The bill also dictates new ways in which U.S. policy could encourage other nations to accept comprehensive U.N. inspections of their nuclear facilities, helping ensure there is no secret diversion of sensitive materials for military use.
The measure passed the House Foreign Affairs Committee by a 34-0 vote on April 14. It remains unclear when H.R. 1280 might go to a floor vote or potentially be considered by the Senate.
Similar legislation was filed in the Senate in January. However, that chamber's Foreign Relations Committee has not yet acted on it, and the bill's sponsor -- Senator John Ensign (R-Nev.) -- recently announced that he is resigning office as of early next month (see GSN, March 25).
The House measure is primarily focused on raising the bar for so-called "Section 123 agreements." These pacts allow Washington to share technologies and know-how for civil nuclear power with selected nations.
If passed by Congress, the bill would require that all nuclear trade pacts meet a longer list of nonproliferation conditions before being submitted to Capitol Hill.
Under existing law, these criteria have included guarantees of safeguards on transferred nuclear material and equipment; a U.S. right to demand the return of materials and equipment if a recipient nation detonates an atomic device; and a block on the transfer of any sensitive items to third-party nations without Washington's consent.
The new legislation adds three new criteria before Congress will consider such an agreement. These new conditions limit individuals from third-party nations from entering facilities participating in the deal; make all "subsequent arrangements" to a 123 agreement -- documents that facilitate implementation -- subject to a joint congressional resolution of approval; and require the president to keep Congress informed of any new nuclear trade pact negotiations.
The House committee bill would subject these agreements to an up-or-down vote by both chambers before they could be implemented. Only an eligible pact in which a partner nation has agreed not to produce nuclear fuel on its territory would be exempt from the mandate for House and Senate approval votes.
This most proliferation-proof type of accord -- which the Obama administration has termed the "gold standard" -- would get an easier ride. It would automatically be eligible to enter into force after 90 days of continuous session, unless Congress votes to block the measure.
As the Atomic Energy Act currently stands, any 123 agreement can go forward unless Congress objects within the 90-day review period -- a process tilted in favor of tacit approval and one that House committee members felt denied Congress its full voice, particularly in regard to potential proliferation risks.
Despite enshrining a commitment not to enrich uranium or reprocess plutonium in a 2009 agreement with the United Arab Emirates, the White House thus far has been reluctant to say that all future nuclear trade pacts should include such a pledge. Administration officials have instead said a case-by-case approach is required for future agreements, depending on the partner nation involved (see GSN, Jan. 25).
A policy statement on the matter has been awaiting a decision by President Obama for the past several months (see GSN, Nov. 19, 2010). In the meantime, administration officials have signaled they would not support the higher bar for congressional review put forth by the House committee, according to sources.
The House bill also for the first time would treat renewals of existing agreements differently than new 123 pacts. A renewal accord -- typically seen as necessary when an existing pact nears expiration -- could go into effect after 30 days of continuous session if it includes a provision for no uranium enrichment or plutonium reprocessing, according to the legislation.
Without gold-standard provisions, a renewal agreement would be subject to approval votes by both chambers.
"The House is taking an important step with this bill to bring the nonproliferation provisions of the AEA up to date with 21st century nonproliferation realities," said Peter Crail, a research analyst at the Arms Control Association. "It's an effort the Obama administration should actively support, not oppose."
Another issue expert applauded the committee measure but also indicated there is much more to be done.
"It is a minimal start toward where the U.S. needs to lead the world toward -- a globe full of nuclear suppliers upholding the gold standard and a U.S. that actually reviews the nuclear cooperative agreements it strikes," said Henry Sokolski, executive director of the Nonproliferation Policy Education Center.
He added it was unclear whether the pending legislation would prompt the Obama administration to publicly lay out its policy on the gold standard, but said the congressional development "ought to keep them from striking deals that fail to meet this standard."
During mark-up of the bill, the committee used draft legislation from Chairwoman Ileana Ros-Lehtinen (R-Fla.) as a starting point. However, the panel ultimately softened her earlier insistence that all proposed 123 agreements must be approved by House and Senate vote, regardless of a pact's possible inclusion of a partner nation commitment to forgo making its own nuclear fuel.
The panel also voted to include a number of additional nonproliferation provisions originally proposed in H.R. 1320, a separate Atomic Energy Act reform bill drafted by Ranking Member Howard Berman (D-Calif.):
-- The House and Senate's joint resolution of approval or disapproval of a nuclear trade pact may include additional provisions. This could pave the way for congressional action on potentially controversial agreements -- such as a pact with China that comes up for renewal in 2015 -- by permitting Capitol Hill to attach specific conditions aimed at resolving lawmaker concerns, experts say;
-- U.S. policy is directed to impose sanctions on any nation that withdraws from the 1970 Nuclear Nonproliferation Treaty after passage of the bill. This might someday apply to NPT member nations including Iran or Syria that are suspected of clandestinely attempting to develop a weapons capability. However, the wording would exempt nuclear-weapon nations Israel, India and Pakistan, which are not parties to the treaty;
-- Countries with which Washington has a nuclear trade accord must offer sufficient liability protection for U.S. nuclear vendors before licenses can be issued for exports. The move comes in the wake of years of contention over Indian liability protection for U.S. contractors, which do not enjoy the same legal safety nets as government-backed nuclear-supply entities in nations including Russia and France (see GSN, Dec. 16, 2010);
-- Within 180 days of enactment, the president must issue a report on the comparability of other nuclear suppliers' nonproliferation conditions in their cooperation agreements, and describe the scope of these suppliers' nuclear commerce in the United States. This measure aims to identify economic and political means of leveling the nuclear energy playing field, making it more difficult for foreign competitors to undercut U.S. nonproliferation standards by offering recipient nations more permissive deals;
-- U.S. policy is directed to encourage states parties to the Nuclear Nonproliferation Treaty to bring into force an Additional Protocol for expanded U.N. safeguards activities. This provision also requires Washington to take into account whether a recipient country has an Additional Protocol in force when determining whether to give foreign assistance; and
-- Washington is prohibited from offering assistance to nations that the secretary of State has determined is a state sponsor of proliferation. This designation could be applied to any government of a nation that "has repeatedly provided support for acts of proliferation of equipment, technology, or materials to support the design, acquisition, manufacture, or use of weapons of mass destruction or the acquisition or development of ballistic missiles to carry such weapons," according to the committee-passed bill text, obtained by Global Security Newswire but not yet posted online.
Crail highlighted the importance of working to broaden international implementation of the Additional Protocol for comprehensive nuclear safeguards.
"One of the most important provisions in the bill is the proposal to make the Additional Protocol a condition of supply for the United States," he said Thursday in written responses to questions. "If we are to prevent civil nuclear programs from being used for weapons purposes, the United States needs to mandate tougher safeguards for future civil nuclear cooperation agreements."
The Additional Protocol provision in the bill and other features are "in support [of] a noble and worthy cause -- to get other nuclear suppliers that the U.S. does business with to adopt the 'gold standard' or risk forfeiting U.S. loan guarantees," Energy Department contracts or Nuclear Regulatory Commission licenses, said Sokolski, also responding to written queries.
He particularly liked the bill provision on putting subsequent arrangements to up-or-down approval votes.
This form of increased oversight "is critical if the Congress is to have a say about the further spread of reprocessing and recycling, such as may be approved for South Korea or China," Sokolski said.
The committee bill also adopted two amendments offered by Representative Brad Sherman (D-Calif.), ranking member of the panel's Terrorism, Nonproliferation and Trade Subcommittee. One requires that a partner nation in any nuclear cooperative agreement offer sufficient liability protection for U.S. exporters within one year after the 123 agreement enters into force.
The other expresses a "sense of Congress" that the president should "ensure" that foreign nations cooperating with the United States on civil nuclear matters also adhere to the same nonproliferation standards that Washington maintains.
Sokolski applauded the legislation, but added it would be better if the Sherman-drafted sense of Congress had stronger enforcement teeth.
"The bill is a great start because it gives clear legal incentives for the executive [branch] to work closely with Congress on any future nuclear arrangements," he said Thursday in a brief interview. "What's missing is a clear incentive to get other nuclear suppliers to follow the standards that Congress wants our government to follow -- the gold standard.
"To do this," he continued, "you'd want to make the sense of Congress resolution in the current draft binding."
For his part, Crail said no amount of global arm-twisting might be enough to persuade Washington's nuclear energy partners to agree to the highest nonproliferation standards. However, there could be opportunities in other forums in the coming months to press the issue of strengthening international regimes for nonproliferation, he said.
The administration should "redouble its efforts to achieve consensus at the Nuclear Suppliers Group meeting in June on more rigorous criteria for the supply of such technologies," Crail said (see GSN, July 2, 2010).
About
WASHINGTON -- House legislation that would heighten congressional oversight of U.S. nuclear trade agreements also contains a number of other new provisions aimed at strengthening the nation's nonproliferation policies (see GSN, April 15).