House Lawmakers Unveil New WMD Bill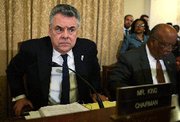 WASHINGTON -- Members of the U.S. House Homeland Security Committee on Thursday rolled out a new version of legislation aimed at augmenting federal efforts to prevent and respond to bioterror attacks and the threat posed by other weapons of mass destruction (see GSN, June 15).
"Today, even after the death of Osama bin Laden, we know that terror groups like al-Qaeda are still out there, probing and plotting attacks against Americans and they continue to be committed to obtaining nuclear and biological weapons, regardless of where they come from," Representative Bill Pascrell (D-N.J.), one of the bill's co-sponsors, said during a joint hearing of two panel subcommittees.
The legislation, dubbed the "WMD Prevention and Preparedness Act of 2011," is set to be formally introduced on Friday by Pascrell and committee Chairman Peter King (R-N.Y.). Last week Senator Joseph Lieberman (I-Conn.) announced he would put forward a companion bill in that chamber soon.
"Weapons of mass destruction create a risk of catastrophic consequence but they are of low probability," said Representative Dan Lungren (R-Calif.), chairman of the Homeland Security Cybersecurity, Infrastructure Protection and Security Technologies Subcommittee. "In such circumstances perhaps it's not surprising complacency and inactivity are our biggest vulnerabilities."
The House legislation calls for establishing a new special assistant to the president for biodefense who would craft a national effort against biological threats that coordinates all existing federal government strategic documents and plans, according to a 12-page executive summary of the bill.
The new post would in turn eliminate the Homeland Security Department's National Biosurveillance Integration Center, which was stood up in 2008 to provide early detection of biological events by integrating information through an interagency group.
The assistant would also create a national strategy for biosurveillance with an implementation plan to advance situational awareness of threats; identify data to be disseminated among federal agencies; foster information sharing among public health and law enforcement officials; and enhance the federal government's ability to characterize and track a biological event of national concern, according to the summary.
In addition, the assistant would draw up an annual "cross-cutting biodefense budget analysis" to determine any overlaps in responsibility among the government agencies that deal with or oversee pathogens, the document states.
The proposals contained in the bill are aimed at implementing the biosecurity recommendations made in 2009 by the congressionally chartered Commission on the Prevention of Weapons of Mass Destruction Proliferation and Terrorism, according to Pascrell. The panel warned of the potential for a WMD attack somewhere on Earth by 2013 and last year gave the Obama administration an "F" in a final "report card" for failure to develop a comprehensive strategy against a disease-based attack (see GSN, Jan. 26, 2010).
Today there are 82 "select agents" -- pathogens and biological toxins, such as anthrax, declared by the Health and Human Services and Agriculture departments to pose a severe threat to human or animal health.
The White House in 2010 issued an executive order that required the two departments to prepare a list of high-risk, or "Tier 1," materials with the greatest potential for devastating effect and to develop specific security practices for laboratories that house those disease agents. The panel assigned to carry out study recently suggested that 11 agents and toxins, including anthrax and Ebola, be deemed "Tier 1."
The House and Senate Homeland Security committees last year approved separate legislation to develop tiers of disease materials. The House bill called for the Agriculture and Health and Human Services departments to conduct inspections of relevant laboratories, as is today's practice, while the Senate wanted Homeland Security in the lead. Neither measure received a floor vote.
"One year later, and hopefully a little wiser, I hope we will swiftly consider by this committee this legislation and that jurisdictional turf battles will not stop the full House and Senate from passing this important legislation as soon as possible," Pascrell told his colleagues on Thursday.
The new measure reflects the White House order by calling for a permanent advisory panel to deliver recommendations on security for select agents and requiring Agriculture and Health and Human Services to implement the suggestions. It is unclear what course the Senate bill will recommend.
Pascrell later acknowledged that the legislation "is not a silver bullet that will fully immunize us from the threats that a weapon of mass destruction poses to our country."
The House legislation would require the national intelligence director, in consultation with relevant federal agencies, to develop and implement national intelligence strategies for countering biological and other WMD threats, according to the bill's executive summary.
Former Senator Jim Talent (R-Mo.), who co-chaired the WMD commission, praised the proposed legislation's biosurveillance and detection reforms, saying present efforts are "not real time enough."
"We cannot have confidence today we will know an attack has occurred within the period of time [needed] to respond," Talent, now the vice chairman of the WMD Center in Washington, told lawmakers at the hearing.
He said the nonprofit organization in October would issue a new report card that offers a "stem to stern" appraisal of the nation's resiliency to biological threats.
Talent added that someone "with clout and the ear of the president" must be put in charge of the entire federal biodefense enterprise or else Congress and the administration would lose the sense of urgency surrounding the issue.
The United States has made great progress on biosecurity and biosafety, following the president's executive order and the administration's response to the H1N1 flu epidemic, according to Robert Kadlec, who served as a biosecurity adviser under former President George W. Bush.
Biosafety is generally defined as measures intended to prevent the release of infectious agents within a laboratory or the outside environment. Biosecurity involves more active methods to avert biological terrorism or other disease breakouts.
However, Kadlec added, the nation's disease threat "portfolio" is still not seen as a national security priority. Kadlec noted that the White House Management and Budget Office classifies most biodefense efforts as health care programs, not as security initiatives.
In addition, while the administration has rolled out plans nuclear nonproliferation and for modernizing the nation's strategic arsenal, it has yet to take similar steps on biological weapons threats, he said during the hearing.
"We've had no Prague speech. We've had no biological summit on this issue," Kadlec told the panel, referring to the president's 2009 speech that laid out his nonproliferation agenda and the 2010 Global Nuclear Security Summit.
About
WASHINGTON -- Members of the U.S. House Homeland Security Committee on Thursday rolled out a new version of legislation aimed at augmenting federal efforts to prevent and respond to bioterror attacks and the threat posed by other weapons of mass destruction (see GSN, June 15).