House Panel Focus on Nuclear Trade Reform May Rest on Two New Leaders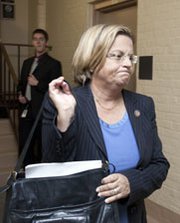 WASHINGTON -- With both the chairwoman and ranking member of the House Foreign Affairs Committee stepping down at the end of the year, the fate of a signature piece of legislation on nuclear trade reform could rest on which lawmakers are selected as the panel's new Republican and Democratic leaders.
Representative Ed Royce (R-Calif.) on Wednesday announced his candidacy to head the committee, noting his bid won the endorsement of Chairwoman Ileana Ros-Lehtinen (R-Fla.), whose role is ending because of GOP term limits. Representatives Chris Smith (R-N.J.) and, possibly, Steve Chabot (R-Ohio) may challenge Royce for the position.
Representative Howard Berman (D-Calif.), the committee's ranking member, co-authored key features of Ros-Lehtinen's bill last year, but lost his congressional seat in Tuesday's elections. Two lawmakers have declared their candidacy to take his place as the panel's top Democrat and a third expressed possible interest last spring.
Royce -- widely seen as odds-on favorite for the leadership post -- last year co-sponsored the chairwoman's bipartisan measure to strengthen Capitol Hill clout on nuclear trade agreements. The legislation, known as H.R. 1280, requires congressional approval for U.S. nuclear cooperation pacts with foreign nations unless they include specific nonproliferation provisions.
The bill -- which Obama administration officials oppose as an encroachment on executive power and a potential curb on U.S. influence abroad -- last month was placed in queue on the chamber's calendar. However, there is little expectation that the Republican leadership will allow it to proceed to a floor vote before the end of the current Congress.
Washington's nuclear trade pacts with selected nations offer foreign access to U.S. technologies, atomic materials and expertise. Today U.S. law allows any so-called "Section 123" cooperation accord to be implemented after submission to Congress and a waiting period of 90 days of continuous legislative session, if lawmakers in both chambers do not vote to stop it.
Under H.R. 1280, though, only those agreements that include a pledge by a partner nation not to engage in the most proliferation-sensitive nuclear processes -- enriching uranium or reprocessing plutonium -- would be eligible for this streamlined congressional review. Others would require an approval vote by the House and Senate before they could be carried out.
Royce has said the measure appears necessary because a nation's peaceful development of nuclear energy sometimes runs a heightened risk of a clandestine effort to develop atomic arms, as many worry is the case in Iran.
"The global expansion of nuclear power really has complicated the task of making sure that in the end we don't increase the number of nuclear-weapon states," Royce said in urging passage of the bill during its April 2011 mark-up. The lawmaker chairs the House panel's Terrorism, Nonproliferation and Trade Subcommittee.
The full committee went on to adopt the legislation unanimously. Since then, the U.S. nuclear power industry has spent more than $3 million to lobby against the measure, largely on the basis that it could hurt the ability of domestic companies to sell their goods and services abroad.
The bill has never been put to a vote on the House floor. The House Rules Committee has blocked it on the basis that votes on nuclear trade accords -- no more than one or two of which typically are submitted to Congress each year -- would burden the legislative calendar, Ros-Lehtinen said in May.
So the question has become: Will the next leaders of House Foreign Affairs introduce, pass through committee and, this time, possibly succeed in obtaining a floor vote on legislation similar to H.R. 1280, asserting new congressional review powers and seeking to strengthen nonproliferation regimes?
Some congressional aides have said such legislation might actually become unnecessary if the newly re-elected Obama administration moves on its own to tighten U.S. nuclear trade negotiating policy.
Expectations have been that after the election the White House would decide whether to take a more active approach in seeking no-enrichment-or-reprocessing pledges from current or potential nuclear trade interlocutors -- particularly from nations in the volatile Middle East, such as Jordan and Saudi Arabia.
A State Department spokesman in 2009 coined the term "gold standard" to describe this type of pledge embraced by the United Arab Emirates in its 2009 pact with the United States. Taiwanese officials recently indicated they, too, would offer a gold-standard promise in a renewal pact with Washington expected by 2014.
An effort earlier this year by the State and Energy departments to take a "case-by-case" tack to such negotiations drew howls from H.R. 1280-backers on Capitol Hill, who argued that the Obama policy underscored the importance of a stronger congressional review role.
Royce this week called attention to the risk that Iran might develop a nuclear weapon, but the lawmaker did not directly address proliferation dangers potentially associated with global nuclear trade.
"Right now, the gravest threat facing the U.S. and our allies is Iran," he said in an announcement on seeking the chairmanship. "We need to be doing all we can to pressure its regime to stop its march to nuclear weapons."
Royce's potential competitors for the top slot supported the legislation in committee but have not been as vocal on the nonproliferation and trade issue.
Smith is next to Ros-Lehtinen in seniority and has said he was "encouraged" in his effort to ascend to the Foreign Affairs chairmanship, despite his controversial 2005 removal from the top post at the Veterans Committee by the House Republican leadership.
The New Jersey Republican is known as a strong human rights advocate; it is not yet clear whether he would take up the chairwoman's mantle on nuclear trade and nonproliferation if the House GOP caucus selects him as chair. For her part, Ros-Lehtinen is expected to remain on the committee and might seek to replace Chabot as head of the Middle East and South Asia Subcommittee.
The next three Republicans behind Smith in panel seniority will not return to Congress next year, and a fourth, Representative Dana Rohrabacher (R-Calif.), is not widely regarded as a likely pick for the chairmanship.
However, Chabot, just behind Royce in seniority on the committee, might be a viable candidate for the top slot on Foreign Affairs. He joined on as an H.R. 1280 co-sponsor four months after the bill was filed, noting briefly during mark-up that he wants to "allow American companies to compete on a level playing field" in building power facilities worldwide.
"I'm still looking at options," Chabot told Global Security Newswire on Thursday in response to a question about whether he might seek the chairmanship. The House Republican Conference is expected to begin meeting on leadership assignments later this month for the new legislative session, which begins in January.
On the Democratic side of the committee, Representatives Brad Sherman (D-Calif.) and Eliot Engel (D-N.Y.) are vying for the role of ranking member.
Sherman has played a notable role on nuclear trade and nonproliferation, having drafted two amendments that ultimately became part of H.R. 1280.
The California Democrat, who has said for months that he would seek the ranking member spot if returned to the House, on Friday committed to making the atomic trade reform issue a top priority.
"I will continue to work closely with the Obama administration for the adoption of the gold standard, and for a nuclear commerce policy that promotes nonproliferation of sensitive nuclear technologies in 2013 and beyond," he told GSN in a written response to questions.
"President Obama has made incredible strides in the control of nuclear and other sensitive technologies during his first term, and I know this is going to continue in the second term," Sherman said. "I think I made important contributions to H.R. 1280, and look forward to working in conjunction with the president's team and colleagues on the Foreign Affairs Committee on passage of some version of the legislation next year -- should progress prove impossible during the lame duck."
Sherman earlier in the week won his re-election bid in an unusual Democrat vs. Democrat general-election contest against Berman in the San Fernando Valley.
During the campaign, Berman won the endorsement of House Minority Whip Steny Hoyer (D-Md.) -- as well as a number of California lawmakers from both parties -- but lost to Sherman by 20 percentage points in a newly redrawn district.
Sherman's notoriously prickly temperament became a focus during the campaign and might yet prove to be a hurdle in ultimately winning the backing of his caucus to become Foreign Affairs ranking member, according to pundits. Sherman's spokesman, though, said the lawmaker has thus far received party encouragement in his effort to assume Berman's committee post.
"Of all Democratic voting members of Congress elected to serve in the 113th Congress, Sherman is highest in seniority on the House Foreign Affairs Committee," Ben Fishel, the lawmaker's spokesman, told GSN on Thursday. "Sherman has been encouraged by many of his colleagues to seek the ranking member position. We expect others to seek it as well."
Of the different potential combinations of Republican and Democratic leaders on the committee in the upcoming Congress, "it would be hard to imagine there would be something smoother" -- in terms of bipartisan efforts on nuclear trade and nonproliferation -- than Royce and Sherman in the top slots, said Henry Sokolski, executive director of the Nonproliferation Policy Education Center.
Sherman is the ranking Democrat on Royce's Foreign Affairs subcommittee -- the Terrorism, Nonproliferation and Trade panel -- and both have strongly advocated the nuclear cooperation reform bill.
That said, according to Sokolski, "the big question is the chair." If selected, Royce "could probably work with either of these men well," said the nonproliferation advocate, referring to Sherman and Engel.
Engel announced his desire to become the panel's ranking member in a Thursday statement, expressing his "hope to carry on in [Berman's] tradition" with "a steady, consensus-[driven] style reflective of all voices in our party."
The top Democrat on the panel's Western Hemisphere Subcommittee, Engel did not sign on as an H.R. 1280 co-sponsor. He has taken an interest in terrorism, having authored a bill that became law in 2003 seeking an end to Syrian support for violent extremists. Other key areas of Engel's interest have included Latin America and the Caribbean, Kosovo and Israel.
Still, the lawmaker's spokesman on Thursday said Engel remains committed to strengthening the role of Congress in supporting future trade agreements that incorporate the gold standard.
"H.R. 1280 is an important bill which deals with the need to stop the proliferation of nuclear enrichment technology," Jeremy Tomasulo, Engel's aide, told GSN on Thursday.
"Mr. Engel agrees" with Ros-Lehtinen and Berman "that this is a key bill which the committee should take up," he said. "Given the danger of Iran developing a nuclear weapon, preventing nuclear proliferation is a vital national interest for the U.S."
Engel's spokesman also contested the view that Sherman is senior to him on the House Foreign Affairs Committee.
The New York lawmaker took a six-year hiatus from the panel when he sat on a different committee, Energy and Commerce. Upon returning to Foreign Affairs more than a decade ago, he sought but did not receive from the Democratic Caucus full seniority credit for remaining on that panel while he was away.
Tomasulo said it would be "incorrect" to "state that Mr. Sherman has served more years on the Foreign Affairs Committee than Mr. Engel," despite panel assignment listings that omitted him during the hiatus and now depict the New Yorker as behind the Californian in seniority.
"Mr. Engel has served three more years on the committee than Mr. Sherman," Tomasulo said. "He had a break in his tenure at the request of the leadership in order to make space for other Democratic members when seats were short. But, the fact is that Mr. Engel has more years of service on the committee."
It has yet to be seen whether or how that issue might be decided. In the end, seniority may not even prove to be a determinative factor as the chamber's Democratic Caucus chooses committee ranking members, a process that is expected to follow its late-November selection of party leadership.
One House aide -- countering Engel's staff -- described Sherman as the "most senior voting member on the committee."
The reference to "voting" was an allusion to the House Foreign Affairs Committee Democrat next in seniority once Berman and another longtime lawmaker, Gary Ackerman (D-N.Y.), depart Congress: Delegate Eni Faleomavaega, just re-elected to his 13th term representing American Samoa.
As a delegate from a U.S. territory in the South Pacific, Faleomavaega has no vote on the House floor, but retains a vote in committee. Reportedly he is eligible for a committee leadership position, currently serving as ranking member of the House Foreign Affairs Asia and the Pacific Subcommittee.
The delegate appeared to indicate interest last spring in competing for the committee's ranking member post if Berman, who he supported, were to lose re-election.
"Regardless of my status as a delegate, I am the only Asian-Pacific American to serve on the House Foreign Affairs Committee and I am the first Asian-Pacific American in the history of the U.S. Congress to chair the Subcommittee on Asia and the Pacific," he wrote in a May blog post in The Hill.
"Should the people of American Samoa vote me back in office and should I be the most senior Democrat in line, I will seek the top position on the Foreign Affairs Committee," he said.
Congressional observers said it was unclear, though, whether Faleomavaega would formally announce interest in the post, and if he did, how much Democratic Caucus support he could garner without any voting role on the chamber floor. A spokeswoman for the delegate did not return a reporter's calls this week seeking comment.
About
WASHINGTON -- With both the chairwoman and ranking member of the House Foreign Affairs Committee stepping down at the end of the year, the fate of a signature piece of legislation on nuclear trade reform could rest on which lawmakers are selected as the panel's new Republican and Democratic leaders.
Countries