IAEA Leader Sees "High Probability" of Iranian Nuke Program, if Intel is Credible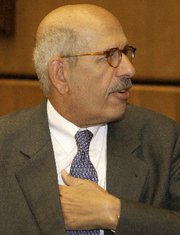 WASHINGTON -- Iran almost certainly has taken significant steps to build nuclear weapons, assuming that intelligence about its actions is authentic, a top U.N. official said yesterday (see GSN, Sept. 9).
"If this information is real, there is a high probability that nuclear weaponization activities have taken place," Mohamed ElBaradei, director general of the International Atomic Energy Agency, said behind closed doors at a meeting of the organization's 35-nation Board of Governors. "But I should underline 'if' three times."
He was referring to IAEA findings and intelligence provided by member nations that appear to confirm an Iranian effort to develop and procure technology necessary for nuclear weapons.
Insisting that he has no additional information on the matter beyond that included in an IAEA report released late last month, ElBaradei said his agency is "stuck right now" on the question of whether the existing documentation is credible. If so, he said, "the likelihood is high that [nuclear-related] military activities have taken place in Iran."
In a recent interview, ElBaradei indicated that any Iranian pursuit of a weapons capability might be limited to the past.
"We have not seen concrete evidence that Tehran has an ongoing nuclear weapons program," he told the Bulletin of the Atomic Scientists. "The idea that we'll wake up tomorrow and Iran will have a nuclear weapon is an idea that isn't supported by the facts as we have seen them so far."
A May 2008 IAEA report described 18 documents apparently related to Iranian nuclear warhead development, associated high-explosive testing and missile re-entry vehicle studies. At least one record was dated as recently as March 2004, according to the report, even though a controversial U.S. intelligence assessment in 2007 stated that Iranian nuclear weapon development efforts seemed to have been shelved in 2003 (see GSN, Jan. 31, 2008).
In its most recent Iran update, the nuclear agency said the "documentation appears to have been derived from multiple sources over different periods of time, appears to be generally consistent, and is sufficiently comprehensive and detailed" that it must be addressed by Tehran.
Greater Iranian transparency about its nuclear efforts might remove "the doubts which naturally arise, in light of all of the outstanding issues, about the exclusively peaceful nature of Iran's nuclear program," according to the Aug. 28 report.
Tehran has maintained that its nuclear efforts are entirely peaceful, though it has repeatedly denied U.N. nuclear agency requests to inspect selected facilities and interview key officials. Iran's leaders allege that several of the documents are forgeries, while claiming others might be valid but are unrelated to IAEA nuclear concerns.
"Our opinion is that the nuclear issue is over," Iranian President Mahmoud Ahmadinejad was reported as saying on Monday.
He and his deputies are "doing a limited, modified hangout," said one nonproliferation consultant. The Nixon-era lingo describes an attempt to mollify critics with a carefully circumscribed admission of culpability, while vehemently denying broader allegations.
Iran is now essentially asserting, "Job's done," said this source, speaking on condition of anonymity. "This raises questions about the wisdom of ElBaradei's approach," which has been less confrontational with Iran than several leading IAEA member nations have desired.
ElBaradei, whose term ends in November, said yesterday his agency is "not in a state of panic" because international inspectors have witnessed neither nuclear-weapon components nor the diversion of nuclear material in Iran, according to an edited transcript obtained by Global Security Newswire.
"ElBaradei is correct on both counts -- this is a deeply troubling capability and there is no need to panic," Joseph Cirincione, president of the Ploughshares Fund, told GSN yesterday.
He said there is "strong circumstantial evidence that Iran in the past conducted some research on weaponization" but it remains unclear "how far they got."
The new U.S. envoy to the international nuclear agency said yesterday Iran has stockpiled enough low-enriched uranium to produce a bomb, if it opts to further enrich the material to weapon-grade level.
"We have serious concerns that Iran is deliberately attempting, at a minimum, to preserve a nuclear weapons option," Glyn Davies told the IAEA governing board at its nearly weeklong meeting.
Dennis Blair, the U.S. national intelligence director, said earlier this year that Iran likely could not build a functional nuclear weapon before 2013.
Cirincione urged Washington to take a measured approach.
"There is no proof that this work continues today or that there has been any decision to develop a bomb," he said. "Iranian behavior indicates that they are acquiring the technologies -- and now material -- that would allow them to build a bomb sometime in the future, should they decide to do so."
ElBaradei suggested the ball is in Iran's court, saying its leaders must allow nuclear safeguard inspections "essential for us to verify the absence of undeclared activities."
Under the terms of the Nuclear Nonproliferation Treaty, Tehran implements a safeguards agreement that allows IAEA inspectors limited access to selected nuclear facilities. However, the nation has never ratified an Additional Protocol that would subject it to more intrusive inspections.
Lacking full Iranian cooperation, the international agency has a "limited ability to authenticate the allegations," ElBaradei said.
"When we deal with nuclear material, we are very comfortable. ... We do measurements, we do environmental sampling," he said. "When it comes to paperwork, that is quite different for us because we have very limited tools. We need Iran to help us to clarify these issues."
He added that his agency has assembled "a number of checkable facts, such as procurement by military establishments, and production by military establishments" on which Iran should shed light. He did not elaborate.
One nuclear nonproliferation expert criticized ElBaradei for failing over the past several years to aggressively pursue safeguards inspections in favor of a more restrained strategy, which has seemingly allowed Tehran to gradually assemble a weapons capability.
"Mr. ElBaradei's tardy efforts to alert, but not alarm, only succeed in giving the IAEA a bad name," said Henry Sokolski, executive director of the Nonproliferation Policy Education Center. "At the very least, [his comments] suggest why the agency should focus on nuclear inspections and sharing what they learn, and back off trying to be nuclear diplomats."
Israeli and French envoys have recently pressed the U.N. nuclear watchdog to release detailed evidence about the Iranian push to build a bomb. Some have accused ElBaradei of suppressing the documentation in an effort to prevent his agency from being branded a tool of Washington and its allies (see GSN, Aug. 26).
ElBaradei on Monday lashed out at what he sees as an effort to damage his agency's credibility, saying he was "dismayed by the allegations of some member states, which have been fed to the media, that information has been withheld from the [IAEA governing] board. These allegations are politically motivated and totally baseless" (see GSN, Sept. 8).
The director general has said that nations providing intelligence on Iran have not allowed him to release key documents. Experts say many of the records were unearthed by U.S. intelligence agencies and, if released, could endanger spies or reveal sensitive collection methods.
Still feeling the sting from the Bush administration's since-discredited intelligence on Iraqi weapons of mass destruction, Washington has refrained from unveiling evidence about Iran's nuclear program on its own, according to one expert.
"If we present it, it's not credible. If [IAEA officials] present it, it's credible," said the nonproliferation consultant. "They are a neutral arbiter; we are not."
Absent a confrontation with Iran over the alleged evidence, "we could limp along with the status quo," this expert said.
Davies said Washington "is committed to a diplomatic resolution of international concerns over Iran's nuclear program," and called on Tehran to respond to an April offer by the "P5+1" to engage in talks.
U.S. President Barack Obama has said Tehran could face much harsher sanctions if it fails to meet a late-September deadline for embracing negotiations with the six powers -- China, France, Germany, Russia, the United Kingdom and the United States.
Late Wednesday, Iran presented U.N. powers with a proposal to resume talks on "various global issues," including nuclear matters (see related GSN story, today).
Susan Rice, the U.S. ambassador to the United Nations, said Washington and its allies would study the document carefully. "We hope that what is contained in that response is a serious and substantive and constructive reply" to proposals offered earlier by the six nations, she said.