IAEA Report Details Iranian Nuclear Program Activities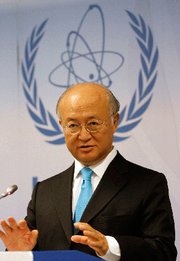 WASHINGTON -- The International Atomic Energy Agency on Tuesday issued a report stating its "serious concerns" that Iran is clandestinely working toward developing a nuclear weapon (see GSN, Nov. 8).
"The information indicates that Iran has carried out activities relevant to the development of a nuclear device," the U.N. nuclear watchdog said in its latest safeguards report to the agency's 35-nation Board of Governors.
The widely anticipated assessment, which included a 13-page annex with key technical descriptions of suspect technology development and procurement by Tehran, says that the Vienna, Austria-based organization "has serious concerns regarding possible military dimensions to Iran's nuclear program."
The annex was culled from more than 1,000 pages of Iranian documents and reports that were judged by agency to be "sufficiently comprehensive and complex ... that it is not likely to have been the result of forgery or fabrication," according to the report.
Given the documents' credibility, inspectors believe Iran carried out a "structured program" specific to nuclear weapons development prior to 2003 and that some of the activities associated with the effort "may still be ongoing."
The assessment from IAEA Director General Yukiya Amano says the nuclear agency also received information from more than 10 member states that acquired, through their own efforts, intelligence about Iran's nuclear ambitions.
However, the quarterly report stopped short of claiming that Tehran is determined to acquire atomic weapons, nor does it argue that the Middle East state is on the cusp of becoming a nuclear power.
The United States and its allies have long insisted that Iran's nuclear activities are geared toward developing a warhead, a charge that Tehran has vehemently denied.
Iranian officials quickly lashed out at the report and at Amano in particular, asserting that the Japanese diplomat coordinated the details of his agency's assessment with the White House.
"Unfortunately, there is someone in charge of the IAEA who not only has no authority but tramples upon the IAEA laws and only echoes the U.S. words," Iranian President Mahmoud Ahmadinejad said on Tuesday.
On state television he said that Iran would not retreat "one iota" from its nuclear program, the Associated Press reported. He called on the U.N. watchdog to conduct a similar assessment of the U.S. nuclear stockpile, according to Iran's Fars News Agency.
"If we wanted to develop nuclear weapons, we would have publicly stated this, but our understanding and experience says that nuclear weapons are not preventative for us, so the upcoming IAEA report only aims to exert pressure on Iran," the state-run news agency quoted Foreign Minister Ali Akbar Salehi as saying.
The IAEA safeguards report comes at a time when the Obama administration is considering whether to seek new economic penalties against the Middle East state (see GSN, Nov. 4). Iran has already been the target of four U.N. sanctions resolutions as well as a flurry of unilateral penalties by a number of countries.
In a statement, French Foreign Minister Alain Juppe warned: "If Iran refuses to conform to the demands of the international community and refuses any serious cooperation, we stand ready to adopt, with other willing countries, sanctions on an unprecedented scale."
However, other permanent members of the U.N. Security Council, such as Russia, expressed reluctance at instituting new sanctions against Tehran (see related GSN story today).
Washington's initial reaction to the nuclear agency assessment was mixed.
"I'm definitely going to tell you we need time to study it," State Department spokeswoman Victoria Nuland told reporters on Tuesday. "I think you know the process here: that after a report like this comes out, we also have a scheduled meeting of the IAEA Board of Governors coming up on November 18th, so Iran will be an agenda item at that meeting."
Some senior administration officials predicted, though, that the White House would boost sanctions against Iran in the wake of the report but declined to say what that might include.
Meanwhile, the newly minted report could factor into a possible decision by Israel about whether to militarily target Iran's nuclear infrastructure, according to some international observers (see GSN, Nov. 2).
The various efforts that made up Iran's nuclear program seem to have been overseen by "senior Iranian figures" who engaged in "working-level correspondence" consistent with a coordinated program, according to the safeguards report.
The U.N. nuclear watchdog said that Iran "was working on a project to secure a source of uranium suitable for use in an undisclosed enrichment program." The product of that effort would then be "converted into metal for use in the new warhead," which in turn was the focus of "missile re-entry vehicle studies," the report adds.
The IAEA assessment also lists procurement of materials and equipment that could be used for testing a nuclear warhead, including "high-speed electronic switches and spark gaps" capable of firing detonators; "high-speed cameras;" radiation "detection and measuring" devices; and training courses on topics relevant to "nuclear explosives development," such as "neutron cross section calculations and shock wave interactions."
The documentation obtained by the agency shows that Iran conducted computer modeling studies of "at least 14 progressive design iterations" for a missile warhead and how it would endure the various stresses involved with "being launched and traveling on a ballistic trajectory" to a target.
In addition, in 2007 inspectors met with a member of a clandestine nuclear supply network and were told that Iran had been provided with "nuclear explosive design information," according to the safeguards report.
Other intelligence provided to the agency by member states suggests that Iran "constructed a large explosives containment vessel" at a site in Parchin -- located southeast of Tehran -- that could be used for nuclear-related testing.
The report also cites information that Iran conducted experiments with conventional explosives designed to compress metal into an incredibly dense mass that would prove suitable enough to kick off a chain reaction.
"The IAEA report and annex reinforce what the nonproliferation community has recognized for some time: that Iran engaged in various nuclear weapons development activities until 2003, then stopped many of them, but continued others," according to the Washington-based Arms Control Association.
"The activities documented in the IAEA report, including research related to nuclear warheads, underscore that Tehran's claims that it is only seeking the peaceful use of nuclear energy are false," said ACA experts Peter Crail, Daryl Kimball and Greg Thielmann.
The nongovernmental analysts said the U.N. nuclear watchdog assessment "should prompt greater international pressure on Tehran to respond more fully to the IAEA's questions, allow for more extensive inspections of its nuclear facilities, engage more seriously in talks on its nuclear program, and to agree to confidence-building steps to help resolve the crisis."
The controversial matter will ultimately require a mix of pressure and incentives to convince Tehran that the regime could gain more for not building a nuclear weapon than it does from developing a warhead, the association argues.
Still other experts argued that the safeguards report shows that diplomacy with Tehran has not worked.
"Throughout his administration, President Obama has downplayed Iran's progress on the ballistic missile and nuclear fronts, and he has maintained that international sanctions have slowed the momentum of Iran's military buildup," Mike Brownfield, assistant director of strategic communications at the Heritage Foundation, wrote on Wednesday.
"Now we have even more evidence to the contrary. The Iranian threat is growing -- both inside and outside its borders," he said.