Intel Chief Uncertain of U.S. Ability to Secure Syrian Chemical Weapons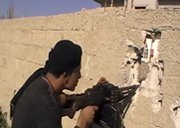 The head of U.S. intelligence on Thursday said he was unable to confidently predict how much of Syria's chemical arsenal and other sensitive weapons could be safeguarded if President Bashar Assad's regime is abruptly ended, The Hill reported.
National Intelligence Director James Clapper told the House Intelligence Committee, "I'm not sure how to make a call like that."
"It would be very, very situational dependent to render an assessment on how well we could secure any or all of the (weapons) facilities in Syria," he said.
A U.S. military attempt to secure Syria's large, dispersed arsenal of nerve and blister agents would have to be done with the backing of regional partner nations and other states, according to Clapper.
The Defense Department is understood to have begun preparing an emergency response plan for destroying Syria's chemical warfare materials to ensure they are not used in the civil war or allowed to fall into militant hands. However, that planning has been paused as it now appears Damascus is not planning chemical attacks, according to The Hill.
Defense Secretary Chuck Hagel on Thursday informed the House Armed Services Committee that "we have not detected use of chemical weapons," the Washington Post reported. "Obviously, if that line is crossed, then we've got a different situation. Then you get into the next set of dimensions to this, if chemical weapons fall into the wrong hands."
Diplomats claim the West has concrete proof of an instance of chemical weapons use in Syria, Agence France-Presse reported on Thursday. "In one case we have hard evidence," a Western envoy said to journalists.
The United Nations has an team ready to deploy to Syria to investigate allegations by both the Assad regime and opposition forces of a chemical attack in March that killed about 30 people and injured many more in the town of Khan al-Assal. Disagreements with Damascus over whether the U.N. team will also investigate rebel allegations of a December chemical attack in Homs have led to an impasse.
"There are several examples where we are quite sure that shells with chemicals have been used in a very sporadic way," the diplomatic source asserted.
Issue experts have suggested that the Khan al-Assal incident might have involved a dangerous but lower-level chemical material such as chlorine.
In the event the U.N. team is allowed into Syria, investigators would use hand-held sensors to check the areas where alleged attacks took place for chemical residue. Biological samples from victims as well as water, air, and dirt would be collected and initially analyzed in an on-site transportable laboratory. The samples would then be transported to outside laboratories for more analysis, according to Reuters.
Damascus has requested that it be furnished with its own samples in order to cross-check the findings of the U.N. team.
Authorities in the village of Douma close to the Syrian capital said they have preserved the remains of six individuals killed in another alleged chemical assault. The Assad regime does not want the U.N. inquiry to go to Douma. There are also 32 survivors of the attack that have volunteered to be checked out by the U.N. team, according to a letter sent to the team leader, Swedish scientist Ake Sellstrom.