Official: Iran May Alter Disputed Heavy-Water Reactor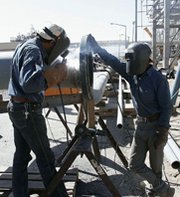 A senior Iranian official said his country could alter an unfinished heavy-water reactor to address global concerns about its weapons potential, Press TV reports.
"We can do some design change ... to produce less plutonium in this reactor and in this way allay the worries and mitigate the concerns," Iranian Atomic Energy Organization head Ali Akbar Salehi told the state-run news agency in an interview released on Wednesday.
The comments came less than two weeks before Iran is set to start negotiations with six other countries on potential actions to provide long-term assurance that its atomic activities are not geared toward development of a nuclear-arms capacity. The discussions would focus in part on the Arak complex, which Washington and its allies fear could become a source of bomb-usable plutonium once it comes online.
A number of Western analysts have recommended converting the facility to a light-water reactor site, which would have less utility in the potential production of weapons, Reuters reported.
Salehi, though, still reaffirmed Tehran's argument that the Arak site "is not for the production of plutonium." He also appeared to play down differences between light-water and heavy-water reactor technologies.
"With a light-water reactor you can again produce plutonium ... to a lesser extent I agree," the official told Press TV, noting that spent fuel from its Bushehr nuclear-power plant contains a quantity of plutonium.
Meanwhile, Republican senators are planning a series parliamentary maneuvers aimed at clearing the way for floor action on an Iran-sanctions bill, the Daily Beast reported on Wednesday. The White House has argued that the legislation could derail the nuclear negotiations, and Senate Majority Leader Harry Reid (D-Nev.) to date has blocked consideration of the proposal by the full chamber.
"We urge you to schedule a vote during this work period on the Nuclear Weapon-Free Iran Act," 42 GOP senators told Reid this week in a written statement.