Iran Envoys Trade Blame for Nuclear-Deal Delays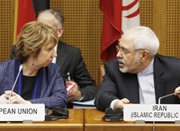 Tehran and Washington each said the other capital had to give up more if the sides are to defuse a global nuclear standoff, Reuters reports.
Senior officials from both governments admonished members of the opposing camp on Friday, after several days of multilateral talks over fears that Iran may tap its ostensibly nonmilitary nuclear program to build bombs. The Middle Eastern nation has tentatively offered to curb some of its atomic efforts in exchange for potential sanctions relief by the five permanent U.N. Security Council member nations and Germany.
Iranian Foreign Minister Mohammad Javad Zarif urged negotiators from the "P-5+1" countries to "abandon excessive demands which will not be accepted by Iran."
"There has been progress, but major disputes remain" over language in a draft nuclear deal. "There are more brackets than words in it," Agence France-Presse quoted him as saying.
Separately, U.S. Undersecretary of State Wendy Sherman said it was unclear whether "Iran is really ready and willing to take all the necessary steps to assure the world that its nuclear program is and will remain exclusively peaceful."
A high-level U.S. insider added, "There are very, very difficult decisions to be taken here by Iran," Reuters reported.
Zarif, though, said, "The United States must take the most difficult decisions," al-Monitor reported on Friday.
"[President Obama] and Congress ... have to save themselves from the conditions they have created," Zarif said. He added that Washington has met its commitment under a short-term agreement to lift restrictions on $4.2 billion in Iranian funds, RIA Novosti reported.
Meanwhile, a U.N. agency on Friday said Iran has moved to eliminate most of the uranium it could most easily convert into bomb material, Reuters reported.