Iran Boosts Uranium Enrichment Capacity: IAEA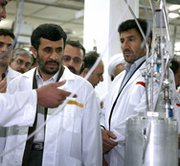 WASHINGTON -- Iran has moved to ramp up its capacity to refine uranium while curbing its supply of the material most easily converted into bomb fuel, the International Atomic Energy Agency said on Thursday in its latest safeguards report on the Middle Eastern nation's nuclear program.
Iran generated 1,455 pounds of low-enriched uranium between Nov. 10 and Feb. 3; out of 18,234 pounds of the material produced by the country under IAEA supervision, more than a quarter has been converted to a higher-purity form suited for conversion into weapon-grade material in a matter of weeks. The nation as of early February possessed roughly 368 pounds of uranium enriched to 20 percent purity.
Tehran, which insists its nuclear program is strictly peaceful, changed some of its material to a less weapon-usable form last summer. On Feb. 11, it restarted conversion of the more sensitive uranium into medical reactor fuel, the report confirms.
The move came weeks before high-ranking Iranian diplomats are scheduled to join the first nuclear talks since last June with counterparts from China, France, Germany, Russia, the United Kingdom and the United States.
By further capping its stockpile of 20 percent-enriched material, Iran is attempting to "dangle a carrot that they would in the future be able to walk their program back in a substantial way, which so far they have not done," said Carnegie Endowment for International Peace nuclear expert Mark Hibbs, referring to the potential for Tehran to prepare bomb fuel in an effort to assemble a weapon.
Still, "we're right to be concerned that Iran isn't flinching," Hibbs said in a telephone interview. "Everything they do is geared to adding the potential for the material they could make, including in a breakout scenario."
U.N. inspectors confirmed Iran is moving forward with plans to deploy higher-speed uranium enrichment centrifuges at its Natanz complex. The agency said 180 of the advanced IR-2M machines and "empty centrifuge casings" were in place; however, it is unclear how close the machines are to being operable, according to the Institute for Science and International Security in Washington.
"The piping and other associated cascade equipment is likely not fully installed, meaning the centrifuges are not under vacuum," a necessary stage in bringing them online, the think tank said in an analysis of the IAEA assessment. The area housing the new centrifuges is thought to be capable of housing 3,000 machines, the organization indicated.
The U.S. State Department on Thursday said Iran's preparation of the more advanced centrifuges "does not come as a surprise to us" given past IAEA assessments.
"But the fact remains that the installation of new advanced centrifuges would be a further escalation and a continuing violation of Iran's obligations under the relevant U.N. Security Council resolutions and IAEA board resolutions. So it would mark yet another provocative step," spokeswoman Victoria Nuland said.
"We've seen this before, that in advance of diplomatic rounds there are new announcements of activity," she added. "It doesn't make it any easier to get where we want to go."
Iran also installed 2,255 older-model IR-1 centrifuges at Natanz in the period since the agency's last report in November. The nation as of Saturday was refining uranium using 696 centrifuges at another facility near Qum, the IAEA report indicates; the operating machines account for approximately one quarter of the enrichment equipment now in place at the site.
The U.N. organization added there was still no deal to allow its auditors to investigate whether Iran has pursued certain past activities relevant to nuclear arms development. The sides most recently discussed the issue in Tehran on Feb. 13.
The IAEA leadership's "commitment to continued dialogue is unwavering, [but] it has not been possible to reach agreement with Iran on the structured approach or to begin substantive work on the outstanding issues, including those related to possible military dimensions to Iran's nuclear program," the report says.
The United States last year warned it would pursue U.N. Security Council action on the matter if the sides did not agree to ground rules by March.
"Extensive and significant activities" carried out over the last year at Iran's Parchin military base might "have seriously undermined the agency's ability to undertake effective verification," the report adds. Iran has rejected multiple IAEA requests since early 2012 for access to the site, which the agency suspects to have hosted a "neutron initiator" for activating atomic blasts and construction of a "containment vessel" suited for nuclear-usable high explosives testing.
The report says Iran has begun using a medical research reactor in Tehran to test fuel for its Arak heavy-water reactor, which observers fear could be used to produce nuclear weapon-usable plutonium through processing of used fuel. U.N. inspectors vetted an experimental "natural uranium fuel assembly" in late November prior to its transfer to the Tehran Research Reactor, the latest IAEA report indicates.
The report also notes Iran has begun operating two additional centrifuge models in the experimental wing of its Natanz facility. The nation has placed uranium hexafluoride in individual IR-6 and IR-6S machines.
In comments to state media, Iran's top envoy to the agency said the report reflected the nonmilitary nature of Tehran's atomic efforts.
"The most important point of the report is that after a decade of continuous inspections by the agency, there is no evidence on divergence toward military purposes in Iran's nuclear material and activities," Ambassador Ali Asghar Soltanieh said in comments quoted on Friday by the Associated Press.
Israeli Prime Minister Benjamin Netanyahu said Iran was on track to stockpile sufficient 20 percent-enriched uranium by the middle of this year to rapidly produce fuel for a single bomb if it chose to do so.
The latest IAEA report "proves that Iran is continuing to make rapid progress toward the red line," Netanyahu's office said in a Thursday statement.
Netanyahu and President Obama are expected to discuss the situation when they meet in Washington on March 5, Haaretz.quoted the White House as saying on Monday.
About
WASHINGTON -- Iran has moved to ramp up its capacity to refine uranium while curbing its supply of the material most easily converted into bomb fuel, the International Atomic Energy Agency said on Thursday in its latest safeguards report on the Middle Eastern nation's nuclear program.
Countries