Libyan Weapons Depot Unguarded, Open to Looters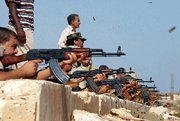 A major ammunition complex in Libya is unsecured, allowing looters to walk in and steal guided missiles, rockets and artillery shells capable of dispersing chemical warfare agents, the Wall Street Journal reported on Saturday (see GSN, Sept. 30).
In the desert near Sirte, there was no security for dozens of small armories at the complex, where weapons are removed every day by opposition fighters, paid contractors and others. In one structure, the word "warhead" was stamped on dozens of sealed containers. At another depot, empty chemical agent munitions were found.
There is at present no viable Libyan government-sanctioned force with the capacity to keep freelancer fighters from taking what they please from the warehouses, according to the Journal.
Last Thursday, U.S. Senator John McCain (R-Ariz.) visited the Libyan capital, where he said gaining control over the country's armories was a "very big topic."
"We have a game plan to secure the weapon caches, particularly biological and chemical weapons," McCain said. He did not provide additional specifics (Sam Dagher, Wall Street Journal, Oct. 1).
A host of officials from Libya's new leadership and the international community have said the North African nation's remaining stocks of WMD materials -- about 9 metric tons of mustard blister gent, a larger quantity of chemical weapon precursor material and a substantial stash of raw uranium -- have been secured even as fighting continues with loyalists to deposed dictator Muammar Qadhafi.
However, the Organization for the Prohibition of Chemical Weapons verified that it was probing rumors that the mustard agent storage site had been forcibly entered prior to being secured by opposition forces late last month, the Irish Times reported on Monday.
"There is this rumor that there's a door broken down, we're been in contact with the Libyan national authority. We are checking on the veracity of the story," according to OPCW official Bob Fairweather.
Libyan opposition fighter Muhsen al-Gubbi said he was among 25 rebels who were assigned to check out the facility and to keep Qadhafi fighters from entering. In the course of these inspections, Gubbi said he found that entry had been made into one of three sheds at the site.
"NATO said to us 'Don't touch three sheds, Nos. 105, 106 and 107'," the rebel fighter said. "We went in with masks, we don't know what is inside. One of the gates was open, NATO told us no one can go inside."
Fairweather said his organization, which monitors implementation of the Chemical Weapons Convention, would not send any officials to the installation until the surrounding region comes fully under the control of opposition forces (Chris Stephen, Irish Times, Oct. 3).