Lieberman to Submit Reconfigured Biosecurity Bill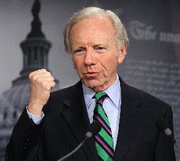 WASHINGTON -- U.S. Senator Joseph Lieberman (I-Conn.) on Tuesday announced he would reintroduce legislation intended to boost security measures at the country's biological research laboratories and strengthen federal efforts against potential bioterror attacks (see GSN, May 20).
The chairman of the chamber's Homeland Security and Governmental Affairs Committee said that companion Senate-House bills would rank the government's directory of disease agents based on their threat to public health and increase physical security and personnel screening at biological laboratories.
The Senate legislation is expected to be put forward in July, while the House version is expected to be introduced next week by Homeland Security Committee Chairman Peter King (R-N.Y.) and panel member Bill Pascrell (D-N.J.).
"The threat of bioterrorist attack keeps me up at night," Lieberman said. He noted that pathogens and the means to weaponize them remain more broadly available than other weapons of mass destruction.
"It doesn't take a very aggressive imagination, based on everything we know ... to believe that nucleus of subnational groups that's venomously anti-American would be considering the use of biological weapons, bioterrorist attacks on us," he said during a panel discussion organized by George Washington University's Homeland Security Policy Institute.
Based on classified materials made available since the May killing of terrorist leader Osama bin Laden by U.S. commandos it is still the intention of al-Qaeda and its affiliates "to find, to develop, to utilize a weapon of mass destruction," according to House Intelligence Committee Chairman Mike Rogers (R-Mich.).
"Just because we have taken a significant player off the battlefield ... does not mean that those aspirations go away," he told the audience.
Today there are 82 "select agents" -- pathogens and biological toxins, such as anthrax, declared by the Health and Human Services and Agriculture departments to pose a severe threat to human or animal health.
An influx of funding for biodefense activities over the last decade has produced concerns about the growing number of facilities and personnel conducting research with potentially lethal disease materials. This has led to calls from some sectors for increased regulation of the hundreds of relevant research sites.
Last year the Obama administration issued an executive order that required the Health and Human Services and Agriculture departments to prepare a list of high-risk, or "Tier 1," materials that possess the most significant potential for devastating effects. The two departments would then develop specific physical security and personnel reliability practices that registered laboratories would need to implement in accordance with the new tiered system.
The panel charged with that examination last week recommended that 11 agents and toxins, including anthrax, Ebola and foot-and-mouth disease, be designated "Tier 1" pathogens that require specific personnel and physical security measures for laboratories that possess them, according to an HHS news release.
Lieberman said the Senate version of the biosecurity legislation would attempt to "build" off the executive order and a measure he and Senator Susan Collins (R-Maine) introduced in the last Congress.
That measure would have required the Homeland Security Department to prepare security regulations for select research sites and separated the government's directory of select agents and toxins into three tiers based on the threat they posed.
The bill was approved by the Senate Homeland Security and Governmental Affairs Committee but never put to a floor vote. Since the full Senate did not act before the end of the 2009-2010 session, rules require the measure be introduced again.
The House Homeland Security Committee last year approved similar legislation that called for a panel of government and private agencies to develop a tier of disease materials deemed to be the most serious threats to the United States. The Agriculture and Health and Human Services departments would have conducted inspections of those laboratories and retained their current oversight roles, rather than Homeland Security.
Like its Senate counterpart, the House measure never received a floor vote.
Both bills were derived, in part, from recommendations made in 2009 by the congressionally mandated Commission on the Prevention of Weapons of Mass Destruction Proliferation and Terrorism. That panel concluded an attack involving a weapon of mass destruction was likely to occur somewhere in the world by the end of 2013 unless significant security improvements are made.
A biological strike was considered more likely than a nuclear attack because of the worldwide availability of deadly pathogens and other disease materials.
The commission last year gave the Obama administration an "F" in a final "report card" for failure to develop a comprehensive strategy against a disease-based attack (see GSN, Jan. 26, 2010).
There have been indications in recent years of continued extremist interest in developing or acquiring an unconventional weapon, but no publicly known attempts to carry out a WMD attack (see GSN, June 14).
"Part of what I want to do is codify the executive order because that has overcome the conflict that did in the legislation last time," according to Lieberman. He said the measure was "blocked" by concerns from private and academic science organizations and a "turf" battle between Health and Human Services and Homeland Security.
The new legislation would mandate development of a national biodefense strategy and a "cross-cutting budget analysis" to determine any overlaps in responsibility among the various government agencies that work with or oversee pathogens, the Connecticut lawmaker said. He did not offer thoughts on what that national strategy might involve.
The Senate measure will also include a provision to strengthen detection of biological attacks, as well as bolster law enforcement training on WMD threats and decontamination and recovery means from a catastrophic attack, Lieberman told the audience.
However, he noted, the House version of the bill calls for the creation of a special assistant to the president for biodefense who would be a member of the National Security Council staff. Lieberman said the provision makes him "hesitate" because there does not seem to be support for the proposal inside the White House.
"We've had some experience in the past with creating positions in the White House that the White House doesn't like and, this will surprise you all, [it] doesn't fill the position," he joked.
Former Senator Bob Graham (D-Fla.), who co-chaired the congressional WMD panel, noted that both the Clinton and George W. Bush administrations had a dedicated biodefense official on the National Security Council.
He advocated the responsibility be given to Vice President Joseph Biden so that biological concerns could have a stronger advocate in Cabinet discussions where political dynamics often take precedent.
Graham compared having a "heavyweight" Cabinet-level official focused on biosecurity over a midlevel NSC staffer to the recent National Basketball Association Finals victory by the Dallas Mavericks in which that team's forward, Dirk Nowitzki, outperformed a Miami Heat superstar.
"Maybe they're playing with Nowitzki and we just got LeBron James," the former Florida lawmaker joked at the event.
Lieberman said a possible compromise to garner support from the executive branch could be over whether to require that the nominee for the position be confirmed by the Senate. He said his preference would be for lawmakers to weigh in on any candidate.
Despite that difference, "I expect the Senate and House bills to be quite comparable," Lieberman said.
Rogers said he also intends in coming weeks to introduce House legislation to renew the Pandemic and All-Hazards Preparedness Act, a 2006 law that created the Health and Human Services Department's Biomedical Advanced Research and Development Authority and strengthened Project Bioshield, which aims to promote production of medical countermeasures against biological agents and other WMD materials (see GSN, Feb. 8).
Both lawmakers stressed that any new legislation would face scrutiny from congressional appropriators in the present budget climate, though neither affixed a dollar figure to the upcoming measures.
"We're more ready than we ever have been before but we're not as ready as we should be, particularly to respond [and] detect," according to Lieberman. He predicted "hatchets" would be pointed at government officials if there were a biological attack and not enough had been done due to lack of funding.
Rogers said that for the first time ever he sought and received clearance for three members of the House Appropriations Committee to review the classified information his panel examines in order to highlight the bioterror threat.
There was no discussion yesterday of specific added costs that could arise from the bills. Lieberman touted the coming legislation's budget analysis as one way to eke out savings that could help pay for the bill.
"I don't like to be kept up at night and to whatever extent I can reduce the cause of such sleeplessness, not only for myself but for the country, I will do so," he told the audience.
About
WASHINGTON -- U.S. Senator Joseph Lieberman (I-Conn.) on Tuesday announced he would reintroduce legislation intended to boost security measures at the country's biological research laboratories and strengthen federal efforts against potential bioterror attacks (see GSN, May 20).