Lugar Expresses Optimism, Concern on Future of WMD Security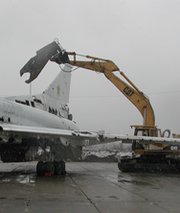 WASHINGTON -- One of two former U.S. senators instrumental in launching efforts to secure weapons of mass destruction in the former Soviet Union is expressing mixed feelings about a new, more limited bilateral agreement with Russia.
In an interview, recently retired Senator Richard Lugar (R-Ind.) expressed optimism about the pact with Moscow that the Obama administration announced last week, while at the same time raising some concern over the future of the initiative.
Lugar spoke to Global Security Newswire following the Obama camp's revelation that some -- though not all -- U.S. efforts to secure nuclear weapons and related materials in Russia would continue following the expiration of a broader, 20-year-old agreement that he and former Senator Sam Nunn (D-Ga.) helped forge.
Lugar and Nunn attended the private signing of the new accord that occurred three days before the deal became public. However, the two agreed not to discuss the replacement pact until after President Obama formally announced it during a June 17 joint appearance with Russian President Vladimir Putin at the G8 summit in Northern Ireland.
On June 14, Assistant Secretary of State Rose Gottemoeller and Russian Ambassador Sergey Kislyak signed two documents that the Obama administration says allows most efforts to secure weapons-related materials involving the U.S. Energy Department and its contractors in Russia to continue.
By contrast, most of the Defense Department's involvement with efforts to destroy Russian nuclear and chemical weapons will cease, with the exception of one program that dismantles nuclear submarines.
Lugar in an August 2012 trip to Russia -- while still a U.S. senator -- urged Russian officials to continue partnering with the United States on nuclear and chemical security efforts in their country.
It was during this visit that Lugar said it became clear to him that the Russian Ministry of Defense was not interested in continued participation with the existing Cooperative Threat Reduction program. Indeed, the Ministry of Defense is not party to the agreement announced last week, and only those activities in which the United States partners with Rosatom, Russia's nuclear energy agency, will continue.
"The Russians have become more sensitive to the idea that we are intruding on their affairs in terms of our money and personnel," Lugar told GSN. "There was a certain edge to the conversations then, although Rose Gottemoeller, to her credit, through the remaining months has tried to find avenues and I think the result was this treaty that she and the ambassador signed last Friday."
Times have changed, Lugar noted, from the days immediately following the fall of the Soviet Union when Russian officials raised fears about the security around their weapons sites deteriorating and of their troops deserting over lack of pay.
"The Russians maybe as a matter of pride are saying that we don't want your money anymore," Lugar said last week. "This is very different from the earlier conference that Sam Nunn and I had here in Washington back in 1991 when they said, 'We're bankrupt, we need your money and a lot of it and quickly. We need your personnel -- maybe even your troops -- this is an existential problem for both of us.'"
Still, Lugar said his visit 10 months ago left him with the impression that there was still more work to be done, and that Russia could continue to benefit from some U.S. assistance. For instance, at the Missile Dismantlement and Elimination Facility at Surovatikha, Russia, where the United States will no longer be involved, Lugar noticed that "they still had several [missiles] to cut up."
"I would hope that we are going to be able to stay, at least informally, in pretty close touch because it's not really clear precisely what the Russians are prepared to do, what their financial situation is as a country," Lugar said. "Furthermore, I think it's one in which they've made their point -- they've got to be taken seriously now as a great power -- not as a recipient, not as a welfare case and so forth. Having done that, however, now we're going to have to begin thinking together in other ways."
Lugar said his public suggestion in August that the United States and Russia work together to destroy Syrian chemical weapons in the event they got loose was an attempt to appeal to Russian pride and promote the idea that the two countries are now on more equal footing on the world stage.
"Maybe if we demonstrate that enough, we get finally back on track that we demonstrate there are still huge problems, as we have found in Russia before," Lugar said. "There could be some of these nuclear warheads that we were storing away that are being dismantled that could have some chemical reactions, could have explosions, could have problems … It's not like inert matter on a sporting goods shelf -- there are chemical reactions that occur within warheads in their tombs."
Lugar added: "Maybe the Russians will be fully capable of handling all of this and having made their point … But I think there's still avenue for discussion." A joint nuclear security exercise next month that Joint Chiefs of Staff Chairman Gen. Martin Dempsey arranged with his Russian counterparts could test the waters on the prospect for such future collaboration, he said.
Following last week's news, some experts have raised concerns over the ability of Moscow safely completing work begun under the Cooperative Threat Reduction program on its own, in part because much of the equipment involved was developed by Western nations and for which Russia will no longer have support.
Others have raised fears about the political impact on Capitol Hill -- suggesting that the end of what had been the U.S. flagship nuclear security effort for 20 years could lead Congress to cut funding for other efforts to secure weapons of mass destruction in other parts of the world.
Lugar appeared to share some concern about how the end of CTR work in Russia could affect support for efforts elsewhere. He noted that proposed spending for nonproliferation programs is down in the administration's fiscal 2014 request.
"I think it's a very important question and one that has to be answered constructively and consistently by the Department of Defense or the Department of Energy or whoever else is involved," Lugar said. "Members of Congress need to be fully aware of these programs and their importance."
Public education is particularly important, Lugar said, given that he and Nunn are no longer in Congress and able to fight for CTR funding directly.
"In the past perhaps there has been some reliance on some of us to make certain the appropriations occurred every year and there was not much discussion or debate -- it was just understood that there was something going on there that was constructive that we all liked," he said.
Lugar noted that President Obama's trip to Europe last week drew high-profile attention to other issues, such as missile defense and arms reductions. "Hopefully this one will not get lost in the shuffle because I think it's very important," he said.
Despite the concern, Lugar said he believed "there are many [in Congress] that are fully capable" of stepping forward and advocating for the program.
Reports to Congress that would be required by language added to the House version of the fiscal 2014 defense authorization bill on how the Defense Department can expand CTR efforts into the Middle East and North Africa could help educate lawmakers and their staffs on the global nature of the program, Lugar said.
The bill text, added by Representative Jeff Fortenberry (R-Neb.), is similar to legislation introduced in the Senate by Jeanne Shaheen (D-N.H.).
Editor's Note: Lugar is a member of the board of the Nuclear Threat Initiative, which is the sole sponsor of Global Security Newswire. The Newswire is published independently by the National Journal Group.
About
WASHINGTON -- One of two former U.S. senators instrumental in launching efforts to secure weapons of mass destruction in the former Soviet Union is expressing mixed feelings about a new, more limited bilateral agreement with Russia.
Countries