Missile Defense Agency May Go in New Direction With New Chief, Advocate Says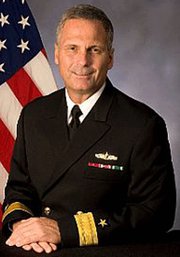 WASHINGTON -- The Obama administration's nomination last week of an admiral to head the U.S. Missile Defense Agency has issue observers wondering if new leadership could lead to new operational focuses for the organization (see GSN, Aug. 7).
The timing and the choice of Navy Rear Adm. James Syring, currently the program executive officer for the service's Integrated Warfare Systems program, to replace Lt. Gen. Patrick O'Reilly came as a surprise to Riki Ellison, a well-connected advocate of missile defense programs.
"I think it's a shock to a lot of the community," said Ellison, who founded and chairs the Missile Defense Advocacy Alliance. "We've never had a Navy head of the Missile Defense Agency. …This is a big culture change for a lot of people."
Today's Missile Defense Agency traces its origins to the Strategic Defense Initiative established in 1983. Since that time, only Army and Air Force officers or civilians have directed the Defense Department branch that oversees the large majority of U.S. research, development and acquisition of technologies for countering ballistic missile strikes, according to the MDAA group.
Ellison said he and others in the missile defense community are now left wondering whether the agency will see its priorities shift under the leadership of Syring, who cannot be confirmed until the Senate returns from its August recess.
Historically, each MDA director has had "certain pet projects," Ellison told Global Security Newswire.
The MDAA chairman speculated that Syring's naval background would mesh nicely with the Obama administration's plan to make Aegis ballistic missile defense technology a core element of antimissile operations by the United States and partner nations (see GSN, March 27).
The U.S. Navy is slated by the end of the year to have 28 Aegis-equipped cruisers and destroyers. The technology has the ability to destroy short-, medium-, and intermediate-range ballistic missiles using Standard Missile 3 interceptors or short-range high-altitude missiles in the final stages of their flight using SM-2 interceptors.
The U.S. Aegis fleet is in high demand by allies in Europe, East Asia, and the Persian Gulf that view the technology as an important protection against possible Iranian and North Korean ballistic missile strikes.
The Navy is presently focused on developing directed energy weapons, which discharge energy at a target to deadly or nonlethal effect. A number of naval initiatives, such as the electromagnetic railgun, could be adapted for missile defense purposes, according to Ellison.
Requests for comment to major MDA contractors and lawmakers from Alabama, where the bulk of agency operations take place, were not returned by press time.
Present and future cuts to the Defense Department's budget mean it will be important for the different military services and agencies to work together to squeeze as much efficiency as possible out of their shrinking spending plans, Ellison said. The appointment of an admiral to head the Missile Defense Agency could be useful in this regard, he suggested, as it would give the organization its first ever experience working under Navy leadership. "[Syring's] going to have to be involved in a lot more integration between services than has ever happened before."
The announcement of Syring's nomination and promotion to vice admiral comes in the wake of an internal inspector general's investigation that found O'Reilly had behaved in a bullying manner to his subordinates.
While O'Reilly was slated to retire in November, Ellison said he suspects the findings of the damning IG report, which in May recommended "corrective action" against the lieutenant general, led the Pentagon to speed up the transition process. A Missile Defense Agency spokesman denied that was the case.
"General O'Reilly had made clear that he planned to ask for retirement in November and the MDA director announcement is typically announced three to four months before retirement," spokesman Rick Lehner said on Tuesday.
"This is not a surprise," he told GSN of the timing of the announcement.
Ellison, though, said the announcement of O'Reilly's successor was not anticipated until November. "It does look underneath the scenes that the corrective action that was requested by the IG moved things faster than was planned," he said.
Despite a number of witnesses reporting to the Pentagon IG office that O'Reilly was the "worst" manager they had ever experienced, Lehner insisted the general's leadership style had no impact on agency performance including its uneven testing track record for ballistic missile interceptors (see GSN, Feb. 2, 2010).
"This is a highly technical program; it's a matter of engineering and technical issues," Lehner said of the agency's work on cutting-edge missile interception technology such as the Ground-based Midcourse Defense System.
Ellison predicted that Syring's Senate confirmation process would proceed smoothly.
"I think everyone is looking for a fresh approach with the agency as it is today," Ellison said. "I think everyone is kind of comfortable with trying to reset it. I don't think there would be any major holdups on this."
About
WASHINGTON -- The Obama administration's nomination last week of an admiral to head the U.S. Missile Defense Agency has issue observers wondering if new leadership could lead to new operational focuses for the organization.