NATO Should Use Summit to Address U.S. Tactical Nukes in Europe, Experts Say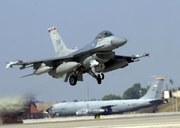 WASHINGTON -- NATO in the next few years will have to come to a determination on the future of U.S. tactical nuclear weapons in Europe, even in the absence of a new arms control treaty with Russia that might resolve the matter, issue experts agreed recently (see GSN, April 5).
The United States is understood to have close to 200 nonstrategic weapons deployed in five NATO member countries -- Belgium, Germany, Italy, the Netherlands and Turkey -- as a holdover from the Cold War (see GSN, Jan. 18, 2011).
The continued willingness of at least some of the states to host U.S. B-61 gravity bombs might be drawing to a close as their governments contend with substantial antinuclear sentiment at home as well as the significant expense of maintaining the ability to deliver the nuclear weapons in an attack.
"All five of the countries which currently base these weapons are reluctant basers in one respect or another, and to the extent they're continuing with the role, it's because the others are doing so; they're doing it out of solidarity with the other baser countries and with NATO as a whole," Malcolm Chalmers, research director at the Royal United Services Institute for Defense and Security Studies, said during an April forum at the Brookings Institution.
The military rationale for keeping U.S. nonstrategic weapons in Europe is increasingly being called into question two decades after the fall of the Soviet Union. A number of European and U.S. critics argue the weapons offer little deterrent value against Russia and are not worth the expense of maintaining with so many NATO members, including the United States, having to tighten their budgets (see GSN, Feb. 3).
On the other side of the divide are those who believe the weapons still send an important signal to Moscow of Washington's enduring commitment to the defense of Europe.
President Obama has said he would like to open discussions on a follow-up to the New START accord with Russia (see GSN, March 26). The U.S. leader had planned on talking over the issue with Russian President Vladimir Putin this month at Camp David, but that meeting has been pushed back until June.
A new bilateral pact could cover strategic and nonstrategic weapons as well as warheads kept primed for delivery and those held in storage, acting Defense Undersecretary for Policy James Miller said in February (see GSN, Feb. 16).
The Kremlin has made it clear it considers the withdrawal of U.S. tactical weapons from Europe a key point in any new arms reduction pact and would even like to see those weapons removed prior to the beginning of negotiations. The Obama administration, though, favors withdrawal happening in tandem within a new bilateral arms control accord.
Turkey is the only B-61-housing country understood not to possess aircraft that can deliver the gravity bombs should an attack ever be ordered. However, the attack-fighter aircraft of the other four hosting European states are approaching the end of their shelf-life.
Germany, the Netherlands, Italy and Belgium have to decide in the next several years whether to order replacement fighter aircraft designed to carry both conventional and nuclear bombs. Their decisions are likely to force the issue of whether to keep U.S. tactical warheads in Europe if Washington has not decided to remove them by then, according to analysts.
"One of the problems there is that the modernization schedules for dual-capable aircraft controlled by those European countries who continue to have a nuclear role, Germany in particular, is a clock that is ticking," Chalmers said.
The British security policy expert said he does not see much action coming at this month's high-profile NATO summit in Chicago on the tactical weapons issue. This is primarily because "there are bigger or more urgent fish to fry" such as agreeing to a drawdown of alliance forces in Afghanistan and deciding on next steps for European missile defense, he said.
Hans Kristensen, who heads the Federation of American Scientists' Nuclear Information Project, also said this week that NATO is likely to maintain its nuclear status quo at the May 20-21 summit.
However, Chalmers and his co-authors of an April Carnegie Endowment for International Peace issue paper on U.S. nonstrategic weapons in Europe, want NATO members to use the Chicago meeting to agree to a schedule and plan for deciding the future of U.S. gravity bombs on the continent.
NATO did not respond by deadline to a request for comment on possible action in Chicago on the tactical weapons issue.
Status of Warheads
Germany has already announced plans to replace its expiring dual-capable Tornado attack fighters with Eurofighter Typhoons, which are not designed to carry the B-61. Berlin has said it will not retire the last of its Tornados until after 2020 (see GSN, Oct. 7, 2010). Germany's Buechel Air Base is believed to hold between 10 and 20 U.S. gravity bombs, according to specialists (see GSN, June 3, 2011).
Belgium possesses dual-capable F-16s that it intends to maintain until roughly 2025. A successor to the aircraft, however, has yet to be chosen nor has the Belgian government committed to any replacement being nuclear-capable, according to the Carnegie analysis.
The Netherlands also uses for its nuclear mission F-16s that are slated to be permanently grounded in 2025.
Italy, meanwhile, is understood to have tactical weapons at two bases that can be launched via U.S.-piloted F-16s and Italian-piloted Tornados that are due to be retired sometime between 2017 and 2024, according to a report issued this week by the European Leadership Network.
Roughly 50 U.S. gravity bombs are believed fielded at a military base in Incirlik, Turkey. The U.S. Air Force does not have a nuclear attack-aircraft unit at the installation and the Turkish government has not shown any interest in building a unit of its own, the Bulletin of the Atomic Scientists has said (see GSN, Feb. 3).
The U.S.-made F-35 Joint Strike Fighter is the leading candidate to replace the aging fighter aircraft of Turkey, Italy and the Netherlands. Versions of the aircraft can be made capable of carrying nuclear bombs at an additional cost of approximately $5 million to $10 million per unit, the Carnegie paper said.
The developmental F-35, though, has been beset with problems including enormous per unit cost increases, difficulties getting the cutting-edge technology to work right and multiple schedule overruns. The fifth-generation fighter plane is not expected to be delivered until some date after 2016. A number of NATO allies are now rethinking their plans to purchase the plane, according to a March blog post for the Atlantic Council by Netherlands military studies academic Julian Lindley-French.
Recent Dutch government moves to drastically reduce military spending coupled with further expected increases in per unit costs of the F-35 likely means the Netherlands will have the funds to purchase no more than one of the planes, Lindley-French asserted.
Rome has announced it would scale back from 131 to 90 the number of F-35s it intends to purchase. Ankara has delayed a decision on whether to acquire two of the planes, the ELN issue analysis states.
Alongside questions about the nuclear-capable aircraft are concerns about an increasingly expensive project to extend the service life of the B-61 (see related GSN story, today). Nonproliferation advocates are concerned the effort will amount to a de facto arms buildup in Europe as the envisioned refurbished gravity bomb would have some enhanced precision strike capabilities, the ELN report states.
Possible Domino Effect
Some alliance countries, principally Germany, wish to see all U.S. tactical weapons withdrawn from Europe. They argue the weapons are too costly and not needed in today's security climate. Other members, especially Baltic nations and some Central European countries, would like to see the warheads kept in Europe as they believe they send an important deterrent signal to Russia (see GSN, April 22, 2010).
Washington has signaled that any decision on removing the armaments should be arrived at by consensus within NATO.
"One of the ironies in this whole debate about nonstrategic nuclear weapons in Europe is the countries that have them don't want them and the countries that don't have them want the ones who don't want them to keep them," Chalmers said.
Chalmers said the writers of the Carnegie paper believe it is unlikely Germany will change its mind and choose to make its Eurofighter nuclear-capable. "If that's the case at some stage some … over the next decade or so, Germany will no longer be prepared to play that particular role in NATO's nuclear posture and that will raise a whole series of other issues."
There is a good likelihood that should Berlin opt not to maintain a dual-capable air fleet and to ask that U.S. tactical weapons be pulled from its territory, growing sentiment in Belgium and the Netherlands against nuclear arms will lead those two nations to follow suit. "That could leave Italy and Turkey to decide whether to retain the nuclear reassurance role that at least some allies continue to find invaluable," according to the Carnegie analysis.
"From a European perspective … there is a real strong sense that these are American weapons not European weapons" and thus Washington should lead the way on the discussion of the future of the tactical arsenal on the continent, Chalmers said. "It's not up to the Europeans to decide what is the future of these weapons, it's up to the alliance to decide."
National Defense University fellow Leo Michel said at the Brookings talk that all 28 NATO member states were not in agreement on the threats and challenges confronting the alliance.
"It still depends a little bit on where you are geographically, your history, your capabilities and so forth. Some still look toward their large [Russian] neighbor to the East [as a threat] and others are looking more toward expeditionary missions overseas," Michel said.
Additionally, considering the dire fiscal straits facing Europe, some NATO members question whether specific portions of their defense budgets should be devoted indefinitely to maintaining dual-capable aircraft "or should we be spending those resources on other things that are still important contributions to the alliance" such as aerial refueling and intelligence and reconnaissance capabilities, he continued.
"While major decisions can be put off for a few years, NATO will be weakened if it is seen to be incapable of resolving these issues for much longer," according to the Carnegie paper. "In Chicago, NATO leaders would be wise to establish a process and timeline for resolving" the tactical weapons issue.
"What could provide a get-out-of-jail-free card" for this thorny issue is if the Russians agree to new arms control talks with the United States that include tactical weapons, Chalmers said. He emphasized that Moscow "clearly isn't in that place today."
Few expect bilateral negotiations to begin this year as Obama focuses on winning a second four-year term. Additionally, Russian anger over U.S. plans to deploy missile defenses in Europe has soured the mood for new arms talks.
Russia is projected by the Bulletin of the Atomic Scientists to possess approximately 2,000 tactical nuclear warheads "in central storage" and an additional 5,500 weapons that have been removed from service prior to potential disassembly.
About
WASHINGTON -- NATO in the next few years will have to come to a determination on the future of U.S. tactical nuclear weapons in Europe, even in the absence of a new arms control treaty with Russia that might resolve the matter, issue experts agreed recently.