Netherlands Overhauls Biosecurity Rules as Avian Flu Dispute Simmers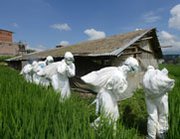 The Netherlands is revamping its biological regulatory regime after Dutch scientists altered avian influenza to be more contagious.
The forthcoming policy will be "comprehensive," a Dutch Foreign Affairs Ministry official told Global Security Newswire.
New rules are to take into account "lessons learned" from an ongoing dispute over the H5N1 bird flu modification research of virologist Ron Fouchier, said Ayse Aydin, an official with the security policy department of the ministry's nonproliferation and disarmament division.
The review would account for all relevant "security-related issues," as well as compliance with international conventions, he said in e-mailed responses to questions.
Aydin declined to elaborate on the policy prior to its unveiling, but said authors would consider findings from a December report by the Royal Netherlands Academy of Arts and Sciences.
In one of its recommendations, the official Dutch body called for the creation of a new government panel that would issue nonbinding guidance on proposals to conduct studies with possible biological-weapon applications.
Aydin said he expected the new policy to be made public at one of two multilateral gatherings tied to the Biological Weapons Convention: A meeting of experts scheduled for Aug. 4-8, or a meeting of states parties scheduled for Dec. 1-5.
"We are absolutely willing to continue our discussion when the new biosecurity policy has been completed," the official added.
News of the policy make-over came amid an ongoing controversy tied to Fouchier's research -- performed at Erasmus Medical Center in the Dutch city of Rotterdam -- which modified the H5N1 virus to spread through the air between mammals. The United States underwrote the Dutch-based study, as well as a similar inquiry in Wisconsin, in an effort to better understand how H5N1 could evolve in nature to more seriously threaten humans.
A U.S. biodefense advisory board placed both studies under intense public scrutiny in 2011, when it suggested that either research effort could equip would-be bioterrorists with a recipe for unleashing a deadly pandemic. Naturally occurring avian flu is relatively difficult for humans to catch, but kills more than half of those who do get infected.
The authors' subsequent clarifications helped alleviate fears about the two specific studies and paved the way for each to be published in 2012. However, a broader debate has persisted over future regulation of other so-called "gain-of-function" pathogen research.
Gain-of-function studies deliberately cultivate disease agents with attributes that do not yet exist in naturally occurring strains, which many researchers say is necessary in an effort to fight possible future forms of disease. Changes introduced to the H5N1 virus by Fouchier's team enabled the agent to bind more easily to cell receptors in mammals.
The research controversy also has played out in the Dutch legal system, where Fouchier has challenged the Dutch government's right to demand licensure of similar sensitive data before it can be transmitted to other countries. Last August, the scientist joined other virologists in calling for future gain-of-function studies to focus on another avian flu virus, called H7N9.
Fouchier lost his initial legal bid on the licensing dispute last September. In November, he appealed to a higher Dutch court.
About
The Netherlands is revamping its biological regulatory regime after Dutch scientists altered avian influenza to be more contagious.
Countries