New U.S. Defense Strategy Lays Groundwork for More Nuclear Cuts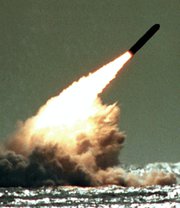 WASHINGTON -- A fresh U.S. defense strategy unveiled by President Obama at the Pentagon on Thursday asserts that nuclear deterrence can be maintained with a smaller stockpile, while renewing earlier assurances that the remaining arsenal would be kept "safe, secure and effective" (see GSN, Jan. 5).
The Defense Department released an 11-page document outlining a new set of priorities for the military at what it called an "inflection point," as longtime troop commitments in Iraq and Afghanistan wind down.
The strategy blueprint, titled "Sustaining U.S. Global Leadership: Priorities for 21st Century Defense," is short on specifics but indicates that a secret nuclear policy review the Pentagon completed last month set the stage for reductions below New START levels (see GSN, Nov. 8, 2011).
The U.S.-Russian arms control treaty, which entered into force last year, mandates that by February 2018 each side cap its fielded strategic nuclear arsenal at 1,550 warheads. The pact also limits each nation's deployed nuclear delivery systems to 700, with an additional 100 bombers, ICBMs or sea-based ballistic missiles permitted in reserve.
"It is possible that our deterrence goals can be achieved with a smaller nuclear force, which would reduce the number of nuclear weapons in our inventory as well as their role in U.S. national security strategy," the new policy outline states.
Details about how a more limited U.S. atomic arsenal could continue to deter conflict even as conventional defense equipment, troop levels and major operations abroad are being scaled back were largely left out of the strategy document.
Defense Secretary Leon Panetta and his deputy, Ashton Carter, said on Thursday that specific programs and force structure to be reduced would be identified within the next few weeks as Obama delivers his State of the Union speech -- slated for Jan. 25 -- and sends a fiscal 2013 federal budget request to Congress shortly thereafter.
"Our judgment [is] that we can maintain deterrence at lower levels of forces, but I will defer any discussion of specific programmatic details to the budget when it rolls out," Michele Flournoy, the Defense undersecretary for policy, said at the Thursday press briefing.
An overall defense strategy relook would have been necessary at such a juncture but was hastened by a roughly $490 billion budget cut over the next decade that represents the Pentagon's "part in helping the nation put its fiscal house in order," Panetta told reporters after the president delivered remarks without taking questions.
The department might also have to absorb another $500 billion in reductions over the same time frame if lawmakers fail to negotiate a new approach to deficit reductions by the end of this year.
The administration also used the policy document to reaffirm its commitment to maintaining viable U.S. nuclear warheads and the technologies built to deliver them.
"As long as nuclear weapons remain in existence, the United States will maintain a safe, secure and effective arsenal," states the policy directive. "We will field nuclear forces that can under any circumstances confront an adversary with the prospect of unacceptable damage, both to deter potential adversaries and to assure U.S. allies and other security partners that they can count on America's security commitments."
Pentagon leaders plan to design and build new bomber aircraft and ballistic missile-carrying submarines over the next couple of decades, as well as replace the nation's aging ICBM fleet, all of which is expected to cost hundreds of billions of dollars. A former vice chairman of the Joint Chiefs of Staff, the since-retired Marine Corps Gen. James Cartwright, said in July that the Defense Department challenge is that "we have to recapitalize all three legs [of the triad] and we don't have the money to do it."
It is unclear whether the upcoming budget plan for fiscal 2013 and future years would significantly alter any of these nuclear modernization efforts. If the administration wants to avoid unilateral reductions to the nuclear arsenal, it is likely to await new negotiations with Russia on lower numbers before enshrining cuts in its out-year budget plans.
In an e-mailed commentary on Thursday, Daryl Kimball and Tom Collina of the Arms Control Association focused on the indications that the size of the nuclear arsenal might be permitted to shrink more in the years to come. The two experts estimated that the nation could "save at least $45 billion over the next decade, and still maintain a formidable nuclear force" through possible reductions across all three legs of the nuclear triad (see GSN, Dec. 16, 2011).
The pair also said further negotiated reductions could improve security around the globe.
"Maintaining excessive nuclear force does nothing to help convince nations, such as Iran or North Korea, or terrorist actors to abandon their pursuit of dangerous weapons. It does nothing to encourage nuclear restraint by China and Russia," Kimball and Collina said. "In fact, by maintaining a larger nuclear force than we need, we are more likely to induce Russia to build up its own arsenal. It is in the security and financial interests of both countries to pursue further, parallel reductions in nuclear forces."
The nuclear policy statements in the newly released strategy are also drawing some slight nudges from the left and more pointed barbs from the right.
"The strategy's take on nuclear issues is cautious but hints at positive steps," said Stephen Young, a senior analyst at the Union of Concerned Scientists. By contrast, a bolder policy statement could help Obama honor his "sensible commitment to reducing the role of nuclear weapons and ending Cold War thinking," he said.
"The administration would be better served by declaring the truth: the United States would be more secure with far fewer nuclear weapons undertaking fewer missions," Young told Global Security Newswire in an e-mailed response to questions. "This approach would have the additional benefit of saving significant sums of money."
Christopher Ford, a senior fellow at the Hudson Institute, said the United States could face new levels of risk by cutting its conventional forces and nuclear arsenal simultaneously.
"If the White House were serious" about both reducing the role of nuclear arms in national security and assuring foreign partners of Washington's security commitments, "they'd be keeping a large and robust conventional military force, and developing improved ways to hold challenging targets at risk through non-nuclear means," Ford told GSN in a written response to questions.
"It's logically impossible to meet all these objectives at the same time. You might be able to reassure allies without nuclear weapons, but it would take new conventional muscle and lots of money," he said. "You're not going to reassure allies while cutting both nuclear weapons and conventional budgets. Our friends around the world are a lot smarter than that."
A key finding of the president's defense strategy review was that the time had come for a significant downsizing of the nation's ground troops, which would leave them with less capability to perform long-term stability missions abroad. Defense leaders emphasized on Thursday, though, that the U.S. Army and Marine Corps would continue to train for a wide array of combat tasks, and an ability to "regenerate" more ground forces would be maintained.
Representative Michael Turner (R-Ohio), who chairs the House Armed Services Strategic Forces Subcommittee, said on Thursday that the defense strategy's new emphasis on a heightened U.S. role in Asia could be hurt by the administration's nuclear policies.
"Deeper nuclear cuts will actually undermine the president's stated shift of focus to the Pacific," Turner said in a released statement. "Our allies across Asia, much like others around the globe, rely on a strong U.S. nuclear deterrent for their security."
Ford also questioned the document's portrayal of nuclear deterrence as presenting a threat of unacceptable damage to would-be antagonists.
"What damage is 'unacceptable' will vary hugely from country to country, and with the circumstances -- such as what is at stake in any particular potential conflict," he said. "It doesn't make much sense as a guideline for sizing one's arsenal."
The Hudson analyst also echoed concerns, voiced recently by Republican lawmakers, that a smaller nuclear arsenal might limit targeting options to such an extent that the Pentagon could no longer expend bombs or missiles on an adversary's military facilities, and would go after population centers instead (see GSN, Dec. 9, 2011).
"Countervalue [targeting] might certainly provide a rationale for much lower numbers, but this would come at great moral cost: mass murder would become not the derivative and unfortunate result of targeting military assets but the actual objective of U.S. policy," Ford said.
Administration officials and congressional Democrats have argued that U.S. nuclear targeting strategy for years has put a potential adversary's cities at risk, regardless of which party held the White House. A significant number of military and industrial targets are located near large population centers, meaning that almost any plausible nuclear war plan would result in catastrophic levels of civilian casualties, according to this line of thinking (see GSN, May 27, 2011).
Representative Edward Markey (D-Mass.), who in October led 64 lawmakers in proposing deep nuclear cuts to help close the federal budget deficit, lauded the new strategy as a step in the right direction (see GSN, Oct. 12, 2011).
"America's nuclear weapons policy is the epitome of overkill, and nuclear weapons and related programs must be on the chopping block like all other defense programs," the lawmaker said in a written statement. Markey said he planned to introduce legislation to "address the wasteful spending on nuclear weapons and related programs."
About
WASHINGTON -- A fresh U.S. defense strategy unveiled by President Obama at the Pentagon on Thursday asserts that nuclear deterrence can be maintained with a smaller stockpile, while renewing earlier assurances that the remaining arsenal would be kept "safe, secure and effective."