U.S. Nuclear Complex Security Oversight Centralized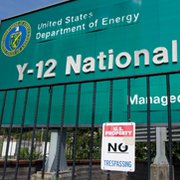 ARLINGTON, Va. -- The United States is overhauling oversight of security at atomic arms facilities in light of last year's infiltration of a Tennessee site housing much of the nation's nuclear-bomb fuel, a top U.S. official said on Wednesday.
The National Nuclear Security Administration's headquarters in Washington has centralized management of protective operations at facilities around the country involved in sustainment and study of the nation's atomic arsenal, acting NNSA Administrator Neile Miller said. She said her agency's "field offices" -- government outposts responsible in part for managing the operations of contract security firms -- are now reporting to her through Michael Lempke, NNSA associate principal deputy administrator and head of infrastructure and operations.
"The existence of a single point to which the field reports and is held accountable is the way we are going to assure the consistent and effective implementation of the policy," she said. "This is a complete change from the approach we have always taken, where each field office is responsible for implementing [security directives] as that office sees fit for its site."
Miller's predecessor faced criticism from certain independent watchdogs for not ensuring the elimination of surveillance problems at the Y-12 National Security Complex in Tennessee before last July, when three peace activists broke into a high-security area housing atomic arms operations and a massive storehouse for weapon-usable uranium.
She described a new division of responsibility between Lempke's infrastructure and operations office and the NNSA defense nuclear security branch. The latter office is now charged with preparing field guidance based on Energy Department nuclear security directives and assessing the performance of field sites in carrying out policies. Lempke's operation, meanwhile, is responsible for making sure various facilities "have the resources" to abide by security directives, clarifying rules to field offices and ensuring that various locations implement them uniformly.
Miller said that having field offices report to her through Lempke's office was a response to "one of the central recommendations" from a physical security operations review headed by Brig. Gen. Sandra Finan, NNSA principal assistant deputy administrator, in response to the Y-12 break-in.
The acting NNSA chief framed the security changes as part of a wider effort to more closely coordinate an array of operations her organization had united only loosely as recently as 2010. She described a longstanding "love-hate" relationship between the main NNSA office and the installations it oversees, but pointed to a need to centrally coordinate closely linked contractor activities involved in sustainment of existing nuclear arms, a mission that eclipsed production of new weapons following the end of the Cold War.
Still, Miller added, more centralized security management "in and of itself" would not obviate the potential for further breaches. "We at the NNSA and DOE as a whole have a lot more work ahead of us on this," she said during an address to the annual Nuclear Deterrence Summit organized by ExchangeMonitor Publications & Forums.
Her remarks come amid ongoing congressional scrutiny of U.S. nuclear weapons management. Fiscal 2013 defense authorization legislation mandates formation of a congressional panel to examine various options for altering oversight of the nuclear weapons complex, and leaders of a congressional oversight panel last week announced plans to review nuclear security oversight efforts within the Energy Department and at its semiautonomous nuclear branch.
Miller, though, suggested that security, spending and other problems faced by the agency are issues "we can and have to deal with ourselves."
"Legislation is a great thing, but it's a rather blunt-edged instrument when it comes to managing something, and it's hard to imagine how you bring about significant management reform," she told Global Security Newswire during a question-and-answer session. "You get some big things to happen and that might be interesting, but I have to say at least from my perspective and as long as I'm in the position, we have to move forward on a lot of things that don't require legislation."
Separately, a veteran U.S. atomic arms insider urged the Energy Department to place higher priority on the Defense Department's nuclear-weapon needs by eliminating corresponding staff from its own ranks.
Tension between political advocates of nuclear arms capacities "responsive to [Pentagon] nuclear weapons needs" and proponents of actions to "phase down those nuclear capabilities" has contributed to "more than a decade of micromanagement of the nuclear weapons enterprise," John Foster, former head of the Lawrence Livermore National Laboratory in California, said during the same event.
"Early last year the DOE's inspector general office performed its own analysis of the cost of this micromanagement process," he said on Wednesday. "They found that several hundred million dollars of the weapons budget was being used in unproductive (ways). Clearly this is an unacceptable situation, given the requirement to make serious budget reductions. "
"Last year Congress in addressing this situation required the DOE to reduce its staff by about 5 percent," Foster said. "DOE should commit to make staff reductions that are … deeper than those required by Congress.
"In doing so it is critically important that the leadership participates in the reviews to retain the staff of highest quality and committed to resist micromanagement," he said, adding the effort would cut expenses by lowering inefficiencies.
Global Security Newswire staff writer Rachel Oswald contributed to this report.
About
ARLINGTON, Va. -- The United States is overhauling oversight of security at atomic arms facilities in light of last year's infiltration of a Tennessee site housing much of the nation's nuclear-bomb fuel, a top U.S. official said on Wednesday.
Countries