North Korea Promises More Rocket and Nuke Trials Aimed at U.S.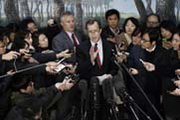 North Korea's powerful military commission on Thursday said the nation intends to send a message to the United States with further nuclear trial detonations and rocket firings, Reuters reported.
The threat came on the heels of a unanimous vote by the U.N. Security Council on Tuesday to rebuke the North for its December launch of a long-range rocket, which was ruled a clear violation of prohibitions against the country's use of ballistic missile technology.
"We are not disguising the fact that the various satellites and long-range rockets that we will fire and the high-level nuclear test we will carry out are targeted at the United States," the North Korean National Defense Commission said in a statement carried by state-controlled media.
Pyongyang typically attempts to publicly portray its rocket program as peaceful and focused on space exploration even though the international community widely sees the launches as tests of ballistic missile capabilities.
South Korea has judged its neighbor to be "technically ready" to detonate its third atomic device following earlier underground tests in 2006 and 2009 that were viewed as partially successful at best. Observers expect a third test to be focused on developing a capability to miniaturize nuclear warheads so they can be mounted on ballistic missiles.
China urged its longtime ally and client state to exercise caution . "We hope the relevant party can remain calm and act and speak in a cautious and prudent way and not take any steps which may further worsen the situation," Foreign Ministry spokesman Hong Lei said to journalists.
The Obama administration's special envoy for North Korea policy, Glyn Davies, said "we hope they don't do it. We call on them not to do it." Davies was in Seoul on Thursday for talks with South Korean officials.
Defense Secretary Leon Panetta at a Thursday press briefing said, "We remain prepared to deal with any kind of provocation from the North Koreans."
Washington has not detected any "outward indications" of an imminent nuclear test, "but that doesn't tell you much," Panetta said, adding that the North has the technical capability to detonate an underground nuclear device without the United States having any forewarning of the exact timing of the event.
Pyongyang's two previous tests have used plutonium but some issue observers think its next test will be fueled by highly enriched uranium.
The Washington-based Institute for Science and International Security last year calculated that using only one 2,000-centrifuge uranium enrichment plant, the North could by 2016 possess sufficient stores of weapon-ready uranium to fuel between 21 and 32 warheads. North Korea is believed under different estimates to currently have enough fissile-grade plutonium to build about six bombs.
While the Stalinist state has shown only one centrifuge plant, many outside analysts suspect there are additional facilities that could give it even greater enrichment capacity.
Meanwhile, the U.S. Treasury Department on Thursday announced new sanctions against two people and a trading firm suspected of assisting North Korea's proliferation efforts.
The two individuals are the senior representatives in Beijing of the North's Tanchon Commercial Bank, which Treasury cited as "the financial arm of Korea's Mining Development Trading Corp. (KOMID), Pyongyang's premier arms dealer and main exporter of goods and equipment related to ballistic missiles and conventional weapons."
The sanctioned firm, Leader (Hong Kong) International Trading Limited, "was designated today for facilitating the shipment of machinery and equipment to customers on behalf of KOMID and directly to KOMID representatives located outside of North Korea," according to a department release.
The new sanctions are in line with the Security Council resolution passed this week, Treasury said. The measures "generally prohibit transactions between the designees and any U.S. person, and freeze any assets designees may have under U.S. jurisdiction."
About
North Korea's powerful military commission on Thursday said the nation intends to send a message to the United States with further nuclear trial detonations and rocket firings, Reuters reported.
Countries