Obama Set to Affirm Nuclear Goals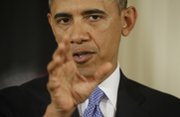 WASHINGTON – President Obama in a matter of hours is expected to reaffirm his hopes for cutting the world's atomic weapons, even as North Korea continues to take steps toward developing its own nuclear arsenal.
In the wake of the North's latest nuclear test on Tuesday, Obama is likely to face continued Republican skepticism that further U.S. nuclear drawdowns can occur without undermining national security.
The White House has signaled that the president would not revise nonproliferation language in the State of the Union address following the North's action, but that the president will also not discuss specific steps by which his administration will advance its arms control agenda.
"His commitment to arms control and nuclear reduction is well-known, but I do not anticipate a new announcement in the State of the Union address," White House spokesman Jay Carney told reporters on Monday.
A policy report delivered to the White House before the November election determined the United States could deter aggression with an operational long-range nuclear force of between 1,000 and 1,100 warheads, the Center for Public Integrity reported last week. That would be reduced from about 1,700 fielded warheads today and 1,550 allowed after 2018 under the U.S.-Russian New START treaty.
Obama's first State of the Union address of his second term will touch on "advancing a comprehensive nuclear agenda to strengthen the nonproliferation regime, reduce global stockpiles and secure nuclear materials," Vice President Joseph Biden said earlier this month.
The president is likely to renew his belief in the disarmament agenda laid out nearly four years ago during a speech in Prague, said Daryl Kimball, executive director of the Arms Control Association. Obama pledged to pursue a world without nuclear weapons via steps including arsenal reductions with Russia, diplomatic outreach to persuade Iran to curb its contested atomic work, U.S. ratification of the Comprehensive Test Ban Treaty, and international negotiations on a long-stalled prohibition on production of fissile material for nuclear weapons.
That speech is seen as contributing significantly to Obama's Nobel Peace Prize in 2009, but major components remain unrealized.
"How much of that he will reference I don't know but I think it will likely be a glancing reference," Kimball said.
"I am quite confident that the State of the Union is not going to be the vehicle by which the president outlines details of the Nuclear Posture Review limitation study, which is by definition a very wonky, detailed topic that does not lend itself to State of the Union addresses," he told Global Security Newswire, referring to the policy document spurred by the 2010 Pentagon-headed assessment of U.S. nuclear forces, strategy and readiness.
Formal rollout of the plan could occur at a later date in conjunction with release of the Pentagon's next budget request and after Obama has his new national security team in place, Kimball speculated.
It remains to be seen when that happens. The ongoing federal budget crisis has pushed back release of spending plans for fiscal 2014 from February to March, the Associated Press reported on Tuesday. The controversial nomination of former GOP Senator Chuck Hagel as Defense secretary could be decided this week, but White House counterterrorism adviser John Brennan has not yet been appointed CIA director and there is still no replacement for departed WMD czar Gary Samore.
The White House by Tuesday afternoon had not responded to requests for additional details on potential nuclear arms reductions plans.
Supporters and skeptics are already weighing in on any moves to shrink the nuclear arsenal.
The North Korean nuclear test "adds to the Obama administration's record of failure on halting the regime's provocative attitude towards its neighbors and the greater global community," Representative Michael Turner (R-Ohio) said in prepared comments. "It is even more disturbing to learn that while North Korea is expanding its weapons programs, the president is contemplating unilateral disarmament. This is the wrong time to say to the North Koreans: 'we'll lay down our weapons, while you raise yours.'"
The administration has said the United States will keep a safe, secure and reliable nuclear arsenal as long as other nations possess such weapons. It has also been vocal about its aspirations to pursue arms reductions that would go beyond those mandated by the treaty with Russia. The White House's would include short-range nuclear weapons and arms kept in reserve.
Moscow has appeared reluctant to engage in such negotiations, wanting Washington to first address its concerns about a developing U.S.-NATO ballistic missile shield in Europe.
Nonetheless, Biden is believed to have discussed the matter with Russian Foreign Minister Sergei Lavrov earlier this month in Munich. The State Department's top arms control official is also in Moscow for three days of talks this week. Obama himself is expected to meet again with Russian President Vladimir Putin at some point.
The White House believes that 1,000 to 1,100 nuclear warheads would provide a sufficient deterrent against potential enemies. The warheads would be aimed as a smaller count of crucial targets in China, Russia and a number of other nations, the Center for Public Integrity reported.
Obama has yet to formally sign off on the policy directive, and would not take immediate action or move on its own, according to the article. The New York Times reported on Saturday the president is looking for an approach to bilateral reductions with Russia within the structure of the New START deal that would not require Senate ratification.
One option would be to speed up the pace of reductions under the treaty and then for both nations to continue past the mandated cap of 1,550 warheads, Kimball said. Russia as of November already held 51 fewer deployed strategic warheads than what is allowed under the pact, according to State Department figures.
"That's a very real possibility that is in the New START framework," Kimball said. "That's not an end run [around the Senate] by any means, and makes a lot of sense from a national security standpoint that no one believes that we need to hang on to 1,700 warheads ad infinitum."
Republican lawmakers have opposed potential plans to go beyond the New START mandates, and have accused Obama of stepping back from nuclear complex modernization pledges made during the campaign to secure Senate approval of the treaty.
For fiscal 2013, the Obama administration requested $7.6 billion for National Nuclear Security Administration programs aimed at maintaining "a safe, secure and effective nuclear deterrent." The figure was $372 million less than what the administration projected in 2010 in order keep its side of the bargain, but was still a 5 percent increase over what Congress approved for fiscal 2011.
Thirteen GOP senators voted in favor of the New START accord.
"President Obama has been the world leader on reduction of nuclear weapons, but he's only succeeded in reducing the deterrent that protects the American people and its allies," Representative Mike Rogers (R-Ala.), new head of the House Armed Services Strategic Forces Subcommittee, said in a Tuesday statement to GSN. "Instead of changing course, it appears the president is poised to double down on this failed policy tonight."
The Arms Control Association on Friday released a four-part guide for cutting billions of dollars in spending by reducing the size of the nuclear stockpile.
As much as $18 billion could be saved by retiring four or more vessels from today's fleet of 14 Ohio-class ballistic missile submarines and only building eight replacement vessels. Further savings could be derived from pushing back deployment of the initial new vessel from 2031 to 2033; there is another $18 billion in savings to be had in postponing development of the next strategic bombers, according to the organization.
Eliminating one squadron at each ICBM site, leaving no more than 300 missiles rather than today's count of 450, would save between $3 billion and $4 billion over 10 years, the issue brief says.
Another avenue for cost-cutting would be to curb or postpone updates to roughly 400 B-61 nuclear gravity bombs, which are due to cost more than $10.4 billion, the Arms Control Association said.
The recommendations are intended to be "illustrative" of a strategy for sustaining all legs of the U.S. nuclear triad while cutting costs and the size of an excessive stockpile, Kimball said in a telephone interview.
About
WASHINGTON – President Obama in a matter of hours is expected to reaffirm his hopes for cutting the world's atomic weapons, even as North Korea continues to take steps toward developing its own nuclear arsenal.
Countries