Obama Team Eyes Saudi Nuclear Trade Deal Without Nonproliferation Terms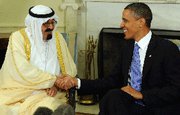 WASHINGTON -- The Obama administration is taking initial steps to negotiate a civil nuclear trade pact with Saudi Arabia that could lack key nonproliferation provisions included in a similar 2009 deal with one of Riyadh's Persian Gulf neighbors, according to U.S. officials and experts (see GSN, Nov. 3, 2010).
Critics are warning that the approach -- reportedly driven by Deputy Energy Secretary Daniel Poneman -- might signal Washington's tacit blessing for the Saudis to reprocess plutonium or enrich uranium on their soil. Such activities can be useful for atomic energy needs but also introduce the potential to advance a clandestine nuclear weapons effort.
"They've opened the nuclear tinderbox of the Middle East," one senior Republican congressional aide said last week. "They're playing with nuclear fire."
Many nonproliferation experts appear to agree, saying Washington currently has a unique opportunity to head off the further spread of nuclear weapons. However, they say, that opening could disappear if the Obama team fails to seize it.
In its 2009 nuclear trade agreement with the United States, the United Arab Emirates volunteered to forgo any domestic enrichment or reprocessing. The pact, initially signed by the Bush administration and later strengthened by the Obama team, also includes a disincentive for reversing course: it gives Washington the right to demand that its nuclear materials are returned if the Emirates were to abandon its pledge.
Last August, State Department spokesman Philip Crowley called the UAE nonproliferation provisions the "gold standard" for nuclear trade agreements that Washington negotiates with nations around the world.
Leading nonproliferation advocates have urged the White House to pursue a similar commitment to nonproliferation practices from Saudi Arabia and other Middle East countries -- if not in other regions, as well. While the Mideast is widely regarded as an area of particular concern, Washington might be reluctant to adopt a policy that singles out Arab nations for stricter limits than those placed on other states, several issue experts noted.
"It goes to the argument over what is possible to achieve in nonproliferation on a global level," said one congressional source.
This staffer and several other Washington officials from both political parties were interviewed on condition of not being named in this story. They were not authorized to speak publicly about the simmering policy debate over global trade in sensitive nuclear materials.
Lawmakers on Capitol Hill signaled their ire last summer after learning that the administration did not intend to advocate a renunciation of domestic enrichment and reprocessing in negotiating nuclear trade deals with Jordan and Vietnam.
In response, the Obama team agreed to review whether the gold standard should be applied to upcoming agreements, even while quietly acknowledging that neither Hanoi nor Amman were inclined to accept the clear type of assurance embraced by the United Arab Emirates.
In a series of closed-door meetings, the National Security Council debated what the policy on the standard should entail, but was unable to reach consensus on the matter, according to administration insiders.
During a key agency deputies meeting last fall, Deputy Secretary of State James Steinberg reportedly argued that nonproliferation concerns must weigh significantly into U.S. decisions about nuclear cooperation. Adherence to a high standard would help honor President Obama's 2009 pledge in Prague to pursue "an end to the dedicated production of weapons-grade materials" and serve as a model for the rest of the world, according to Steinberg's thinking.
However, Poneman insisted that Washington must not impose restrictions on what some nations regard as a right to peaceful nuclear power, insider sources said. The outcome of any such effort, he believes, could be that the U.S. nuclear energy industry will be put at a disadvantage, losing business to nations such as France or South Korea that impose fewer restrictions on foreign sales of nuclear technology and materials.
Katinka Podmaniczky, Poneman's spokeswoman at the Energy Department, declined any comment on the matter.
Gary Samore, the NSC coordinator for arms control and nonproliferation, in November confirmed that the issue was before Obama to decide (see GSN, Nov. 19, 2010).
Crowley told Global Security Newswire last week that the matter remains under study but that the Obama administration does not regard the UAE precedent as one that necessarily should be applied to other nations.
"We approach these negotiations on a country-by-country basis," the State Department spokesman said in an e-mailed response to questions. "We are still reviewing the best course of action going forward. We do not have a set schedule. Country by country, these agreements are based on mutual interests and are not affected by arrangements with other countries."
Pending a presidential decision, it has been left to the Energy and State departments to sort out how they would approach anticipated talks with Saudi Arabia aimed at landing a formal agreement on terms for their future nuclear trade, Washington sources said.
Indications are that Poneman recently advised the State Department -- the lead U.S. agency for international negotiations -- that Washington need not press Saudi Arabia to accept nonproliferation provisions similar to those in the UAE accord, according to government sources.
Indeed there were signs last August that Riyadh -- a powerful neighbor to Iran that is clearly rattled by Tehran's presumed interest in nuclear weapons -- was not prepared to accept a ban on its enrichment or reprocessing, according to Mark Hibbs, a senior associate at the Carnegie Endowment for International Peace.
Hibbs noted, though, that the U.S.-UAE Business Council in 2009 touted initial Saudi interest in adhering to the gold standard, a suggestion that prompts nonproliferation advocates to believe Riyadh might be receptive to forgoing these activities, perhaps even if only for a limited time.
A trade agreement between Washington and Riyadh would offer Saudi Arabia access to advanced U.S. nuclear energy technologies, materials and know-how "for use in medicine, industry and power generation and [to] help in the development of both human and infrastructure resources," the State Department said in announcing an initial memorandum of understanding in May 2008.
Washington's "seal of approval" could also help boost the Persian Gulf nation's ability to entice other countries to invest in its nascent atomic energy sector, experts say. From Washington's perspective, such an agreement could help a flagging U.S. nuclear industry compete for business in supplying Saudi reactors.
Nonproliferation experts are warning, though, that if a U.S.-Saudi agreement fails to include provisions that discourage enrichment or reprocessing, the earlier UAE pledge could be withdrawn.
Washington's accord with the Emirates features an escape clause that allows Abu Dhabi to exercise any more favorable terms that the United States grants other Middle Eastern nations in subsequent nuclear trade pacts.
Along with individual states such as Jordan, the Gulf Cooperation Council -- consisting of Bahrain, Kuwait, Oman, Qatar, Saudi Arabia and the United Arab Emirates -- has voiced interest in developing its nuclear energy sector under international guidelines.
The uptick in Middle Eastern civil nuclear energy projects comes amid growing international scrutiny of Iran's nuclear program. Tehran is widely suspected of pursuing a nuclear weapons capability but has insisted its intentions are peaceful.
Egypt, for one, is increasingly troubled by the prospect that Iran might succeed in building a nuclear bomb, despite international sanctions and diplomatic efforts aimed at preventing such an eventuality. Even as Cairo last year pushed the international community to establish a special Mideast zone free of weapons of mass destruction, its U.N. envoy would not rule out the idea that Egypt itself could be forced by regional circumstances to develop atomic weapons (see GSN, June 10, 2010).
"Is this the region where you really want to be playing games?" said Sharon Squassoni of the Center for Strategic and International Studies, referring to the languishing debate inside the Obama administration. "Because of Iran, the stakes are higher."
Poneman and other nuclear energy proponents argue that Washington would have more leverage with a nation such as Saudi Arabia only after striking a trade deal. However, this point has nonproliferation advocates asking what harm there would be in having the State Department at least make the case for nonproliferation provisions during bilateral negotiations.
"You don't know till you go ask," said one congressional staffer.
The emerging situation is worrying lawmakers on both sides of the aisle. Both House Foreign Affairs Committee Chairwoman Ileana Ros-Lehtinen (R-Fla.) and the panel's ranking member, Representative Howard Berman (D-Calif.), are readying legislation to amend the Atomic Energy Act so that future nuclear trade pacts are more likely to include strong nonproliferation provisions.
"It's almost like they're daring Congress to stand up and do something," one Capitol Hill staffer said of the Obama administration and its delay in announcing a policy approach on the gold standard. "The scales are going to start to tip. People will start saying, 'It's too much. I'm sick of this.'"
Another aide noted that it was the Obama team that strengthened the UAE pact by adding Abu Dhabi's explicit pledge on enrichment and processing, augmenting the right-of-return disincentives that the Bush administration had earlier secured. The current administration even gave the provisions the "gold standard" moniker.
"So they're in a little bit of a spot here," the aide said. "This is something they helped to create."
The issue appears to be left at stalemate within the administration, several insiders indicated.
"The most powerful option for a bureaucrat is to 'do nothing,'" noted one Capitol Hill Republican.
If the Obama Cabinet opts out of championing the gold standard in the run-up to the 2012 election, it might expose the president to accusations that he is abandoning one of his core convictions, some experts are saying.
"It's hard to believe that the administration after the midterm elections would start a negotiation with Saudi Arabia on that basis -- especially since the UAE agreement was conceived of as a template for other states in the Middle East," Hibbs told GSN yesterday by e-mail.
"This administration is setting itself up to fail for the president," the GOP staffer opined.
In an interview last week from his office in Bonn, Germany, Hibbs said it could be a long while before Saudi Arabia gears up its nuclear energy sector. There is much work to do in expanding the nation's power grid and educating Saudi engineers on how these systems work, he said.
Over the next few years, the United States is also expected to initiate and renew a dozen or more nuclear trade agreements with various nations around the globe. Nonproliferation advocates see this as a potential opportunity for Washington to solidify a standard that could pay dividends down the road.
"You've got the UAE," said one Capitol Hill aide. "If you can get Jordan and another country beyond that -- three countries that voluntarily foreswear reprocessing -- then you've got a real precedent forming."
After such a precedent is established, the burden would then be on other states to explain why they would demand to preserve a right to enrich or reprocess, the staffer said.
"This gold standard might be quite difficult to implement, but the U.S. should not stop trying to restrict the spread of these technologies," said Squassoni, who directs her organization's Proliferation Prevention Program. "Otherwise we may find ourselves in a race to the bottom against competitors like the French and Koreans, who are more likely to win contracts."
If U.S. companies are already losing global nuclear energy contracts to foreign competition anyway, Washington might as well take the high road in maintaining a high nonproliferation standard, one congressional aide said.
"If we want this to be a standard, we have to do the legwork with our allies," Squassoni said. It will take concerted diplomacy and arm-twisting to ensure that other nuclear energy purveyors adhere to the same restrictions on their sales, she said.
Readers' Note: A day after this article was published, an Energy Department spokeswoman took issue with selected details in a prepared statement. "The Obama administration is not discussing with Saudi Arabia a 123 agreement, neither has Deputy Secretary [Daniel] Poneman driven any such activity, nor advised the State Department on this matter," said Katinka Podmaniczky, who last week declined repeated GSN requests to address Poneman's role in applying the gold standard to future nuclear trade pacts. "The Obama administration is engaged in ongoing discussions, including with friends and allies, in support of the president's commitment to build a new framework for civil nuclear cooperation so that countries can access peaceful power without increasing the risks of proliferation. That effort is driven by the president's firm commitment to reduce nuclear risks around the world."
Global Security Newswire stands by the accuracy of the article as reported.
About
WASHINGTON -- The Obama administration is taking initial steps to negotiate a civil nuclear trade pact with Saudi Arabia that could lack key nonproliferation provisions included in a similar 2009 deal with one of Riyadh's Persian Gulf neighbors, according to U.S. officials and experts (see GSN, Nov. 3, 2010).