Obama Team Reveals Nuclear Trade, Nonproliferation Decision on Capitol Hill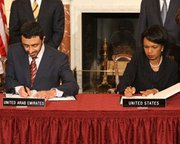 WASHINGTON -- The Obama administration told key lawmakers by letter on Tuesday how it intends to pursue upcoming nuclear trade agreements with one or more partner states, and the decision was believed to shed light on whether such pacts would contain specific conditions aimed at discouraging the spread of nuclear weapons, Global Security Newswire has learned (see GSN, July 28, 2011).
Two senior Obama administration officials wanted to brief key lawmakers in person or by phone this week, but logistics proved impossible and a written notification was sent instead, according to sources.
Details were shrouded in secrecy even after the letters were sent to the chairs and ranking members of the House Foreign Affairs and Senate Foreign Relations committees, but the outlines of a policy determination appeared to be emerging, sources and experts said.
Deputy Energy Secretary Daniel Poneman and Undersecretary of State for Arms Control and International Security Ellen Tauscher were widely believed ready to unveil an approach in which selected nonproliferation promises are sought on a case-by-case basis in forthcoming nuclear trade agreements.
There was a chance that nations in the Middle East region could be deemed eligible only for U.S. nuclear cooperation pacts with strict weapons-prevention terms, informed sources said. However, it remained unclear this week whether the volatile region would be singled out for a different policy approach.
Nuclear trade agreements allow for U.S. companies to build reactors overseas or provide sensitive technologies, nuclear materials or know-how to recipient nations.
The Energy and State departments would neither confirm the emerging policy decision nor respond to a reporter's related questions by press time.
Officials and issue experts, though, noted that facets of the administration approach have appeared to surface on occasion for more than a year.
"I think the administration will pay lip service to the idea of [a nuclear trade partner] forgoing enrichment and reprocessing, but I would be very surprised if they made renunciation a hard condition of any agreement," said nuclear expert Jeffrey Lewis.
If the emerging policy includes a tougher nonproliferation stance for the Middle East, it comes amid growing international tensions over suspicions that Iran is secretly developing a nuclear-weapon capacity (see GSN, Jan. 10).
There are also serious concerns about the possibility that the entire region could be on the verge of a race to develop nuclear weapons.
A member of Saudi Arabia's ruling family recently suggested the kingdom was interested in building or acquiring atomic arms to counter Iran and Israel, a notion that has seriously rattled many in Washington officialdom (see GSN, Dec. 5, 2011).
Other Middle Eastern countries have pursued nuclear energy without overtly hinting interest in a military capability, though the potential for surprises remains. The United States and Jordan are said to be close to an agreement in which Washington would give Amman access to nuclear technologies, materials and assistance. Additionally, the Gulf Cooperation Council -- comprised of Bahrain, Kuwait, Oman, Qatar, Saudi Arabia and the United Arab Emirates -- has expressed interest in developing its nuclear energy sector under international guidelines.
Ever since Washington initially inked a civil nuclear cooperation pact with the United Arab Emirates toward the end of President George W. Bush's administration, controversy has been mounting over what trade policy the nation should adopt. When Obama took office in 2009, his State Department renegotiated the UAE agreement, including in the document what had been until then the Middle East nation's informal pledge not to enrich uranium or reprocess plutonium on its soil.
Enrichment or reprocessing activities are useful in producing reactor fuel for peaceful purposes -- such as energy generation, medical applications and research -- but also could open the door to a clandestine diversion of fissile material toward the development of nuclear weapons. Iran is widely accused of launching an illicit nuclear arms program in this way, though Tehran insists that its atomic activities remain entirely peaceful.
Shortly after the UAE deal was struck, the Emirates' renunciation of a so-called "ENR" capacity became known as the "gold standard" for nuclear cooperation agreements. Nonproliferation advocates called on the Obama team to seek additional such pledges elsewhere around the world as part of the president's commitment to lead global efforts to stop the spread of atomic arms.
Administration officials have said, though, that what was appropriate for the United Arab Emirates is not necessarily useful in negotiations around the world.
Even though the Obama team minted the term "gold standard," its officials "seemed very skeptical" about applying it elsewhere "because they believed that the UAE undertaking was voluntary, and they had very few hopes of convincing other states to agree to similar restrictions," Lewis, who directs the James Martin Center for Nonproliferation Studies' East Asia program, said in a telephone interview.
Senior leaders have instead counseled that a case-by-case approach might allow Washington to more effectively champion U.S. nuclear industry interests abroad and exert influence on foreign nations' nonproliferation policies.
"The Obama administration is engaged in ongoing discussions, including with friends and allies, in support of the president's commitment to build a new framework for civil nuclear cooperation so that countries can access peaceful power without increasing the risks of proliferation," an Energy Department spokeswoman said last January. "That effort is driven by the president's firm commitment to reduce nuclear risks around the world."
The toughest nonproliferation provisions might appear in some, but possibly not all, of Washington's civil nuclear cooperation agreements, which are governed by Section 123 of the Atomic Energy Act, a senior White House official said in November 2010.
"We will apply the gold standard," Gary Samore, the National Security Council coordinator for arms control and nonproliferation, said at a Washington event at the time. "The only question is whether you try to do that across the board, on a universal basis -- and we know that that's going to run into some very serious difficulties in the case of some '123' agreements -- or whether we're going to be more selective about it."
Samore said it was "not as though we're giving up on the gold standard," but "the only question is how do you apply it, how broadly do you seek to apply it" (see GSN, Nov. 19, 2010).
Debate over the matter flared during the summer of 2010. The foreign affairs committee chairs and ranking members learned then from an administration briefing that Jordan and Vietnam were unlikely to accept a no-ENR pledge and that bilateral pacts would nonetheless proceed without these nonproliferation terms.
"For Jordan and Vietnam and other countries, [the administration] seemed reluctant to push for a full, UAE-like renunciation of enrichment and reprocessing," said Lewis, noting that Obama national security officials generally have been more interested in offering comprehensive fuel services for nations eager to use peaceful nuclear energy.
Other nations on the horizon for atomic pacts with the United States -- to include a renegotiated agreement with South Korea by 2014 and a possible first-ever atomic accord with Saudi Arabia -- could prove even more problematic, according to issue-watchers.
"It's pretty clear that our diplomats had a hard time selling that kind of condition to the South Koreans or the Jordanians -- to say nothing of the Saudis -- and that they would prefer somehow to be let off the hook," said Henry Sokolski, executive director of the Nonproliferation Policy Education Center.
Still, lawmakers in both the House and Senate said in 2010 they were alarmed that the administration was not working harder to bring its nuclear trade partners onboard with the gold standard.
In the House, Foreign Affairs Committee Chairwoman Ileana Ros-Lehtinen (R-Fla.) last year teamed with Ranking Member Howard Berman (D-Calif.) and eight other co-sponsors to offer legislation, called H.R. 1280, that would allow Congress to take up-or-down votes on pacts that omit gold-standard provisions.
As the Atomic Energy Act currently stands, a so-called "123 agreement" must be submitted to Congress for review but can enter into force if lawmakers take no action within 90 days of continuous legislative session. The reform measure, which would extend this looser congressional review process only to pacts that include a no-ENR pledge, passed the House committee last April but has not yet gone to a floor vote (see GSN, April 15, 2011).
Meanwhile, the White House responded to the bipartisan concerns by launching an interagency review of its overall nonproliferation policy for nuclear trade pacts, which appears to have continued through late last year.
As the internal policy review played out in fall 2010, Poneman notably squared off with then-Deputy Secretary of State James Steinberg over the issue (see GSN, Jan. 25, 2011).
Before leaving government service last July, Steinberg reportedly argued that advocating for the gold standard around the globe would help Obama honor his 2009 pledge in Prague to pursue "an end to the dedicated production of weapons-grade materials." For his part, Poneman is said to have held that demanding a gold-standard promise could potentially alienate partner nations and send their nuclear business to international competitors that impose fewer restrictions on sales, such as Russia and France.
Now that the administration appears to have made a policy determination on whether, or in which cases, to seek a no-ENR pledge with its nuclear trade interlocutors, Poneman and Tauscher were eager to quickly brief Ros-Lehtinen and Berman on the House side and Senate Foreign Relations Committee Chairman John Kerry (D-Mass.) and Ranking Member Richard Lugar (R-Ind.), according to Capitol Hill sources.
"There is this certain pressure for a briefing on a decision that they have made," one congressional staffer said this week. "If it is about ENR, they made that decision long ago so it is unclear why they need to talk to members immediately."
This staff aide and others agreed to contribute to this article on condition of not being named because they were not authorized to address the issue publicly.
The urgent administration requests initially were for Poneman and Tauscher to discuss the matter with lawmakers in person, but Congress will not be back in session until later this month.
With members on travel, it appeared earlier that briefings for them might begin this week by telephone. Even that option proved difficult for at least some of the lawmakers, though; Ros-Lehtinen, for one, is several time zones away, accompanying House Majority Leader Eric Cantor (R-Va.) on a congressional delegation to the Middle East.
Now that the written notifications were sent, briefings for staff and members might follow, though the timing is as yet uncertain, according to sources.
Leading up to the intended briefings, Obama administration officials declined to preview the outcome of their policy deliberations for congressional aides, who as issue specialists are normally expected to prepare lawmakers for such meetings, sources said.
Outside nuclear policy experts surmised that Tauscher and Poneman were hoping that lawmakers would hear them out before being swayed by congressional staffers, who might be more readily armed with doubts about the administration approach to the long-pending matter.
"Lawmakers would ask more informed questions with the benefit of staff preparation," Lewis said. "Poneman and Tauscher ought to be more than capable of defending the policy decision to well briefed lawmakers. If they can't handle the scrutiny, maybe it's not such a great policy."
Sokolski, speaking in a phone interview, had a similar take.
The Obama team's decision not to prebrief congressional staff "suggests that they don't want the members to understand the complexities before they check off on their new policy or that they are not all that proud of the policy they have produced, or both," he said.
"Whatever they are going to brief the [committee] principals about, I would be astonished if it didn't somehow disappoint, with regard to delivery on the kind of conditions that were codified in the United Arab Emirates-U.S. nuclear cooperative agreement," Sokolski said.
"If it did, they would be trumpeting it publicly," said the former George H.W. Bush administration Pentagon policy official, quickly adding that he could not fully evaluate the policy until more details become known.
The next U.S nuclear trade agreement anticipated for submission to Capitol Hill could be one with Jordan, which a key Washington diplomat said last March was "very, very close" to completion, "but, to be fair, the Jordanian government had other issues on its mind at the moment."
The diplomat, Richard Stratford, directs the Nuclear Energy, Safety and Security Office in the State Department's International Security and Nonproliferation Bureau. He appeared to be referring to Amman's unease with proceeding on a pact with Washington in the midst of the Arab Spring.
Though it is unclear whether that accord might soon be ready to proceed, Stratford hinted last year that the near-final text included some form of nonproliferation pledge.
"One thing I would like to correct is that you see again and again in the press that Jordan, of course, will never do what the United Arab Emirates did. Well, I wouldn't count on that," he said, speaking at a Washington conference on nonproliferation. "If they are prepared to engage at some point in the future, I think we will come to conclusion and I think that the Congress will like the result."
One widely discussed possibility is that Jordan might agree to set aside a right to enrich or reprocess for a certain number of years. However, it was unclear whether such a pledge might expire before the duration of Amman's accord with Washington was complete.
About
WASHINGTON -- The Obama administration told key lawmakers by letter on Tuesday how it intends to pursue upcoming nuclear trade agreements with one or more partner states, and the decision was believed to shed light on whether such pacts would contain specific conditions aimed at discouraging the spread of nuclear weapons, Global Security Newswire has learned.
Countries