Obama to Update Nuclear Complex Despite Fiscal Constraints, NNSA Chief Says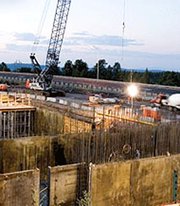 WASHINGTON -- The Obama administration remains committed to modernizing the U.S. nuclear arms complex, despite seeking hundreds of millions of dollars less for weapons activities in its new budget than had been previously anticipated, a senior official said on Monday (see GSN, Feb. 13).
The National Nuclear Security Administration for fiscal 2013 is requesting $7.6 billion for programs "to maintain a safe, secure and effective nuclear deterrent." That is a 5 percent increase from the funding lawmakers provided for this budget year, but $372 million less than the administration had projected in 2010.
One immediate impact is deferral of plans for a plutonium facility that would support nuclear-weapon activities at the Los Alamos National Laboratory in New Mexico, said NNSA chief Thomas D'Agostino.
The White House in November 2010 released spending projections aimed at meeting President Obama's intention to provide $85 billion over a decade for modernizing the U.S. nuclear arsenal and associated infrastructure.
Obama offered the pledge as he sought Republican support for ratification of the New START nuclear arms control treaty with Russia. Thirteen GOP senators voted in favor of the treaty, which entered into force in February 2011.
The reduction in anticipated funding results from the financial constraints facing the country and congressional restrictions, according to D'Agostino. His agency had sought about $7.6 billion for its weapons efforts in the 2012 budget, but ultimately received close to $400 million less than that.
D'Agostino also said the deficit-fighting 2011 Budget Control Act had affected the NNSA bottom line, but did not discuss specifics. The agency did not respond to a call on Tuesday for details.
"When Congress hands you less than half the increase you need to do the job, one is necessarily compelled to figure out, how am I going to get the most important stuff done?" D'Agostino said in a teleconference with reporters. "That's what we have here in this program and budget."
Nonetheless, "the president continues his commitment," he said.
A revised long-term weapons activity spending plan is expected to be developed with the Defense Department and delivered later this year, the NNSA chief said. He did not indicate whether the agency anticipates cutbacks in future years from the funding levels laid out in 2010.
There was no immediate response on the matter from Senator Jon Kyl (R-Ariz.) and Representative Michael Turner (R-Ohio), key lawmakers who have pressed the administration to stick to its nuclear arms complex modernization plan.
Turner last week, though, said he intended to introduce the "Maintaining the President's Commitment to our Nuclear Deterrent and National Security Act of 2012" in response to the administration's anticipated step back from the 2010 funding plan. Details of the legislation have not yet been made public (see GSN, Feb. 9).
In total, the NNSA budget proposal requests $11.5 billion for the agency's weapons, nonproliferation, naval reactor and administrative activities. Fiscal 2013 begins on Oct. 1.
D'Agostino identified the five-year delay in construction of the Chemistry and Metallurgy Research Replacement facility at Los Alamos as a direct consequence of the funding limitations.
The new site would replace a decades-old plant that provides analytical chemistry and other research services for the production of plutonium nuclear-weapon cores at the laboratory. Construction is now estimated to cost up to $6 billion.
The nuclear agency "determined, in consultation with the national laboratories, that the existing infrastructure in the nuclear complex has the inherent capacity to provide adequate support for these missions," according to an NNSA budget document. "Studies are ongoing to determine long-term requirements."
The semiautonomous branch of the Energy Department expects to free up $1.8 billion from 2013 to 2017 by postponing construction of the plant, which had been expected to begin operations by 2024.
"We are not canceling the project, we are deferring the project for a period of time," D'Agostino said. "And so, what we have to do is make sure we're in a position of saying this is a deferral. And we are deferring it."
Critics, who have argued that the long-delayed facility is not necessary, were not convinced. "This is the end of this project," Greg Mello, a longtime opponent of the new facility with the Los Alamos Study Group, told the Associated Press.
"This facility would have duplicated existing capacity. At a time when the military is considering cuts to the pay and benefits of our men and women in the armed services, Cold War-era nuclear weapons that are no longer needed should be the first place to cut to help reduce the budget deficit," according to a statement from Representative Edward Markey (D-Mass.), who is leading a legislative push for deep nuclear arms spending cuts (see GSN, Feb. 8).
With the Los Alamos plutonium site on a slower track, the focus is on uranium operations at the Y-12 National Security Complex in Tennessee, where $340 million would be used to push ahead with construction, beginning this year, of the Uranium Processing Facility. That is more than double the amount allocated in the present budget, said Donald Cook, NNSA deputy administrator for defense programs.
The new facility was seen as a priority given the deterioration of the existing Y-12 site for processing weapon-grade uranium, officials said.
"That building is used up," said Cook, who also participated in the NNSA teleconference.
Nonproliferation
The agency is additionally seeking $2.5 billion in fiscal 2013 for programs to stem the spread of nuclear weapons and sensitive materials across the globe. If approved, the request would increase funding for those operations by 7 percent from current levels, "which reflects completion of accelerated efforts to secure vulnerable materials within four years, the president's stated timeframe," a budget document says.
Obama made the pledge in his widely touted April 2009 nonproliferation address in Prague.
The administration expects to have secured or eliminated 4,353 kilograms of highly enriched uranium and plutonium by late 2013, according to an NNSA press release. Security enhancements are also set for 229 facilities that hold weapon-ready material that might make an attractive target for terrorists.
The agency's upcoming goals include "removing/eliminating all remaining HEU from nine more countries such as Mexico, Ukraine, and Vietnam" by December of next year and "converting or verifying as shutdown seven additional HEU research reactors for a cumulative total of 88 reactors" by September 2013, the budget says.
"That is one specific effort," Anne Harrington, NNSA deputy administrator for defense nuclear nonproliferation, said during the press conference. "That doesn't mean that that's necessarily the end of all materials that we're concerned about, so there will be continuing activity after" the end of 2013.
The budget request would cut funding for some NNSA nonproliferation programs, including dropping spending on the Global Threat Reduction Initiative by more than $30 million from this year's appropriation, to $466 million.
Program spending reductions would not affect work on the four-year goal, Harrington said. Instead, the agency will look to other areas, including security of radiological materials, where projects could be delayed without increasing security threats.
"We are executing the highest priority work that we must accomplish within a very constrained budget environment," she said.

About
WASHINGTON -- The Obama administration remains committed to modernizing the U.S. nuclear arms complex, despite seeking hundreds of millions of dollars less for weapons activities in its new budget than had been previously anticipated, a senior official said on Monday.
Countries