Syria Disarmers May Not Meet June Chemical Goal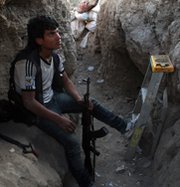 A key international overseer said governments may fall short of a June goal to fully eliminate the Syrian regime's chemical arsenal, Reuters reports.
A comment by Ahmet Üzümcü, director general of the Organization for the Prohibition of Chemical Weapons, marked the first formal acknowledgement that a multilateral operation to completely eliminate the chemical-warfare stockpile might not meet its planned June 30 completion date, the news agency said on Monday. Syrian President Bashar Assad's government was originally scheduled to finish shipping warfare chemicals out through its Latakia port in early February, but the transfers are now expected to take until late April.
"Some targets have not been met, but the deadline of 30 June still remains our target," Üzümcü said. "We think we can finish the destruction by that time, or close to that time."
An OPCW insider said Üzümcü meant that the arms might not be completely eliminated before July. The substances are slated to be neutralized after cargo vessels are done pulling them out of the war-devastated nation under military escort.
Russian Foreign Minister Sergei Lavrov said Moscow expects "the chemical weapons will be removed from Syria by the middle of 2014." He did not elaborate in comments reported by Reuters.
Moscow has backed its Damascus ally in attributing the slower-than-expected progress to threats from rebel forces. Assad's regime agreed to surrender the chemical stocks last year, amid threats of international military action over an August nerve-gas strike on a residential district controlled by regime opponents.
U.S. Secretary of State John Kerry has accused Syria's government of relinquishing the chemicals more slowly than necessary. On Monday, the top U.S. diplomat expressed hope that tensions over Ukraine would not affect Russian coordination in the disarmament effort.
"I hope the same motivations that drove Russia to be a partner in this effort will still exist. This is bigger than either of our countries," he said in released remarks.