DOD Keeps Budget High for Chem Arsenal Destruction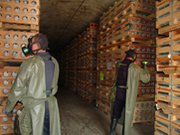 WASHINGTON – The U.S. Defense Department aims in its upcoming budget to maintain high funding levels for its final push to wipe out the nation's remaining chemical weapons.
More than $700 million in proposed fiscal 2014 funding would support the Assembled Chemical Weapons Alternatives' ongoing construction of a chemical arms disposal plant in Kentucky and preparation for demilitarization operations at a fully built facility in Colorado.
The question facing the Army office is the same one posed to the entire federal government – how will spending cutbacks demanded in the 2011 Budget Control Act affect operations. For now, there is no answer.
"The impact of sequestration on the ACWA program is still being determined," spokeswoman Katherine DeWeese said in a statement released on Monday.
Defense Secretary Chuck Hagel said the next day that all civilian Pentagon personnel would be furloughed without pay for a total of 11 days this year, beginning in July. There are 72 civilians working for the Assembled Chemical Weapons Alternatives, DeWeese noted on Thursday.
Construction and disposal preparation activities are mostly handled by private contractors not subject to furlough.
The United States today possesses only 10 percent of a declared stockpile that once encompassed millions of munitions and containers that contained close to 30,000 tons of lethal materials such as mustard blister agent and the nerve agents sarin and VX.
It is required to eliminate the full arsenal under terms of membership in the Chemical Weapons Convention. The formal deadline was April 29, 2012, but Washington says it is making a good faith effort to meet the spirit of its arms control commitment.
The Army's Chemical Materials Agency in early 2102 wrapped up its demilitarization campaign, finishing off 90 percent of the arsenal once held at seven U.S. sites.
Disposal of the two remaining stockpiles falls to the Assembled Chemical Weapons Alternatives. The Pentagon is seeking $707 million for the agency in the budget year that begins on Oct. 1.
That is down from $779 million in the current fiscal 2013 budget but a significant increase from the $477 million delivered in fiscal 2012 and much smaller amounts seen during the Bush administration.
The anticipated funding drop reflects the shift earlier this year from construction of the Pueblo Chemical Agent-Destruction Pilot Plant in Colorado to ensuring its technology and personnel are ready for operations – a process known as "systemization," DeWeese said.
Defense Department figures show that the current ACWA budget was intended to be the largest through the end of the demilitarization project, so the smaller fiscal 2014 request was expected, said Craig Williams, head of the Kentucky-based watchdog Chemical Weapons Working Group. "If it holds we're good," he said on Thursday.
The Colorado disposal plant would receive $293 million for research, development, testing and evaluation and no money for military construction. The site is on schedule to begin disposal of 2,611 tons of mustard agent and 780,000 munitions in 2015 and to complete operations in 2023.
"The funding is for continuing system demonstration and equipment performance testing and operator training activities," DeWeese stated by e-mail. "Also, the funding provides for construction activities for the infrastructure required for the Army's Explosive Destruction System, which will safely destroy the problematic munitions unsuited for processing by the main plant's automated equipment."
The detonation chamber would reportedly be used to eliminate about 13,000 munitions that could not safely be fed through the disposal facility due to problems such as rust and leaking.
Another $263 million in RDT&E funding and $123 million for construction would be directed to the Blue Grass Chemical Agent-Destruction Pilot Plant in Kentucky.
The Blue Grass Army Depot holds about 523 tons of nerve and mustard agents in rockets and other armaments. It is expected to be the last existing U.S. stockpile; disposal is due to begin in 2020 and to wrap up three years later.
"At Blue Grass, where construction is more than 65 percent complete, the funding will allow for continued construction activities and systemization of the chemical weapons destruction facility," according to DeWeese.
The remaining $28 million would fund operations at ACWA program headquarters at the Aberdeen Proving Ground in Maryland.
Both ACWA disposal plants would employ chemical neutralization technology, rather than the incinerators used to destroy most other stockpiles.
With its demilitarization mission complete, the Army Chemical Materials Agency is due to receive $715 million in fiscal 2014. Its budgets regularly topped $1 billion in previous years.
The money would be used for CMA management of the chemical weapons storage depots in Colorado and Kentucky and to dismantle disposal plants that have completed operations in Alabama, Arkansas, Oregon and Utah.
House and Senate appropriators have yet to finalize budget legislation covering next year's chemical weapons storage and disposal budgets.
About
WASHINGTON – The U.S. Defense Department aims in its upcoming budget to maintain high funding levels for its final push to wipe out the nation's remaining chemical weapons.
Countries